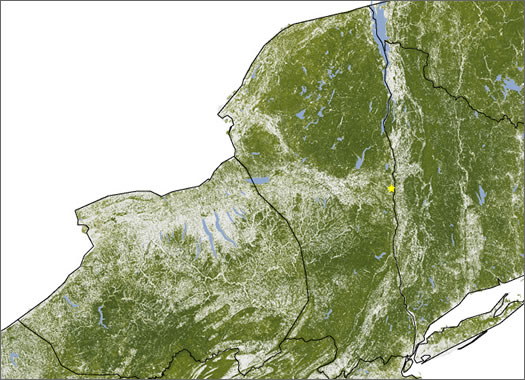 Forestry fact of the day: the Adirondacks are one of the areas with the most tree mass in the country, according to a map of "above ground woody biomass" created by the NASA Earth Observatory.
A clip from the map, of New York State, is above. The darker the green, the more tree mass there is.
The national map is posted after the jump in large format. You can see the large swath of forest that runs from Maine, through New Hampshire and Vermont, includes eastern New York, and then runs along the Applachians. And as dense as parts of the swath are, the long, narrow (relatively speaking) forests of the West Coast still trump the East for density of tree stuff (the trees are rather large out there).
Researchers built the map as part of an effort to better understand how much carbon is stored in forests -- and which way that amount is trending.
[via Buzzfeed]
Earlier on AOA: The darkness just to the north
Scroll all the way up for the large format national map.
images: NASA Earth Observatory map by Robert Simmon, based on multiple data sets compiled and analyzed by the Woods Hole Research Center.
Hi there. Comments have been closed for this item. Still have something to say? Contact us.