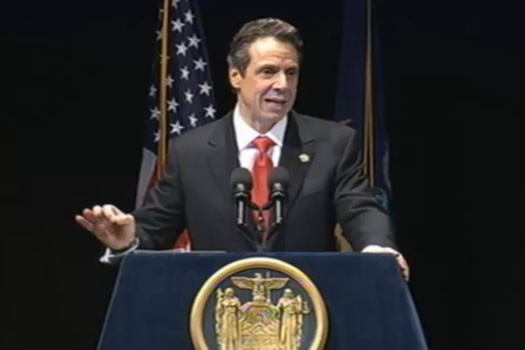 Updated Tuesday at 6:30 pm.
Andrew Cuomo and his administration presented their proposed 2012-2013 budget this afternoon. The budget is a big deal for the state, because it's the Cuomo administration putting its money (actually, all our money) where its mouth is.
This year's presentation was less dramatic than last year -- there was no declaration of the state being "functionally bankrupt." Cuomo touted the measures taken in last year's budget for helping to make things easier this year. "We regained the public trust," he said, "That is a great gift and an awesome responsibility. Let's build on it this year, even higher, together." (pause for applause)
So, we watched the address and skimmed through the budget briefing docs so you don't have to. Here's a quick overview of Cuomo's proposed budget...
Budget highlights
The total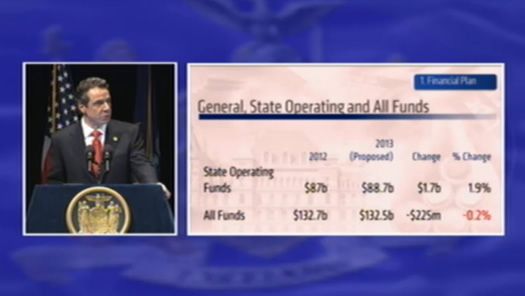 The "all funds" total (state money + federal money + some capital projects) for the Cuomo administration's proposed budget is $132.5 billion. That's down from $132.7 billion this year.
The budget had a $3.5 billion gap -- it was closed via the tax code changes (which included a revised version of the "millionaire's tax") and cost savings. Cuomo said during his budget presentation that those savings were mostly a "cut against growth" -- that is, a cut into the projected increased in costs.
Straightforward, they say
Both state budget director Bob Megna and Cuomo touted this year's budget as being straightfoward. Megna said it was "the most clear and concise budget I've worked on." And Cuomo declared that the budget included none of the tricks so often used in the past to the balance the state budget: sale of state assets, one shots, new fees, new taxes. "It's not a Crackerjacks box, you're not going to find anything at the bottom of it."
A new pension system tier
The budget proposes a new tier for state employee pensions (that would be Tier VI, if you're counting). The administration says the new pension tier, which would apply to new employees, would save state and local governments across the state $113 billion over the next 30 years ($83 billion for governments outside NYC). The plan will also have a portable defined-contribution option a la TIAA-CREF (Cuomo says it's "much, much cheaper" for the state). During his presentation, Cuomo compared pension costs to cholesterol that's building up in the fiscal system of governments.
The state employee unions have been less than stoked about Tier VI when it's come up during the last year. [State of Politics]
Update: As expected: CSEA president Danny Donahue called it "an assault on the middle class and a cheap shot at public employees." PEF president Ken Brynien called it "a false choice of accepting severely reduced pension benefits or joining an inefficient 401k style pension system."

Local governments and Medicaid costs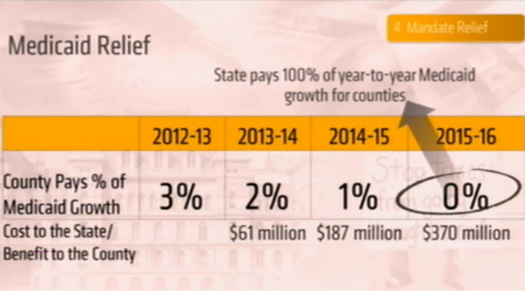 The Cuomo budget proposes "taking over the growth in the local share of Medicaid over a three-year period beginning 2013-14 and fully eliminating all growth by 2015-16." The admin says this will save local governments $1.2 billion over five years. It also proposes "a phased-takeover" of local government administration of Medicaid.
Local governments have been straining under Medicaid cost increases -- the issue seems to come up almost every time a county exec talks about their budget. It's not the total state takeover that had been rumored (Cuomo said they state would do that when it could print money), but local government leaders will still probably be somewhat happy about this. [YNN]
Update: Reacation from Albany County exec Dan McCoy (D): yes. Reaction from Rensselaer County exec Kathy Jimino (R): no. [TU Local Politics] [TU Local Politics]
Teacher evaluation system
The Cuomo budget links increases in aid with districts implementing the teacher evaluation system he's been pushing. As the briefing book says of the system: it "would make student performance a major component of that teachers' evaluations - and thus an element of employment decisions." Districts would have a deadline of January 2013 to adopt the system. If the state doesn't meet federal goals for implementing the evaluation system, it will lose out on $700 million in federal "Race to the Top" funding.
NYSUT, the powerful teachers' union, has not seen eye-to-eye with Cuomo on this issue. So it will be interesting see if they're able to lean on the legislature to influence this proposal. [NYSUT]
Update: NYSUT president Richard Iannuzzi: "[NYSUT] shares the governor's frustration over delays in implementing the evaluation law and many of his points about the education bureaucracy at SED, we think there are better ways to achieve implementation rather than tying it to funding increases that benefit students."
City of Albany
There's a provision to advance the city of Albany $7.85 million in PILOT money for the Empire State Plaza (pg 26). (PILOT = payment in lieu of taxes) The money will take off PILOT payments scheduled for the city in 2033. The Jennings administration was banking on this "spin-up" in PILOT money to balance the budget. [via TU Local Politics] [TU]
Saratoga
The budget includes VLT revenue for both Saratoga Springs and Saratoga County (this had been cut during the Paterson administration). Saratoga Springs will again get $1.5 million, and Saratoga County just under $500k, for hosting the Saratoga racino. [via Jim Tedisco press office, we'll update with the specific reference and link]
Cuomo's presentation
Embedded above is the video of Andrew Cuomo's budget presentation. Did it include much PowerPoint? Oh, you know it did.
Documents
+ The state Division of the Budget has posted the budget documents.
+ Here's the pdf download of the "briefing book" for the budget (basically an overview).
+ If you want to see how much your city, town, or village in getting from "Aid and Incentives for Municipalities," here's the list.
+ Cuomo admin press release about the proposed budget.
___
We'll update as reaction and other bits as they come along.
screengrabs: Cuomo admin Livestream
Hi there. Comments have been closed for this item. Still have something to say? Contact us.