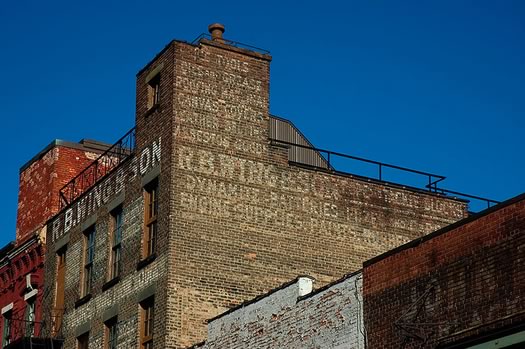 By Carl Johnson
Update: Carl's found one that's even older.
Over at Hoxsie I recently unearthed a 1905 ad for Danker Florist, which is still going strong today. And that led to the question: What might be the oldest business still running in Albany?
There are a few contenders.
For many years, R.B. Wing and Son was recognized as perhaps the oldest business in the city. It started around 1854 as a ship's chandler when Albany was a booming river port, and then transitioned into construction supplies. Unfortunately, it closed in 1996 after 151 years in business, and is no longer in the running for oldest business in Albany. But it left behind one of the more distinctive buildings on Broadway, decorated with reminders of its nautical past.
The stone fabricator Adam Ross Cut Stone, now on Broadway in Albany, seems like the kind of business that's been around for centuries. But it's a relative newcomer, dating back only to 1889.
Hudson Valley Paper Company, the wholesale supplier of all kinds of paper and printers' supplies, was run by the same family from its founding in 1875 until last March, when it was sold to Lindernmeyr Munroe. But even at 137 years, it's not the oldest business in the city.
Probably the oldest business in the tri-cities would be W.& L.E. Gurley, or as they are now known, Gurley Precision Instruments. William and Lewis Gurley were both engineering graduates of Rensselaer Polytechnic Institute who gained an international reputation for creating precision measuring instruments, and were particularly well known for their surveying equipment. Today they primarily manufacture highly specialized instrumentation that is used in the manufacturing, robotics, and medical fields. The firm was founded in 1845 in Troy and they are still there today, which means that for 167 years they have not been the oldest business in Albany.
It's not entirely clear exactly when the capital city's oldest business was founded; its current location lays claim to 1867, but that is clearly entirely too recent. An 1888 biographical note on its founder says that he had established himself some 40 years before, so a guess of 1848 can't be far off.
The founder was "the well and favorably known merchant tailor, whose neat and popular establishment is located at No. 54 North Pearl Street, who is one of the oldest and foremost exponents of the tailoring art in Albany." That store was a mere 25 x 80 feet in size, "nicely appointed and well ordered," and presented "a large and elegant assortment of imported and domestic, woolen and worsted goods, including cassimeres [sic, an old spelling], cloths, checks, plaids, serges, stripe cheviot, and fashionable suitings from which the most fastidious may select a full and fine line of ready-made clothing . . . ." In adjacent shops, 20 to 30 experienced hands were employed in garment-making.
This was the establishment of Benjamin Lodge, merchant tailor, who was in 1888 "a gentleman somewhat past the meridian of life, but active and energetic, was born in Scotland, and has resided in this city upward of half a century. He is a man of strict integrity in his dealings as well as a practical and expert cutter and all around workman, and is well-known and highly regarded throughout the capital and environs." It's been many years since any of the clothing on offer was produced in-house, and it has long since relocated across the street at 75 North Pearl Street.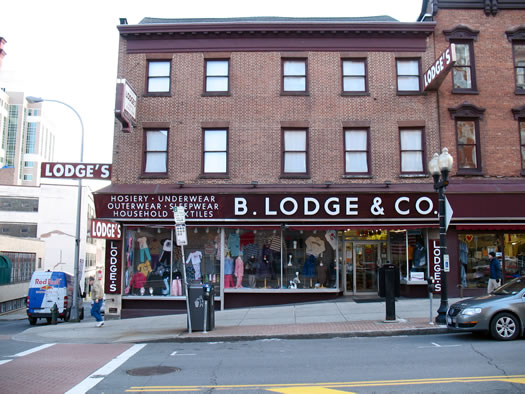 At somewhere around 164 years old, it's reasonable to believe that B. Lodge & Co.'s famous claim to being Albany's oldest store makes it Albany's oldest business as well.
Carl Johnson writes about history and other fun stuff at Hoxsie! and My Non-Urban Life.
Earlier on AOA:
+ A few years back, Amy went shopping at Lodge's.
+ For sale: the "oldest" house in Schenectady
+ The oldest building in Albany?
+ The oldest house in Saratoga Springs
Find It
B. Lodge and Co.
75 North Pearl Street
Albany, NY 12207
Hi there. Comments have been closed for this item. Still have something to say? Contact us.