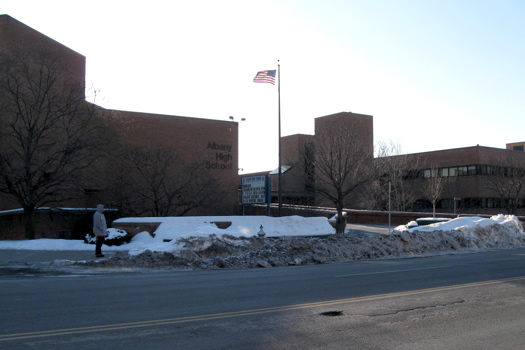 By Elisabeth Draper
Some people I've met have found it hard to believe that I'm a graduate of Albany High School.
When I was in high school I worked at a store in Stuyvesant Plaza. An older customer once asked where I went to high school, so I told her. She subsequently went on to tell me how she, too, was an Albany Academy girl and what a fabulous education I must be receiving. I hated to correct her, as she was so happy to reminisce, but I said, "No, no -- I go to Albany High."
Her response? A rather deflated, "Oh."
I attended Albany High from 1995 through 1999 and the perception of the school hasn't changed much in 12 years. And while I can't attest to the student experience today, I've always been appreciative of my time at Albany High and am proud to be a Falcon.
Let me tell you why.
Albany High is really a school within a school -- at least it was when I was there. My classes weren't necessarily small, but they were quiet, orderly, and usually interesting. Gym class, lunch, and the time before, after, and in-between classes offered the most authentic representation of the school as everyone was together. No tracked classes, just throngs of kids from all walks of life; a myriad of nationalities and races all together -- mostly harmonious.
Going from Albany High to a homogenous, private Catholic college in Washington, DC was a shock, to say the least. I figured the bland student make-up would be offset by the diversity of our nation's capital. It wasn't until my dorm friends began to tell me about their high schools that I fully understood how unique Albany High is.
In short, Albany High is a microcosm of the world, and, arguably, society. As I said, there were kids from all over the globe and from all sorts of socio-economic backgrounds. Kids who emigrated from Mongolia to the United States, to kids whose families shipped them out of New York City and up the Hudson River to live with relatives. Kids who needed free breakfast and lunch, to kids whose parents owned houses on Nantucket and Martha's Vineyard, and everything in between. It was an amazing learning experience and I credit my parents for sending me there.
Taking the good with the bad, Albany High wasn't perfect. There was a gun incident my freshman year, hall monitors regularly broke up altercations in the hallways, and Friday afternoons seemed to be the popular day to bring your toddler to school. The police would regularly arrest kids and there were many days when my dad would drop me off at school and the scent of marijuana would be hanging thick in the air. If the latter is offensive, I apologize; but don't think it isn't happening in some way, shape, or form in the suburbs, too. It just may be not as brazen.
Obviously, it saddens me to read about the struggles that continue to affect Albany High in recent years. To see a school with such high academic distinctions -- specifically, the AP and International Baccalaureate programs -- be plagued with low graduation rates and high drop out rates is frustrating.
If the city is serious about improvements to Albany High, I would like to see what, if any,research has been done into creating two high schools for the city of Albany.
It's also tough (and wrong) to place all of the blame for Albany High's shortcomings on the school district. The school oversees what happens between 7:45 am and 3 pm, and the experience during school hours can and will influence a student's willingness to learn. But it also goes without saying that parents, guardians, and general home life are a large piece of the academic success puzzle, as well. In addition, the perception and the accepted notion that Albany High is inherently unsafe is a problem. As I said before, there are issues at Albany High, but find me a school that doesn't have problems or isn't dealing with violence and drugs.
It's been my observation though, that Albany schools are in a kind of a chicken and egg scenario. The top complaints in the city are poor schools and high taxes. The taxes are high here for many reasons, notably because of a wealth of non-taxable parcels on account of colleges/universities, non-profits, and state and federal buildings. All of this prompts the question: if the schools were better or safer, would more people live in Albany? And if more people lived in Albany, wouldn't taxes be lower? I'm no economist, but this makes sense to me.
When I read Jerry Jennings' 2012 State of the City address, I was pleased to see a real push to improve Albany High and to foster partnerships between colleges and universities in the area. We should hold Jerry to this. However, I'm not sure building a new Albany High is the only means to this end. Moving Albany High to the Harriman Campus would isolate the school by removing it from the heart of the city and placing it in a less walkable neighborhood. Moreover, Albany High isn't that old -- the current location opened in the mid-70s. While I would support renovations to the existing structure, I don't think Albany needs a new, single campus high school at the Harriman Campus.
If the city is serious about improvements to Albany High, I would like to see what, if any,research has been done into creating two high schools for the city of Albany. Last week, the New York Times ran an article titled "City Students at Small Public High Schools Are More Likely to Graduate, Study Says." It looked at how several smaller public high schools in New York City have yielded higher graduation rates and improved college preparedness. I'd be interested in seeing if this idea could be applied here.
There is no quick or easy solution to improve Albany High for current and future students and I don't purport to have an answer. My hope for the city and for future students is that the school comes into its own and lives up to the vision set forth in the State of the City address while maintaining the diversity, culture, academic rigors, and real-world experience that truly set Albany High apart from the rest.
Elisabeth Draper is a proud alumna of Albany High School.
Earlier and elsewhere:
+ Capital Region high school graduation rates 2010
+ Tough report for Albany High School
+ TU: Plan calls for relocating Albany High to Harriman Campus
Hi there. Comments have been closed for this item. Still have something to say? Contact us.