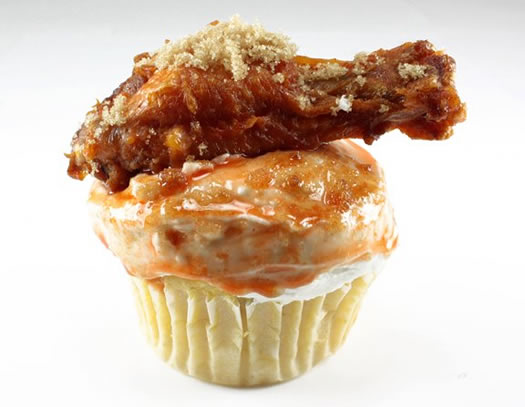 Update: We tried them -- and they're... different.
____
Colonie cake shop Coccadotts is now offering a savory chicken wing cupcake.
Yep, you read that correctly.
From the shop's Facebook page:
Here it is! Go wild with our savory Chicken Wing cupcakes! All the goodness of a typical party platter, fitting in the palm of your hand. With a buttery corn bread base and bleu cheese frosting, the only thing that makes these better is the amazing chicken wing on top!
The store says in a comment on its FB page that the cupcakes will be available this Friday through Sunday for pick up -- or by call-ahead order. Also: "Trust us, they are better tasting than you think!"
Perhaps it was only a matter of time before these two great handheld snacks were united. The idea seems to have originated -- or at least gained popularity -- with Stephanie Polluck, who writes a blog called the Cupcake Project. As you might imagine, the internet then didn't quite know what to do with itself.
[via @derryX]
Earlier on AOA: Coccadotts on Cupcake Wars
photo: Coccadotts
Hi there. Comments have been closed for this item. Still have something to say? Contact us.