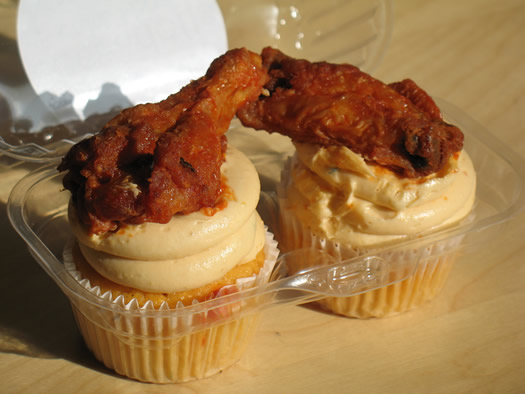 When we heard this week that local cake shop Coccadotts was making Buffalo chicken wing cupcakes for the Super Bowl, we were intrigued. Because... Buffalo chicken wing cupcakes. It seemed unnatural, possibly wrong -- and perhaps, in some weird way, maybe kind of good.
So we stopped by the bakery today to eat one.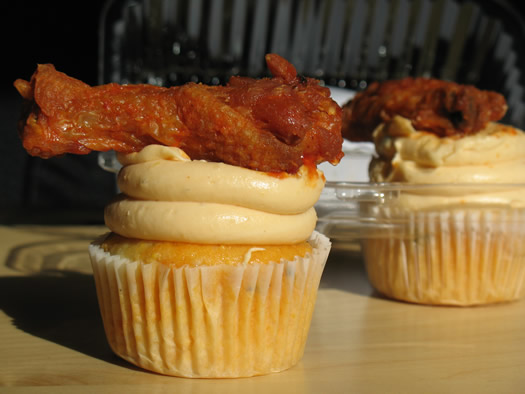 Price
They're $3.50 a cupcake.
The look
It looks like a cupcake with a chicken wing stuck on top, which is to say -- it's funny and it's hard not to be drawn to it. It's just unexpected and kind of crazy.
The smell
The first thing you notice about the cupcake is the of aroma of Buffalo sauce. It makes your brain spin a little bit because you're holding a cupcake but it smells like wings.
The chicken wing
Right off the top, the wing poses a few problems. It's not going to be hot, because it's not like the bakery can be serving them up as they're ordered. And even if that was possible, placing a hot (as in temperature) win on icing wouldn't go so well (icing melts -- it's one of the reasons you have to let a cake cool before icing it).
So, because of those limitations, the wing (or drummette) is cold. And it tastes like a cold Buffalo wing -- the skin is tough and the meat doesn't pull easily from the bone. But the sauce tastes like Buffalo sauce.
(By the way: we asked where they're getting the wings. The woman who rang up our order said they were getting them from from TJ's, down the street. Update: In a comment below, Jerry says he was told the wings were from Little Anthony's. Update update: Coccadotts says on Twitter that they were first getting them from Little Anthony's, and now TJ's.)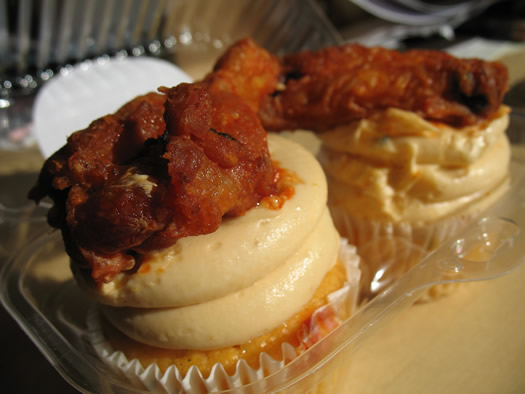 The icing
Coccadotts' description of the cupcake said it had "bleu cheese frosting." We noticed one or two specks of what could possibly be blue cheese, but the frosting didn't register as blue cheese to us (the icing, like the wing, was cold -- which might have kept whatever blue cheese flavor there was from coming through more strongly). It was sweet, but something less so than a regular cupcake (which, in our experience recently, are now extraordinarily sweet). And we gotta say that the hot sauce and icing worked together surprisingly well -- sort of a sweet and spicy thing. It might have been the best part of the cupcake.
There was a bit of an engineering problem with the icing. The wing and the icing stuck together tightly, more so than the wing to the cake. So you pull the wing off to take a bite -- and you get the whole mound of icing, too. We had to reconstruct our cupcake after that.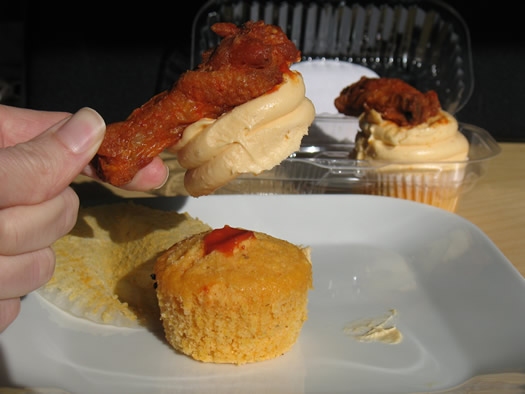 The cake
The cake itself is a corn bread. And it was OK. It wasn't dry. And it wasn't sweet. In fact, it didn't really taste like much at all, aside maybe a little like black pepper. It was dabbed with a bit of hot sauce, which was nice touch. But the cake was mostly texture and not much more.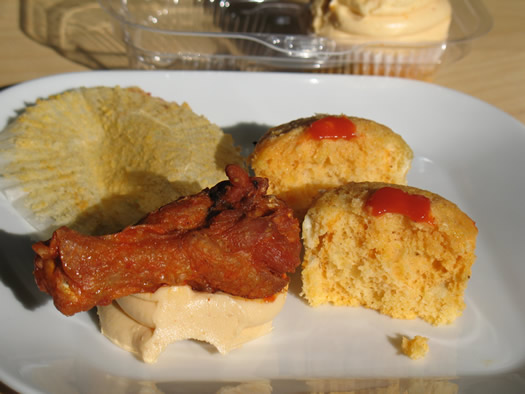 Bottom line
Would we eat it again? Probably not -- once was enough. It's a fun idea and we applaud Coccadotts for giving it a shot. They seem to be getting a lot of attention from the cupcakes. But, not surprisingly, it's more a triumph of novelty and marketing than of baking and flavor.
Though we could really go for some wings now...
There are a few large-format photos at the top of the page in case you want to get a closer look. Scroll all the way up.
From Facebook...
Find It
Coccadotts
1179 Central Avenue
Colonie, NY 12205
Hi there. Comments have been closed for this item. Still have something to say? Contact us.