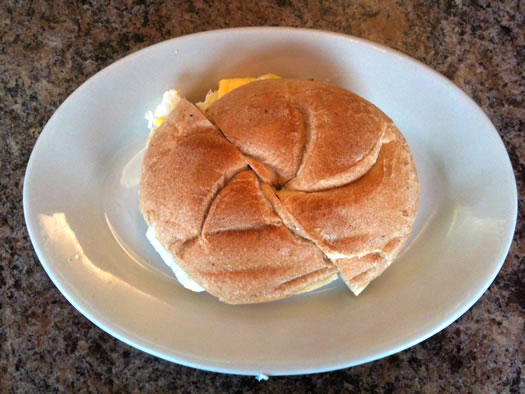 By Daniel B.
Update: Details on the full Tour de Egg Sandwich are now available at fUSSYlittleBLOG.
All egg sandwiches are not created equal.
And I'm not even talking about different forms of egg sandwiches that can be enjoyed all around the country. Like in Philly where they scramble the egg and put it on an Amoroso hoagie roll. Or in New Jersey it comes with Taylor ham and saltpepperketchup. In New Mexico you will find scrambled eggs in the form of a burrito stuffed with green chile. Here, we put flattened fried-eggs and American cheese on a grilled hard roll, which I've recently discovered is decidedly not hard.
In the Capital Region almost every diner, deli, convenience store, bakery, and cherished institution produces a version of this sandwich. So, to better understand what makes our egg and cheese so special, I recently went on a Tour de Egg Sandwich along with 17 other likeminded eaters.
The competition among the five places was close. Very close. In the Tour de Egg Sandwich voting, Jack's Diner in Albany edged out McCarroll's in Delmar by a nose, with Famous Lunch in Troy nipping at their heels.
So what sets this diner apart?
One word: Balance.
Well, that and the two fried eggs that graced the sandwich were the most tenderly cooked of the day. Whereas our local egg and cheese sandwiches default to eggs over-hard, the ones at Jack's Diner were decidedly over-medium. The color of the yolks was a deep golden orange, and the whites were just set.
Far too often fried eggs are obliterated on a too hot griddle, browning and toughening the whites.
The flip side of this more delicate cooking style is that the hard roll was only lightly grilled. It was enough to provide some enriching fat to the cut surfaces of the bread, but the only crispness was found along the roll's outside edge. Even the fans of Jack's conceded that the hard roll was better elsewhere. For what it's worth, the toasting on the buttered Prinzo's rolls at McCarroll's was beautiful.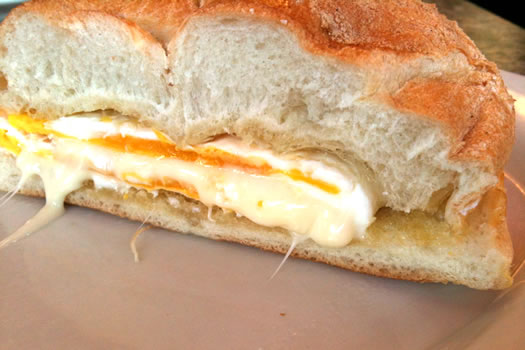 However, it was Jack's fairly ordinary roll that allowed the center of the sandwich to shine. And a large part of that was what they did with ordinary run-of-the-mill white American cheese. (NB: those who ordered cheddar also thought highly of the cheese).
You may never have paid attention to cheese placement on a sandwich before, but it matters. Does the cheese go on the top, the bottom or in the middle?
Jack's wisely places a generous quantity of the stuff in between the two eggs sizzling from the grill, causing the cheese to transform from a bland piece of industrially produced dairy, into what's effectively a rich and savory sauce. Yet the sandwich holds together, and maintains its structural integrity. And when eaten as a whole, a plurality of us agreed that it was the best of the bunch.
It's also pretty substantial, both in its size and its cost. While some delicious versions of this sandwich can be had for less than two dollars locally, Jack's Diner will set you back about four bucks (before tax and tip). Meat will cost you an extra dollar. But you do get to eat at a booth or a counter, on a proper plate, and at a joint with table service.
Does Jack's Diner make the best egg and cheese sandwich in the Capital District? There are too many places that make this regional specialty to say with any degree of certainty. But their version is great, and it bested some very strong competition, which makes this diner a worthy contender for the crown.
For those who are curious about how the whole tour played out, a full report will be available on the FUSSYlittleBLOG later this week.
Daniel B. is the proprietor of the FUSSYlittleBLOG.
Earlier on AOA: Jack's got a mention on Crystal's list of the best diner breakfasts in the Capital Region.
Find It
Jack's Diner
547 Central Avenue
Albany, NY 12206
Hi there. Comments have been closed for this item. Still have something to say? Contact us.