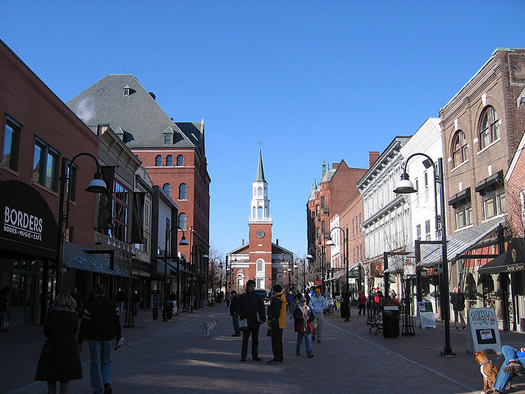 Potentially interesting: Troy mayor Lou Rosamilia has floated the idea of permanently closing some downtown streets to vehicle traffic in order to create a pedestrian mall, the Biz Review reports. [Biz Review]
The most famous recent experiment of this type has been in New York City, which has closed off sections of Broadway in Manhattan. [NYT] [NYT]
But the pedestrian mall isn't a new concept. Kalamazoo, Michigan first tried it in 1959. Many cities followed with their own pedestrian malls -- and a large majority of them failed. (Kalamazoo re-opened part of its mall to vehicular traffic in the late 90s.) There have been some notable successes, though. For example, Burlington's pedestrian mall, Church Street, is great. [Wikipedia] [Indianapolis Downtown Inc. study] [Kalamazoo Public Library]
The thing about a pedestrian mall area is that you need people. Downtown Troy has good foot traffic during the day -- it's maybe our favorite Capital Region downtown in daylight. Will there be enough people the rest of the time to make it worth it? Public spaces without people tend to go the wrong way. If the City Center and City Station projects are successful, maybe. [Governing]
Of course, there are a lot of details that would have be figured out for this idea -- which streets, how to address parking issues, how to address access for shipments to shops and businesses. But it's an interesting idea.
photo: Flickr user redjar
Hi there. Comments have been closed for this item. Still have something to say? Contact us.