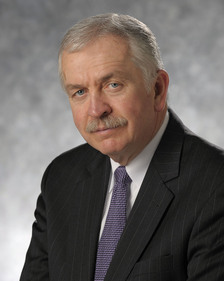 The board of trustees at the College of Saint Rose has picked David Szczerbacki to the college's next president. Szczerbacki is currently the school's provost and vice president for academic affairs, the #2 job there.
The school says Szczerbacki take over in July of this year. He's succeeding Mark Sullivan, who's had the top spot at CSR for 16 years. The school announced last summer that Sullivan would be retiring this year.
Szczerbacki has been at St. Rose since 2004. Before that he held a similar position at Alfred University. He has a PhD in policy studies from SUNY Buffalo, and a master's degree in urban systems. He went to Gannon in Pennsylvania for undergrad, where he got a degree in political science. In the press release, the school says his professional work outside of academics has "focused on the fields of urban and regional planning, economic development, leadership training, environmental management, strategic management and organization development."
It's interesting that Szczerbacki has a background in urban planning. St. Rose has been very active in recent years developing the neighborhood around it in Albany, with a bunch of new buildings that have influenced the character of the area and, more recently, signage that's more clearly defined its neighborhood campus.
Oh, and we hear his name is pronounced: "sir-BAH-kee."
Full press release after the jump.
DR. DAVID SZCZERBACKI NAMED PRESIDENT OF SAINT ROSE
Board Taps Current Provost and Vice President to be College's Ninth President
The Board of Trustees of The College of Saint Rose today proudly announced the selection of Dr. David Szczerbacki of Albany to serve as the ninth president of the College.
At its meeting today, the board voted to approve the unanimous recommendation of the presidential search committee that Szczerbacki be offered the position. Szczerbacki will assume his new role July 1, 2012.
Currently, Szczerbacki is the College's provost and vice president for academic affairs, a position he has held since August 2004. He will succeed Dr. R. Mark Sullivan, who will step down from the leadership post after serving for 16 years.
"We are extremely pleased to be able to name David Szczerbacki as our next president. He is a distinguished academic leader who will help us propel the College forward and capitalize on the momentum the College enjoys. Given the recommendation of our search committee, his proven ability and the overwhelmingly positive response of our students, faculty, staff and alumni, David clearly is the best fit for Saint Rose," said Dan Nolan, chair of the board of trustees.
Szczerbacki expressed his gratification at being chosen to lead Saint Rose and paid tribute to his predecessor.
"The College of Saint Rose is blessed with a rich history and, ahead of it, a dynamic, world-changing future. I am honored and excited to carry on the mission and deeply rooted values of our founders, the Sisters of Saint Joseph of Carondelet, and the visionary 16-year leadership of President Mark Sullivan. As Saint Rose approaches its second century of outstanding scholarship and community engagement, we will continue to pursue a vision focused on providing students with academic experiences that are second to none. I look forward to working with our trustees, students, faculty, staff, alumni, friends and community to build the College's future," Szczerbacki said.
As provost and vice president, Szczerbacki has been the College's chief academic officer and "second-in-command," responsible for the quality of all academic programs offered by the College's School of Arts and Humanities, Lally School of Education, School of Mathematics and Sciences and Huether School of Business. He chaired the past two five-year strategic planning processes and has initiated new faculty programs supporting research and curricular innovation, a new program review and development process, a review of the liberal arts core curriculum, and expanded programming in international studies, first-year experiences, e-learning and undergraduate research. In addition, Szczerbacki has worked closely with President Sullivan in leading multi-year faculty salary plans, securing an endowed chair in ethics and moral values, and in securing grants and philanthropic gifts to support facilities and programming.
Szczerbacki came to Saint Rose in 2004 from Alfred University in Alfred, N.Y., where he served as provost and vice president of academic and statutory affairs. At Alfred, Szczerbacki was responsible for overseeing the quality and operation of all academic programs, managing the budget for all academic programs and services, and establishing new academic programs. In addition, Szczerbacki served as chief executive officer at the State University of New York College of Ceramics, which is located at Alfred. He also held positions as dean of Alfred's School of Business and acting dean of the College of Engineering and Professional Studies. Szczerbacki joined the Alfred faculty in 1981 as an instructor of management and twice received the university's outstanding teaching awards.
Szczerbacki earned his doctoral degree in policy studies from the State University of New York at Buffalo, and he holds a master's degree in urban systems and a bachelor's degree in political science from Gannon University in Erie, Pa. In addition to his academic career as an educator and administrator, his professional work has focused on the fields of urban and regional planning, economic development, leadership training, environmental management, strategic management and organization development. He evaluates other colleges and universities as a member of the Periodic Review Report Committee of the Middle States Commission on Higher Education, the federally designated accrediting agency. Locally, Szczerbacki serves on the board of Bishop Maginn High School in Albany.
Szczerbacki and his wife Susan have a daughter, Katherine.
photo via College of St. Rose