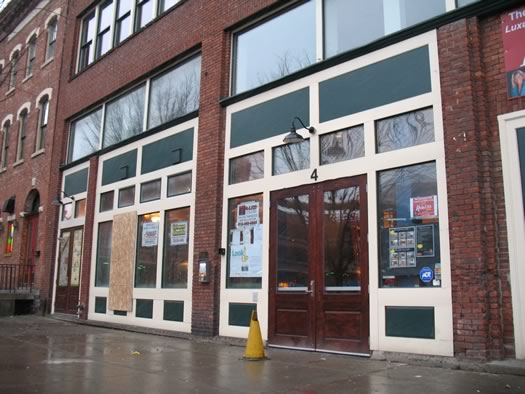 We stopped by Carmine Sprio's soon-to-be-open restaurant in downtown Albany late Friday afternoon to peek in the widows. Ethan had mentioned he saw furniture being moved in, and we were curious to see how things were shaping up.
As it turned out, Sprio was there and he was nice enough to give us a quick tour and tell us a little more about the restaurant's concept, which sounds like something a bit different for the Capital Region.
Here's a quick look, along with a few details.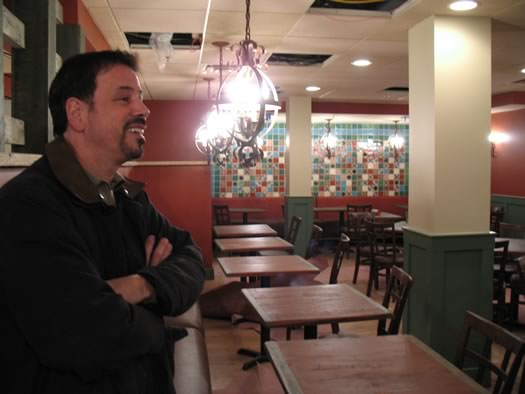 From his years on TV, Sprio is an enthusiastic and smooth pitchman for his ideas. But it's been about 2.5 years since eponymous, and long-running, Italian restaurant in Albany closed. And his brief stint at Vin Santo in Latham ended not long after that. In talking with us, he seemed happy -- and maybe more than a little stoked -- to be back running a restaurant. [Tablehopping] [Tablehopping]
As of Friday afternoon, the space was still very much a work in progress. Furniture was being unpacked and arranged. The kitchen was still getting organized. A lot of the finishes were still incomplete. But the space has a warm, cozy a feel to it. And it's completely unrecognizable from its club days as the Bighouse/Skyline. Sprio said the developer had gutted the building, and they were able to build the restaurant interior more or less from scratch. (There are condos upstairs.)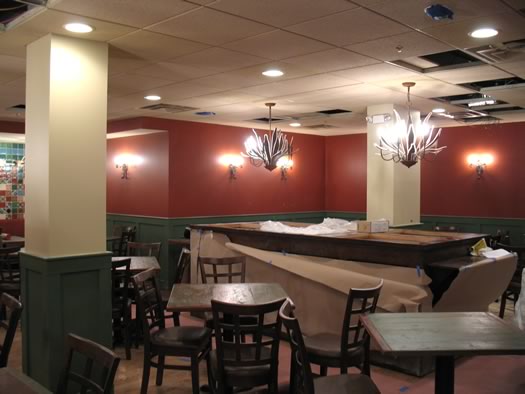 The large surface will be the "starter bar."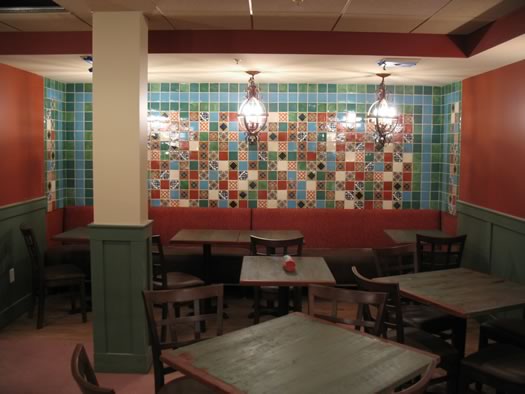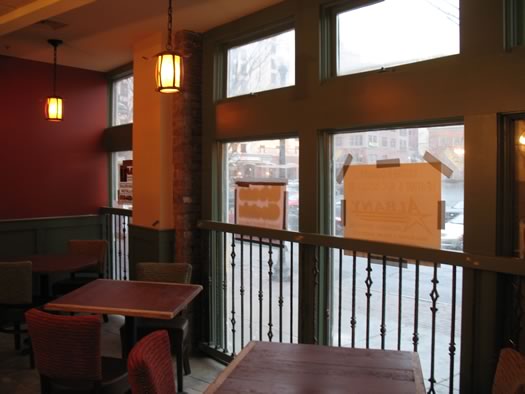 Seating in what will be the bar area, at the front of the restaurant.
The concept
The restaurant is based on the Brazilian concept of churrasco, basically grilled meats. Sprio says one of his earliest restaurant experiences was working in a Brazilian restaurant, and he's been looking to do something like this for years.
He showed us the custom-made grill/rotisserie in the kitchen where the skewers of meat will be grilled: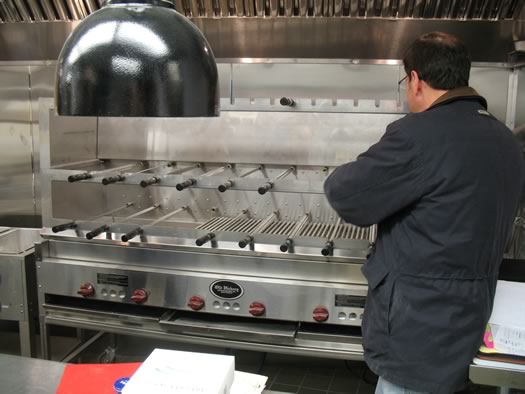 So, here's how Sprio explained it would work:
+ There's a flat per person charge ($32, plus extra for drinks). For that, you get all-you-can-eat grilled meat (of all sorts of varieties), brought to your table on skewers -- servers carve the meat right off the skewers at the tableside. The table also gets its choice of two sides, as well as Brazilian cheese bread. And everyone gets to hit up the "starter bar" -- which features as many as 30 different items such as marinated olives or white bean salad or peel-and-eat prawns -- whenever they like.
+ Tables will have cards -- green on one side, red on the other. Not ready for grilled meat? Keep the card flipped red side up. Bring on the skewers? Flip it green. The card can be flipped back and forth during the meal.
+ There will also be an ala carte menu at the bar for people who just want to have a drink and a small plate.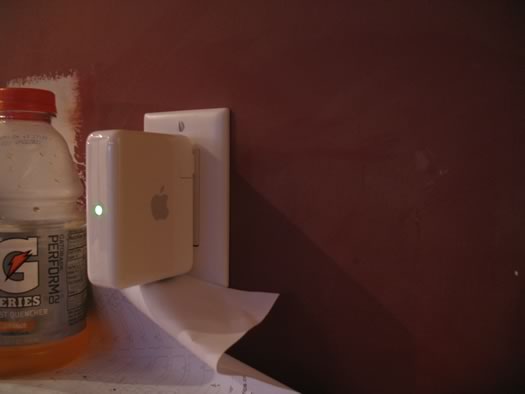 One of the restaurant's wifi nodes.
+ Sprio's also hoping to include a social media angle to the dining experience. Servers will be using iPads to take orders -- but the tablets will also be used to give customers an opportunity to post on Facebook or Twitter about their meal. And frustrated by poorly lit mobile photos of food, Sprio says they're also hoping they'll be able to give people a chance to get better photos of the food.
+ There's also an event room upstairs that Sprio says won't be finished for another few weeks. He says the space will be available for parties (he says they can design menus to fit a range of budgets), or even as a place for people to relax with coffee after a meal.
Menu draft
Here are a few menu item listings that were taped up in the kitchen. Of course, some of this is sure to change:
The opening
Sprio says the official grand opening is planned for March 22. But the restaurant will be open for an Equinox fundraiser this Thursday (two seatings, at 5:30 pm and 8:30 pm, $75 at the door, check payable to Equinox). And the restaurant will have a soft opening in the days after that, that leading up to the grand opening.
Earlier on AOA: Carmine Sprio opening Brazilian steakhouse in downtown Albany
Find It
Carmine's Brazilian Grill
4 Sheridan Ave
Albany, NY 12207
Hi there. Comments have been closed for this item. Still have something to say? Contact us.