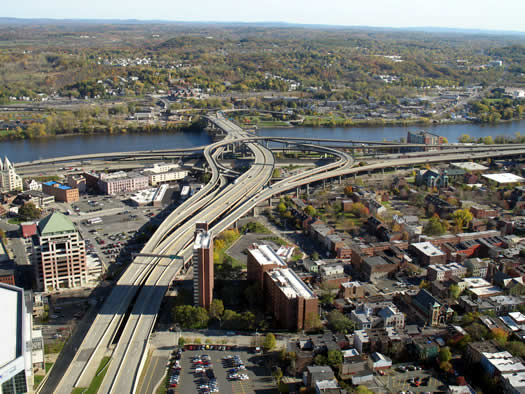 Another log for the "tear down 787" fire: The Life and Death of Urban Highways, a survey of why cities around the world have been tearing down urban highways -- and what has happened when they've done so. (Update: That link wasn't working for some reason Tuesday evening, so the report is now embedded after the jump.)
Among the reasons cited by the report that urban highways have fallen out of favor:
+ Costs of reconstruction and repair: Cities are finding out how much it costs to maintain these highways and are deciding the money is better spent other ways.
+ Economic revitalization: Removing the highways, which serve as dividers in the urban landscape, has opened the way for new development of neighborhoods -- and in many cases, higher property values.
+ Making accessible waterfronts: Many urban highways -- like 787 -- parallel waterfronts, and removing them reconnects the waterfronts to the city, again opening the way for parks, development, and higher property values.
The report also includes case studies from cities such as Portland, Oregon, San Francisco, and Milwaukee.
The orgs responsible for the report, Institute for Transportation and Development Policy and EMBARQ, advocacy orgs that both appear to be very much of the Jane Jacobs, pro-public transit school -- just something to keep in mind while reading through the report so grains of salt. It's interesting reading, and it's easy to see how many of the issues brought up could apply to the Capital Region.
The thing to keep in mind about 787 is that there's no "do nothing" option over the long run. If it stays, it has to be maintained -- and that's not cheap. If it goes... that's not cheap, either. So, the question really is: if we (the region/state) are going to spend (tens, hundreds of) millions on this key piece of infrastructure, what do we ultimately want to end up with? And is it worth it to us to spend more upfront to have something possibly better (though not necessarily guaranteed) in the future?
[via @SeanPCollins via Grist]
Earlier:
+ The removal of 787 in downtown Albany was on Martin's urban wish list
+ The Albany 2030 plan included a goal of evaluating possible alternative designs for 787
+ The Stakeholders org released a report last year that imagines the Albany waterfront with a boulevard (it's also embedded after the jump)
+ Syracuse has been considering the removal of the elevated portion of I-81 that runs right through the heart of the city [Streetsblog]
Life and Death of Urban Highways
Hi there. Comments have been closed for this item. Still have something to say? Contact us.