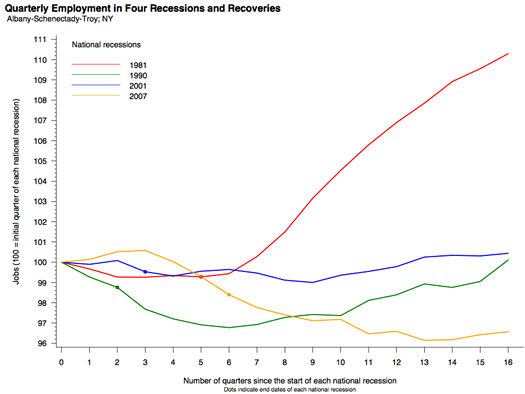 The Albany metro area is in the the second-weakest quintile for economic performance in the latest MetroMonitor report from Brookings Institution (tracking through December 2011).
That's not actually as bad as it sounds. In part, the report measure how well each metro has rebounded during the recession, and this area didn't fall that far compared to many other metro areas. For example: Detroit is among the top 20 metros in the report -- and we'd probably rather not trade with Detroit. (Also in the top 20: Austin. Foiled again!)
As it happens, the Albany metro area is doing pretty well in terms of housing prices (15th for change in housing prices from peak (2007Q1)) and "gross metropolitan product" (9th for change in GMP from peak (2007Q4)). It's not so hot for jobs -- the number of employed people here is only up .4 percent compared to the low point (2011Q1).
The graph above gives you some sense of how hard the recession has hit the local job market, compared to past recessions. We didn't get knocked down, but we're still just sort of staggering forward because whatever gains there have been (example: GlobalFoundries) have been blunted by losses (example: local school districts, governments).
The profile for the Albany metro -- with a bigger version of the graph -- is embedded after the jump.
Speaking of jobs: The state Department of Labor reported today that the Albany metro area had about 5,500 more job last month compared to February 2011.
graph: Brookings Institution
Earlier on AOA: This is a good place to find a job, Forbes says
Hi there. Comments have been closed for this item. Still have something to say? Contact us.