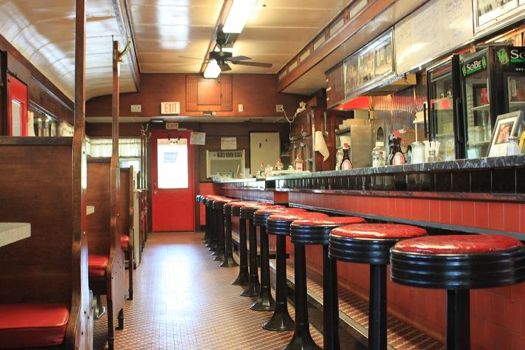 Mike Engle never set foot in a diner until he was in his mid 20s. "My family," he says, "just didn't eat out a lot."
Then a friend took him to the vintage Miss Johnstown Diner in Johnstown, New York. Since then diners have held a special place in Engle's heart. And his stomach.
In the last fifteen years he's eaten in at least 400 diners.
The Rensselaer County native literally wrote the book on New York diners -- Diners of New York State. But he wanted to give each individual diner more attention than the book allowed. So he recently self-published a book focused on diners of the Capital Region, aptly titled Diners of the Capital Region.
The new book features more than 50 regional diners, past and present, and looks at their history, their architecture and their food. It can also be used as a kind of "diner tour guide" of sorts -- with spaces after each entry for the autograph of the servers and the diner owners.
Engle took time from visiting diners and teaching math at HVCC to talk with us about local diner "gems," his favorite things to order, and what's so great about diners.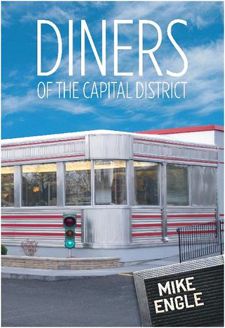 So what was it that grabbed you about that first diner experience at the Miss Johnstown?
It was just a very simple diner -- a counter and couple of tables. You could see the food cooked right in front of you. It was a simple, real experience -- not like the chains where you don't see your food being cooked, or the waiter just brings food.
And that was enough to make diners kind of a hobby?
What I love about diners is different. It's more than the food. I love the architecture. And I love the experience of a diner -- a place where you can go in and get a dependable breakfast and you can talk to people or just have your own meal. It can be a very democratic community. To have the owners say "Hey, Joe" -- or stop and talk with you.
I think it's just that diners are... real. It's tough to find a pretentious diner. You can go in and strike up a conversation with the owner and, for the most part, just feel like your part of the place. I especially like small diners because you get to be one-on-one with the people -- you get to know the other customers.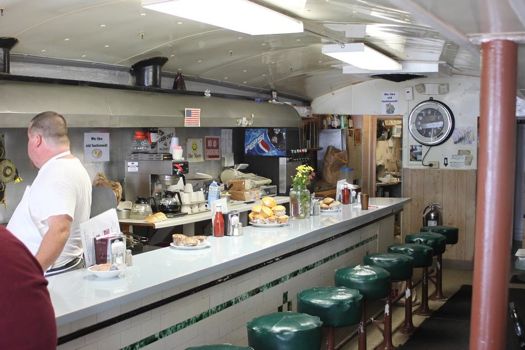 (Dan's place II)
It's amazing to see a diner like Dan's Place II in Albany. You'd never know there's a diner there, and you go in and there's just two people working -- which is what diners were like in the 1920s. If you want to go back in time, go in there. There's a policeman, a business man, a regular local person -- all sitting there at the counter. It's such a neat experience. Just two people working and the counter is full.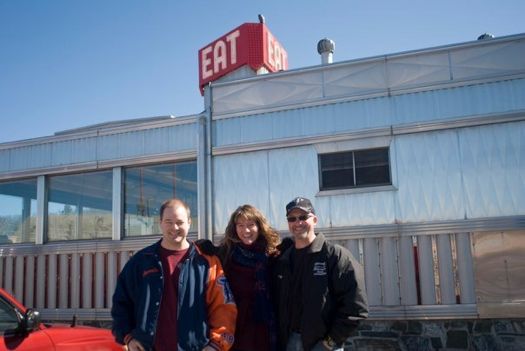 (That's Mike on the left with some of his diner buddies in Connecticut.)
How often do you eat at diners?
When I had time -- and I was working on the book -- I probably went to a good dozen in a week. I couldn't eat in them all, of course. Sometimes I couldn't eat in one and I'd come back in another day .
A dozen a week? Wow! How's your cholesterol?
(Laughs) Actually it's not really bad at all because I don't eat tons of fatty food outside of diners. I kind of save my bacon for diners -- 'cause I don't care what anyone says, bacon is good.
Actually, I've noticed a lot of diners are offering healthier options than they used to . The owner of Farmer Boy [in Colonie] told me that in the 70s he'd make a big tub of gravy, but today they make much less and serve a lot more healthy options.
What do you like to order? What are your favorites?>
I've got different favorites for different reasons. I could tell you a reason why I like, really, all of them. I'm really impressed with what they do with breakfast at Johnny B's in Glenmont. They do some creative breakfasts -- warm apples over a fresh waffle with sprinkles of cinnamon on it. It's a southern creation -- hot apples. If you like pork chops, they have a great pork chop special at Gibbys Diner on Quaker Street [in Delanson]... it's a little out of the way but it's worth it. They give you three big, thick pork chops. They also have an after Thanksgiving sandwich on homemade bread that's great.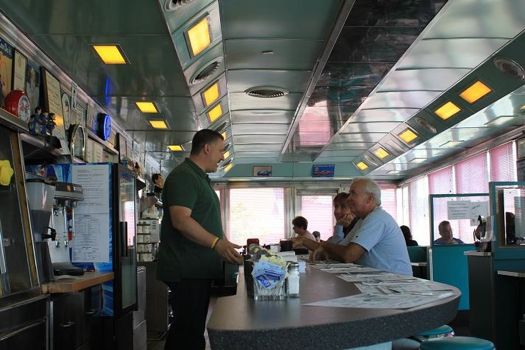 Johnny B's Diner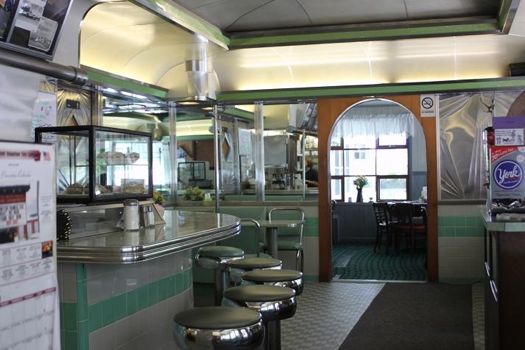 Gibby's Diner
The Alexis Diner [in North Greenbush] is packed for lunch everyday. And they have about six or seven specials everyday.
From doing my book I really notice diner owners take pride in their specials so in the past year or so I've been going for the specials and I've had some really great meals in the last year because of that.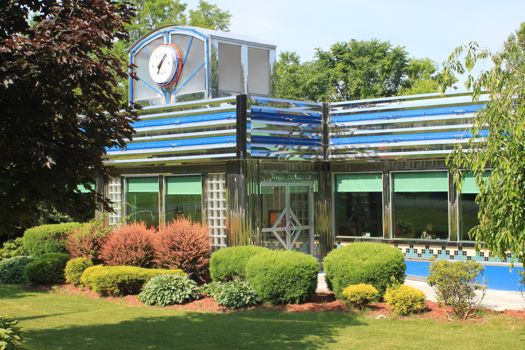 Alexis Diner
I kind of like going to the Gloversville Palace Diner because everyone knows everyone there. Gloversville has seen better days, but it's still a small town and it's a really old diner -- it's from 1923.
My favorite local diner used to be the Miss Troy Diner. It's sad the way they tore that down. And it's been tough to find a new place to go out dependably after that.
You really seem to enjoy the history. You even looked into some of the diners from the area that don't exist anymore.
I'm a historian at heart. Half the fun for me is researching, finding out who built the old diners and who owned them. And in some of the smaller towns you get some neat newspaper articles. In Western New York there's a whole article about the owner of this one diner and how he'd have an opinion on every thing. And they'd just have blurbs once in a while with this diner owner's opinion on this or that.
The Jack's you see today on Central Avenue in Albany was bought with money from gambling. The owner went gambling one day, he won a lot of money and he bought the diner. The Chuck Wagon Diner on Route 20 [in Duanesburg] had two different lives -- it was in Illinois and a guy moved it to Michigan, but couldn't open it and he sold it to the guy who owns it now.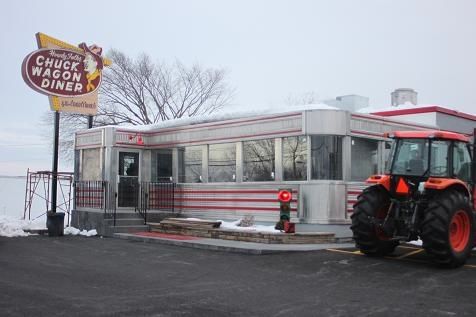 You're also big on the architecture of diners. What are some of the hidden gems -- the kind of "must see" places in the Capital Region?
A lot of the gems are on the perimeter of the Capital Region. The Northampton Diner on the Sacandaga is great. From the outside it looks like a generic building, but if you go inside, it's a perfect 1939 diner. Everything was kept original.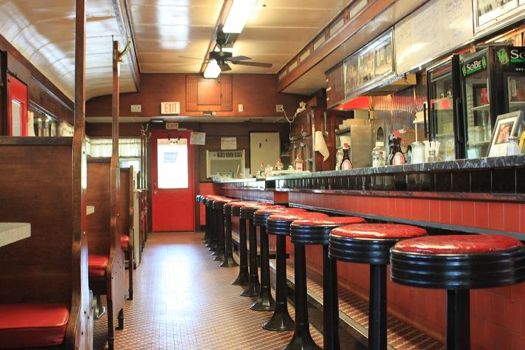 Northampton Diner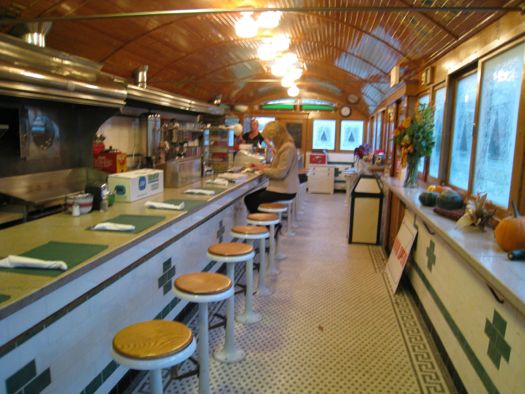 Dan's Diner, Spencertown
And then in Spencertown [just outside Chatham in Columbia County] this guy took about 12 years to restore a 1923 diner to original form. He salvaged two diners that were torn down and cleansed them piece by pieces. And unless you're in the "diner world" you wouldn't know that diner was there.
There's a diner world?
There's a community. It's a bit scattered but it's there. I've actually been able to make some really good friends in the diner world. I actually saved a diner they were going to tear down in Ohio . I wasn't able to restore it, but I gave it to a friend who has it out in Minnesota. I'd go visit him and we'd sit for hours just talking about diners and everything and when it came to a time when he could, he said, "Yes, I'll do it."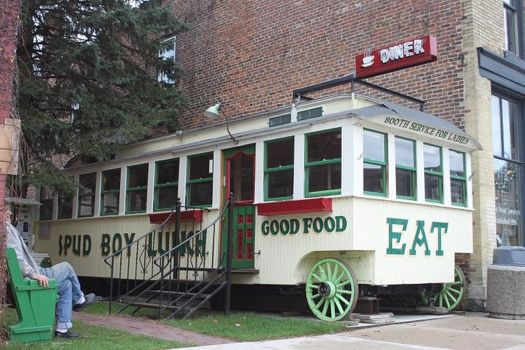 It was the last of its kind. There was a small company in Western New York that built about two dozen diners and I just thought it was important to save history. We've only been able to locate two of them -- this one and one that burned down.
Can you suggest a good replacement for folks that miss the Miss Albany?
That's kind of tough. What the Miss Albany did is very difficult to duplicate. They really upped the ante on a diner menu. They weren't the cheap dependable diner food -- they were the upscale-meets-diner-food put into a comfortable environment... I'm not sure who does that.
Do you watch Diners, Drive-ins and Dives on the Food Network?
Not as much anymore because I think they've gotten away from all three of them. They have neat restaurants -- but they're not any of the three.
They'd have their pick in the Capital Region. You could do so many! The Alexis because of the lunches, The '76 [in Latham] because of the size and the menu and the hours and dedication of the family. The original owner came up from Long Island -- he used to bake for Nelson Rockefeller.
You've set the book up so that people can use it as a kind of local "diner tour" if they want, with places to have it signed at the bottom by the owner and staff.
I did that for two reasons. First, a Facebook friend told me he'd been taking the big book to diners and getting it signed. Second, I want the diner owners to realize -- and you forget cause sometimes it's so crazy -- that they're important to their customers. I think of all the time that they put into their businesses and the fact that that the real majority stay positive even in these economic times and still manage put out a good meal when it would be easy for them to just put out crap.
So it's kind of like making the diner owners mini celebrities. I just had the Alexis Diner owner sent me a message the other day saying, "I signed my first book!"
This interview has been edited and condensed
____
Diners of the Capital Region is available at Market Block Books in Troy and The Book House of Stuyvesant Plaza. Mike will be giving local talks about diners over the next couple of months:
Tuesday, April 17: Stephentown Public Library 7 pm
Tuesday, May 1: Brunswick Community Library 6:30 pm
Monday, May 7: Bethlehem Public Library 7 pm
Thursday, May 10: Round Lake Library - Malta Branch 6:30 pm
Tuesday, May 15: East Greenbush Library 7 pm
Wednesday, May 23: Galway Public Library 6:30 pm
Earlier on AOA: The Capital Region's best diner breakfasts
photos: Mike Engle
Say Something!
We'd really like you to take part in the conversation here at All Over Albany. But we do have a few rules here. Don't worry, they're easy. The first: be kind. The second: treat everyone else with the same respect you'd like to see in return. Cool? Great, post away. Comments are moderated so it might take a little while for your comment to show up. Thanks for being patient.