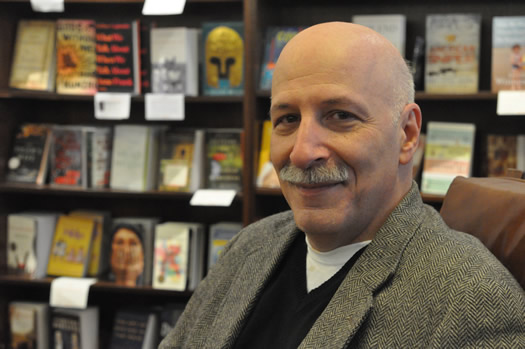 By Siobhan Connally
Guilderland author Peter Golden's first novel -- Comeback Love, a plot-twisting love story that interweaves 1960s-era political and social upheaval, personal regrets and present-day reckonings -- is being released this month by an imprint of publishing giant Simon & Schuster.
The book's story -- and the story about the book -- are both page turners.
Kirkus Reviews recommends readers "Grab a handful of tissues, think The Notebook and then start speculating on actors best suited to bring Gordon and Glenna to the big screen."
In fact, there's nothing really humble about the book -- except perhaps its beginnings.
Comeback Love was originally published in November 2010 by Staff Picks Press, an endeavor by independent bookseller Susan Novotny, who owns The Book House of Stuyvesant Plaza And Market Block Books.
How it started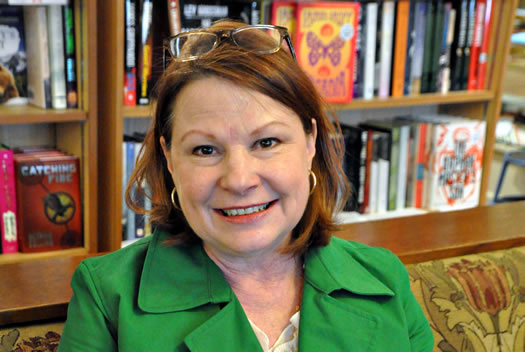 Susan Novotny
It was kismet.
"Peter and I had talked about it for years, actually," said Novotny. "We get dozens and dozens and dozens and dozens of galleys or advance review copies that are sent to us by publishers. And we get them four to six months before the book is available to the public. My observation was that there were an awful lot of books being published that weren't nearly as good as Peter's was."
Golden thought Staff Picks Press would make just a few hundred copies using print-on-demand, but instead Novotny printed a few thousand at an offset press. It was a good call.
Since then, it seems, the book has virtually sold itself.
"The first week in November [2010] we sold a lot of them quickly. We hadn't even pitched it to people around the country, we hadn't started to try to get it into libraries," said Novotny. "It was an alignment of the planets. I had the talent next to me and the conditions were right. I had the ear of my independent book seller colleagues across the nation. They paid attention and it didn't take much to realize that these are the people who are connected to the readers. They know what readers want."
Meanwhile, John Muse, a national sales representative for Simon & Schuster, visited The Book House and bought a copy. "He loved it so much he sent it to imprints of the company."
That same month Novotny attended a conference for independent bookstore owners and returned with interest in the book from other publishers who had read about it in reports from the conference. Emails started flying back and forth, with a number of publishers inquiring about the novel.
Because of the competition, an auction for publishing rights was held in March 2011 and ultimately Atria -- a Simon & Schuster imprint -- won.
Reception
The book's whirlwind success -- going from small-town to national scale -- wasn't much of a surprise to Golden.
"Once I knew the sales rep loved the book I knew it would be picked up. These people spend their lives pitching books they know they can sell."
What was not so clear to Golden, however, was how the book would appeal to a wider audience.
"I found it interesting that younger women liked the book," he said, noting that he assumed because of its main characters -- a couple reconnecting in their middle age and recalling their youthful relationship during the 60s against its backdrop of war and social upheaval -- the story would appeal to an older generation.
"I thought it would do well in independent bookstores because a lot of Baby Boomers tend to shop there. It was heartening to learn from sales that it was also appealing to a younger audience."

The trailer for Comeback Love.
A piece of the writer
If anything surprised Golden it's the reaction people have to finding out his story -- though a work of fiction -- is really a reflection of his own life, albeit not a clear image.
Albany, he says, doesn't play an enormous role in the backdrop of Comeback Love, although he says his writing about snow in the city was influenced by the years he spent living in Center Square.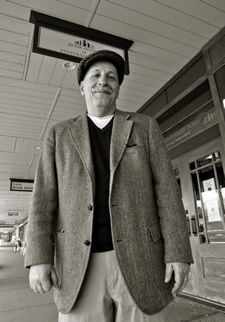 Originally from New Jersey, Golden was living in California in the 80s, writing interactive novels, when his mother got sick. Since he could work from anywhere, he headed back east to be closer to family.
He ended up in Albany.
"There used to be a magazine shop on Washington and Lark that I just loved. The whole back wall had every magazine you could imagine. That's where I first saw Capital Region Magazine. I bought a copy, read it, and I got the editor's phone number. I started writing for it as a lark, something to do while I figured out my next move.
"They asked me if I'd like to go interview Mrs. Whitney and attend the Whitney Ball. I thought, 'Why not. I have a tux.'"
That was 1986. His relationship with the magazine lasted two years.
"I'd never been so involved with an area. It was a nice time, a prosperous time. Lark Street was still young, filled with young people. It was a blast."
In 1988, however, Golden got a call from a former professor who'd recommended him to write a biography of Detroit businessman and philanthropist Max M. Fisher. It was the chance of lifetime, and after being interviewed by two committees, he was hired to do the work. It was the first in a series of high-profile assignments that connected him with some of world politics' most accomplished people. Â 
It was perhaps in chronicling their lives that he also saw how his life was interconnected.
"I think it's the hardest thing for people to understand that a writer feels this way. You're getting a piece of the writer in every character, even when you're reading a biography. And writers who say they're not are either unaware of it or they're not being straight."
Golden -- whose works have included award-winning journalism, biography and history -- has a keen interest in writers who take factual events and turn them into a kind of memoir.
"A good portion of In Cold Blood is made up, filtered through Capote. Capote really imagined himself as Perry. He had his facts and  his history, but by the time he got done with him he was really a fictional character.
"Lots of aspects of my relationship with my wife are in [Comeback Love], but they're so skewed it's not at all a record of my marriage."
Siobhan Connally shares her writing and photography at Ittybits & Pieces.
Earlier on AOA: Is there a happy ending to the story for the Book House and other indie book stores?
Say Something!
We'd really like you to take part in the conversation here at All Over Albany. But we do have a few rules here. Don't worry, they're easy. The first: be kind. The second: treat everyone else with the same respect you'd like to see in return. Cool? Great, post away. Comments are moderated so it might take a little while for your comment to show up. Thanks for being patient.