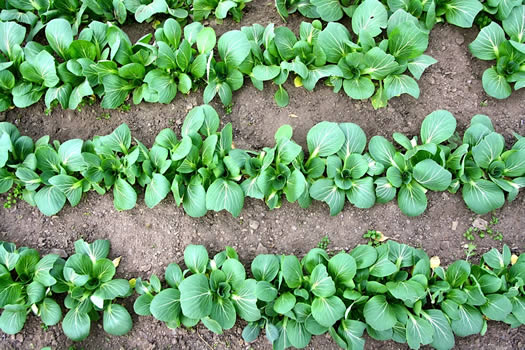 By Christina Davis
We're very happy to welcome From Scratch Club founder Christina Davis to AOA. (Also, over at FSC today: AOA Greg on baking bread. Yes, really.)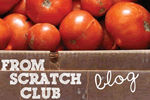 I don't know about you but I'm ready for the flavorful and colorful bounty of the summer months: strawberries, cherries, tomatoes, and much much more. We are already seeing a few glimpses of what's to come with wild-foraged ramps and fiddleheads, along with asparagus and spring peas.
Until then -- while we're in "winter market" season -- you can still find some crisp cooler-weather greens at your local farmers market. To me, there is nothing better to dine on in the drawn-out grey months of winter and early-spring than fresh leafy greens: arugula, spinach, mustards, mesclun.
And then there are the Chinese brassicas: the broad, leafy greens pak choi and boy choy, and the densely-packed heads of Napa cabbage. Hands down, if you're looking for a taste of summer salad with the crunch of your summertime broad-leafed romaines and the slight watery texture of a head lettuce varieties, pak choi/bok choy has you covered for the remaining weeks of spring. I know I know, you usually add the choy to stir fries and fried rice dishes or you sauté with some garlic, hot pepper flakes and oil for a more Italian broccoli rabe-inspired side, but trust me when I say, eat it raw in salads or use as a cup for lettuce wraps. It will make you miss summer BBQs and park picnics just a little less.
We are lucky in the Capital Region to have a handful of farms that grow various leafy greens year-round, including Slack Hollow Farm (at the Troy Farmers' Market) and Kilpatrick Family Farm (at the Saratoga Farmers' Market), where I'm the community supported agriculture (CSA) coordinator.
I recently got a tour of how these greens are grown during the cold weather.
(Plus: a recipe for Asian greens salad.)
The tunnels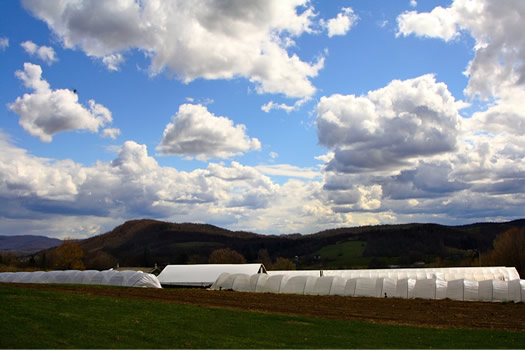 Truth be told, as the Kilpatrick Family Farms' CSA coordinator, I work from my town home in Ballston Spa and at the Saratoga Farmers' Markets, both Saturdays and Wednesdays (May-October). I don't have any on-farm experience or knowledge so I met with Keith, KFF's hard working produce manager and Glens Falls Market crew leader at the farm in Middle Granville to find out more about winter growing and the Asian brassica family.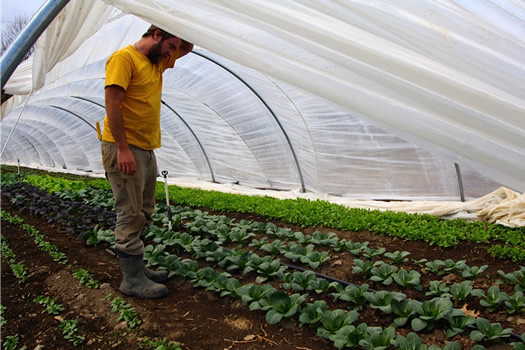 After many years of customer feedback and growing different varieties, the farm's owner, Michael Kilpatrick, and Keith have settled on Red Choi, Black Summer, and Joi Choy varieties for winter growing because of their relative ease of growing and taste profile. Keith shows me two winter tunnels. The first, the most basic, is a 3-foot late-winter season tunnel comprised of tarping and metal framing over a handful of rows of greens, including pak choi. No heating system, basic.
The second is the large main structure known as a high tunnel. It includes an intricate system of heating and watering for colder-friendly crops to survive and flourish all winter long. It's also used to get summer crops, such as tomatoes, started early.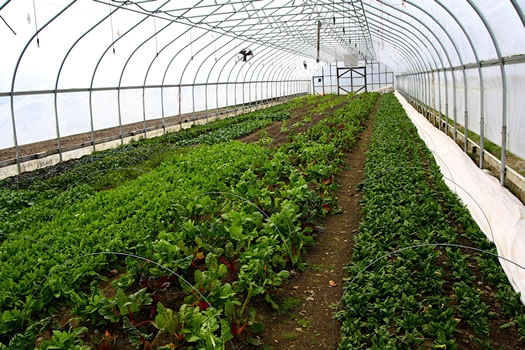 While in the mammoth high tunnel, Keith explains that pak choi is a perfect over-wintering green due to its cold tolerance and its natural life cycle -- lots of vegetative growth in a temperate environment. This means the crew is able to successfully pick leaves off the plants and slowly let the plants regrow all winter long. As long as the temperature doesn't get too cold or too warm, the greens are happy campers. The flip side is once the weather starts getting warmer, with more intense days of sun, the crew has to worry about the heads bolting (going to seed).
So starting soon, Keith and his crew will begin to harvest pac choi heads for market and begin succession planting like you would with European head lettuce varieties.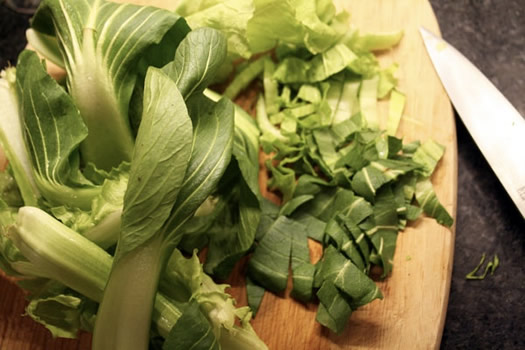 Recipe: Asian Greens Salad
After the tour, I headed home with a bag of leafy greens and decided to make fellow FSC contributor Jillian's refreshing, flavorful Asian Greens Salad. In the winter, Jillian makes this salad five nights a week, and since it debuted on the blog a few months back, I've put it on serious rotation in our home, too. It will make your heart flutter with desire for sunny days and warm nights. Enjoy!
Serves 4-6. (Or two, if you are talking about Jillian and her husband.)
The greens
1 head of bok choy/pac choi or Tokyo bekana
Green additions such as cilantro, scallions, or any flavorful greens like arugula or mustards
Prepare the greens
Cut the very end of the stem off all the bok choy/pac choi and Tokyo bekana leaves. Coarsely chop the remaining leaves and stems into 1/2-inch pieces. If you are using scallions, cilantro or another vegetable, chop it up and add it to the choi. Wash the greens and get ready to toss them with the dressing.
Sesame dressing ingredients
2 tablespoons red wine vinegar
1 tablespoon rice vinegar
1 tablespoon soy sauce
1/2 teaspoon sesame oil
2 tablespoons canola oil
1.5 teaspoons agave syrup (or honey in a pinch)
Add all dressing ingredients to a bottle and shake, shake, shake.
The "crunchies"
1 teaspoon canola or mild-tasting oil
1 bag of ramen noodles (organic or otherwise -- use only the noodles, not the flavor packet)
1/3 cup slivered almonds
Prepare the crunchies
Lay an unopened bag of ramen noodles on the counter or floor and whack them with a meat tenderizer until they are fully crushed. Careful, the bag might pop if you get too excited while you do this! Heat a skillet over medium-low heat and add the oil. When it's warm, pour in the crushed noodles, discarding the flavor packet. Add the almonds. Stir occasionally and cook until the noodles are just golden brown.
Combine everything in a salad bowl, toss and enjoy!
Christina Davis is the founder of the From Scratch Club, which is striving to connect local kitchens, gardens, and communities via food swaps, outreach, and cooking classes.
chopped greens photo: Jillian Ehrenberg for FSC
Say Something!
We'd really like you to take part in the conversation here at All Over Albany. But we do have a few rules here. Don't worry, they're easy. The first: be kind. The second: treat everyone else with the same respect you'd like to see in return. Cool? Great, post away. Comments are moderated so it might take a little while for your comment to show up. Thanks for being patient.