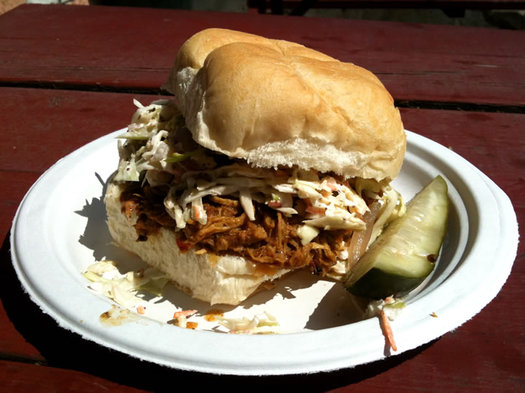 By Daniel B.
Barbecue. Just the very act of reading the word creates an instant impression in your mind. But that image varies dramatically based on your background and where you are from. Almost none of them are wrong, except perhaps the one that involves burgers sizzling over charcoal for a summertime cookout. That's grilling. And Chinese barbecued pork may have once seen smoke, but now its brilliant red patina is the byproduct of nothing more than food coloring.
For me, barbecue involves slow cooking with a little bit of heat and a lot of smoke. And we are blessed to have plenty of places in the region that will transform tough and fatty cuts of meat into tender and succulent delights using this time honored technique.
And while all of these joints have a wide variety of offerings on their menu, there is generally one or two things that they do best. At Capital Q in Albany, one of these things is their South Carolina pulled pork sandwich.
Some will tell you the secret to great pulled pork is the sauce, others say the rub, while still others claim it's the smoke.
At Capital Q, none of that matters, because on this sandwich they ace all three -- and then some.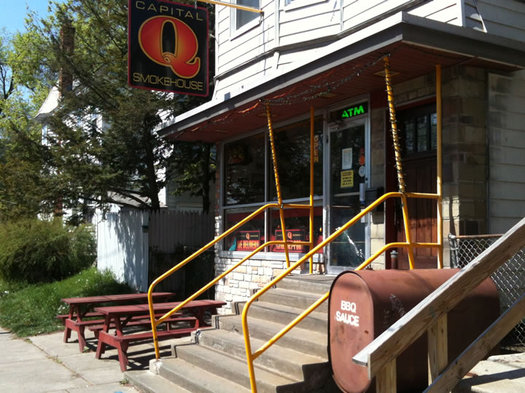 A pork shoulder is a big piece of meat, with precious little surface area. When it is rubbed with spices and seasonings and put into a smoker, its exterior gets dark and crusty. This is the bark, and it's the best.
You know what doesn't have bark? Pulled pork that's been braised in a slow cooker with "barbecue" sauce. And in most places that advertise pulled pork, this is what you will get. Not that it can't be tasty, it can. But it doesn't hold a candle to the real deal.
Bark can also be achieved using the dry heat of an oven. On truly barbecued pork shoulder, underneath the bark is a bright pink layer of intensely smoky meat. This is the smoke ring. The absence of this is criminal. Now, I've been to well-regarded barbecue joints that claim to have a smoke ring, and been served meat with no visible signs of one to be found. So let the buyer beware.
The vast majority of the shoulder though is richly tender pork. Is it fatty? You better believe it. But it's not the kind of fatty that's tough or grizzly. It's the kind of fatty that covers your tongue, caries flavor to the pleasure sensors in your brain, and drizzles down your arm.
It's so fatty, that there are really three things required to properly cut through it all, to prevent the sandwich from being just a greasy mass of meat.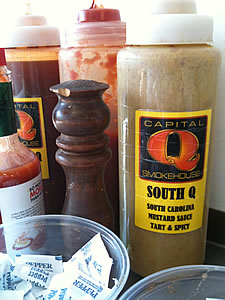 The Sauce
South Carolina is famous for its vinegar-based mustard sauce flecked with the heat of red pepper. Capital Q makes an addictive interpretation. It's so good that I've been known to stash away extra to-go cups of the stuff to use at home in other preparations. The pulled pork is slathered in this sauce. Actually, it rests in a bath of the stuff. And soft tender strands of juicy pork, crusty bark and bits from the smoke ring are pulled out from the sauce and laid to rest on a fairly plain, but sizable, unseeded Kaiser roll.
The roll, mind you, is just thick enough to provide structural support, but as intended serves primarily as a vehicle to get the pork from the plate to your face.
The Slaw
Yes, the slaw comes on the sandwich. It's the only way. Okay, technically you could ask for the slaw on the side, but you would be losing out on one of the critical ways to add texture, color, and a bit more palate cleansing vinegary tang. Capital Q makes their own, and it's just barely creamy. But given that it's made primarily from cabbage (which should clearly be New York's official state vegetable) you can pretend this sandwich satisfies all your major food groups.
The Pickle
Also made on premise, with all the crunch, tang, and zestiness one would expect from the makers of such a remarkable South Carolina sauce. It too cuts through the last remaining vestiges of mouth coating fat, and is your last line of defense from being overcome by the sandwich's awesome power.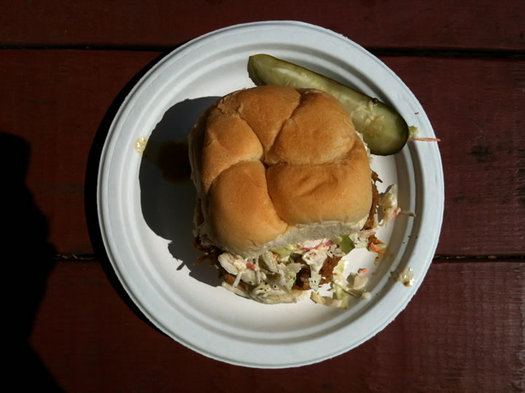 Or, you may be like my wife, who can neither stand cabbage or mustard. In this rare instance I would consider allowing a substitution to the North Carolina sandwich, with its spicy (non-mustard based) vinegar sauce, or the Naked Pig with just Capital Q's well smoked pulled pork.
However, I cannot endorse the Okie Pig with its sweet, sticky and hot Kansas City style sauce.
The one other thing I will order from time to time is Capital Q's often amazing brisket. I have heard a few complaints about the brisket being dry. But there are ways to stack the deck in your favor.
Oh, and most importantly, it's spring! Or summer! Whatever season this is, the picnic tables are now out in front of this establishment, which is seen for most months as take-out only. And I suppose technically it still is. But now you can take your food outside, and sit down to eat it right away. With the South Carolina pulled pork sandwich that's an imperative, because given the juiciness of the pork, I'm not sure how long the bun could possibly last.
Daniel B. is the proprietor of the FUSSYlittleBLOG.
Find It
Capital Q
329 Ontario Street
Albany, NY 12208
cash only
Say Something!
We'd really like you to take part in the conversation here at All Over Albany. But we do have a few rules here. Don't worry, they're easy. The first: be kind. The second: treat everyone else with the same respect you'd like to see in return. Cool? Great, post away. Comments are moderated so it might take a little while for your comment to show up. Thanks for being patient.