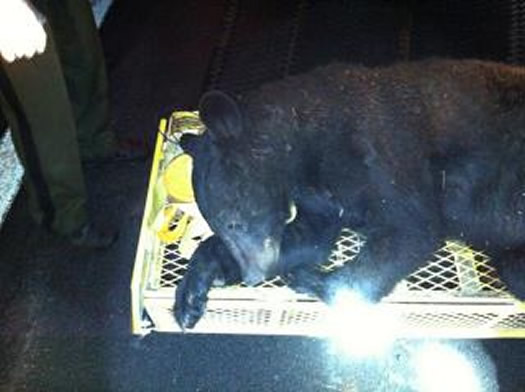 Updated Wednesday 4 pm
Albany police say they got a call about a bear in Albany's south end last night. From the press release:
Police were called to the 200 block of Mount Hope Drive, after a resident called stating a black bear was seen eating out of a bird feeder. Police arrived and observed a 175 pound black bear wandering through the yards. Police followed the bear and set up a perimeter in the rear of 156 Mount Hope Drive after the bear had climbed a tree.
The New York State Environmental Conservation Police responded and was able to get the bear out of the tree safely using a specialized tranquilizer. The bear was taken to the Environmental Conservation Building in Schenectady where it was evaluated by their medical staff. The bear is currently healthy and is expected to be released into the wild sometime later this afternoon.
Mount Hope Drive is near the end of 787, not too far from the Bethlehem line (map).
An update from state Department of Environmental Conservation's Rick Georgeson:
A 175-pound, two-year-old male bear was tranquilized in the city of Albany by DEC Environmental Conservation Officers last night around 9 p.m. The bear fell approximately 50 feet out of a tree in the vicinity of South Pearl St. and Interstate 787.
The bear is being evaluated at the Stamford DEC office to determine if it sustained any injuries from its fall. If the bear is healthy, it will be released in the Catskills. If it sustained serious injuries, it will have to be euthanized.
We do not know where the bear came from.
Update: Georgeson says the bear appears to be in good condition and will be released in the Catskill Forest Preserve on Thursday.
That's a photo of the bear above, via the DEC.
Bear sightings in the Capital Region's core are not uncommon. Every year there seem to be at least a few. Last summer, a bear spent time in Niskayuna, posing for pictures and hanging around Mohawk Commons. And two summers ago, there was a bear sighting not too far from Stuyvesant Plaza.
Bear populations in state have reportedly been growing. The state expanded the range open to bear hunters last year -- there were 26 bears killed in the Capital Region's core counties.
Also: Don't feed the bears -- there's a good chance it will end up getting them killed.
photo: NYS Department of Environmental Conservation
Hi there. Comments have been closed for this item. Still have something to say? Contact us.