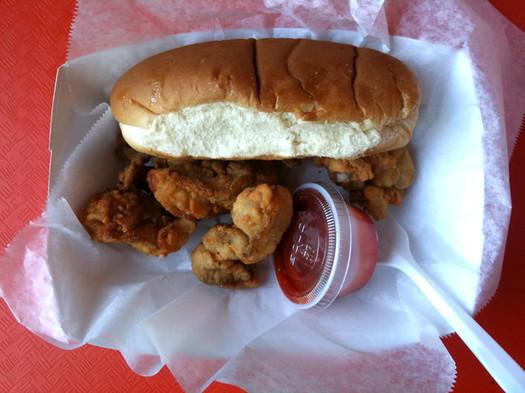 By Daniel B.
Consider the oyster. Those are not my words but the title of a book by M.F.K. Fisher on this polarizing bivalve mollusk. And there has indeed been a lot of consideration paid to these slippery specimens, as trying to describe how they taste is like trying to catch the wind in your hands.
Despite its distance from oyster beds, Albany has a long tradition of oyster eating, as revealed in this article William Kennedy wrote for Esquire on Jack's Oyster House over 25 years ago.
It's hard to imagine that the oyster, a modern fixture of high-end dining, used to be an inexpensive staple of the working class. What a pity that those days are long gone. But in cities like New Orleans you can still pick up a 100-pound sack of them for $50. And even in Watervliet you can still walk into a local fast food joint and get an order of fried oysters in a paper basket with a plain hotdog bun on the side.
Now, May isn't conventionally considered to be oyster season -- but at Ted's oyster season has just begun.
For me, fried seafood is inextricable from spring and summer when New England's coastal seafood shacks open for the season. However there used to be a saying about oysters that they should be avoided in months that do not contain the letter "R," which renders spring and summer the off season. Fortunately this has been found to be untrue.
The giant menu board hanging above the fryers at Ted's explains that the fried oysters are only seasonally available. When I asked the young man at the counter about this, he explained that they weren't available over the winter but have just returned.
Lucky for all of us, because these things are special.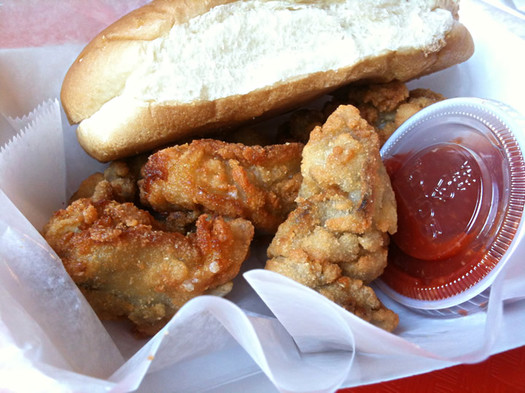 Any lover of full-bellied clams knows the hazards of deep-frying something so delicate and moist. It's difficult to get a coating to stick, and if the coating falls apart, the mollusk is no longer protected from the hot oil and can easily overcook.
Ted's has this down and the integrity of their work is amazing. The breading comes out intact; both burnished and crisp. It's thick enough to hold, yet not so heavy as to detract from the star of the show. It yields with a satisfying crunch to the warm, almost juicy, and succulent oyster within. The flavor is deep and earthy, and the experience might lead one to contemplation.
I never expected the fried oysters to be so large and plump. They are more than a mouthful, and an order doesn't come with many. These are to be savored, but quickly.
One reason the fried oysters are extra good at a place like Ted's is that you order at the counter, and wait there until your food emerges from the fryer. So the amount of time between the oil and your mouth is minimized. You may even consider eating the first one right there at the counter. Let me rephrase that: You should absolutely eat the first one right there at the counter. And I'd also recommend an added sprinkle of salt.
Perhaps these would be better if, like in the old Albany days, they were shucked to order. And I cannot tell you the provenance of the oysters. What I can say is that regardless of where the oysters are from, they are one of the few remaining seafood items that are okay with the Seafood Watch program. Plus, Ted's uses trans-fat-free oil, which is great for those of us who care about such things.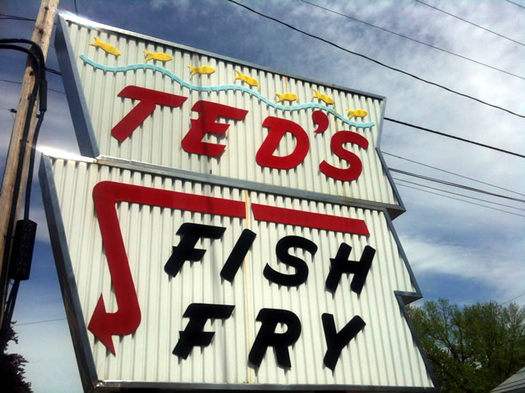 For all of these reasons, I'm willing to pay a little more for this occasional treat. Yes, Ted's is a fast food joint, but the fried oysters are the most expensive thing on the menu, coming in at $10.90 per order and $13.20 if you want to get them as a dinner with fries and cole slaw.
It's not quite like the old days when oysters were cheap and plentiful. But nestled inside a booth at Ted's anachronistic Watervliet outpost with a basket of these deep fried beauties is about as close as you can get.
____
N.B.: Ted's also makes some mighty fine fish fry. It may not rise up to the level of Off Shore Pier and Gene's, but on the Tour de Fish Fry it was notably better than Bob & Ron's. If you find that you cannot resist the siren call of B&R's magnificent neon sign or if you live in Albany and find it morally repugnant to cross the river for fish fry, make sure to try their clam strips.
Daniel B. is the proprietor of the FUSSYlittleBLOG.
Find It
Ted's Fish Fry
447 3rd Avenue
Watervliet, NY 12189
Hi there. Comments have been closed for this item. Still have something to say? Contact us.