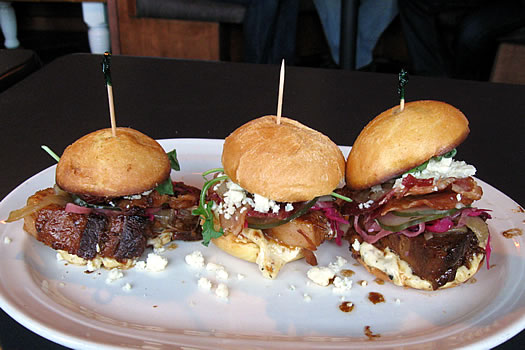 We had a lot of fun at the AOA Burger Lab at Central Steak last week.
There were so... many... sliders. It was great to see all the combinations of toppings people put together on their tiny burgers. And we raised some money for the ASAP Daisies.
Five burger combinations submitted here at AOA were put to a taste test by our panel of judges. And we would have never guessed the winner.
Here are the results and a bunch photos...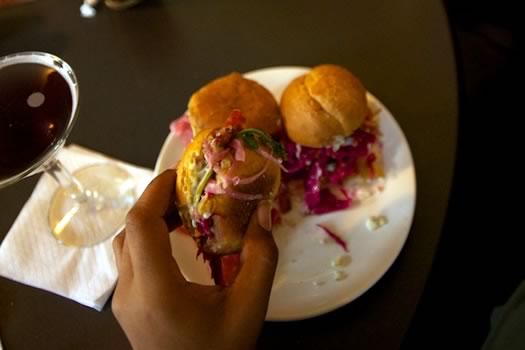 There are a handful of photos from the event in large format above -- scroll all the way up.
The judges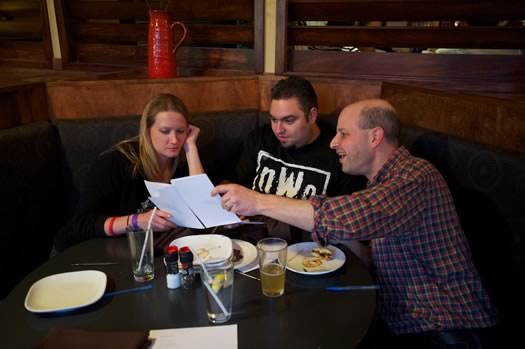 Thanks to our judges: Janie Wilkinson from the ASAP Daisies, Jerry Papandrea of derryX fame, and Daniel B. from FUSSYlittleBLOG.
The entries
From Kate H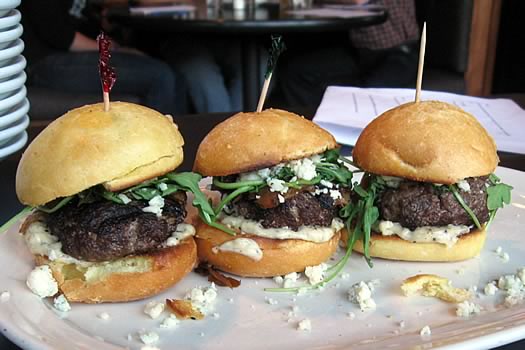 Ground beef, caramelized fennel, black pepper aioli, blue cheese, and arugula
Judges: They liked the mix of blue cheese, fennel, and greens -- but they said it could have used a bit more of everything to balance against the beef.
From Amy Gerling


Pulled pork, coffee molasses glaze, caramelized onions, bacon, and romaine
Judges: The judges liked the texture of this combination. They said the sweetness of the coffee molasses glazed worked with well with the bacon. But overall, it could have come together better.
From Josie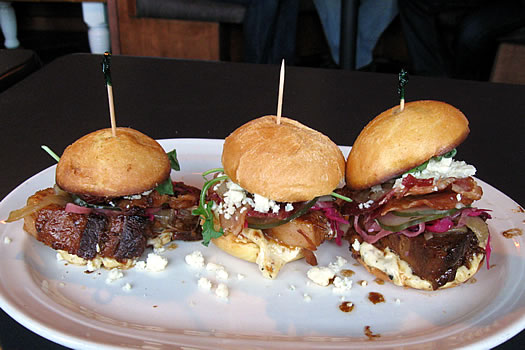 Pork belly, black pepper aioli, pickled onion, pickled cucumber, caramelized onion,
bacon, braised pork belly, sesame purple cabbage, blue cheese, arugula. Call it "the whole hog."
Judges: Remarked one judge of the all toppings: "Thank god this is small because it could kill you."
From Jason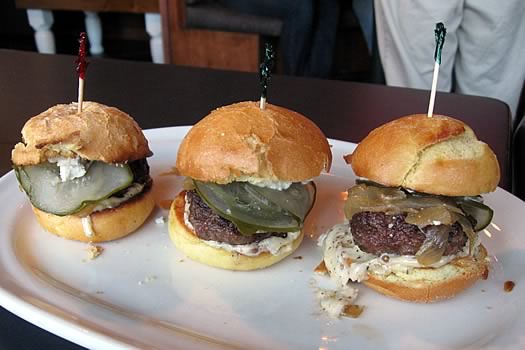 Ground lamb, black pepper aioli, caramelized onion, pickled cucumber, goat cheese
Judges: The judges liked the lamb (they preferred it over the beef) and said the goat cheese paired nicely with it.
From Julie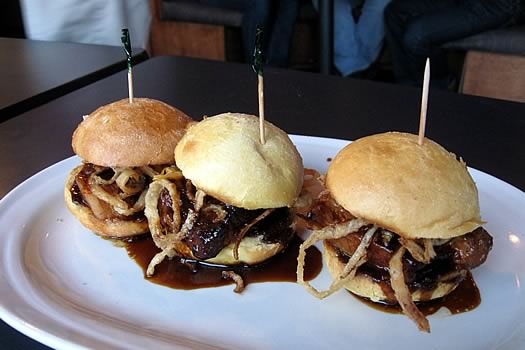 Pork belly, coffee molasses glaze, pickled habanero, and crispy onion
Judges: They liked the flavor and balance of "heat and sweet." But they were looking for one more element, maybe a "cool crunch" or something creamy.
The winner
Ultimately, the judges settled on the Josie's "Whole Hog" slider. Said one judge: "On paper it sounds like a mess, but it works." Another acknowledged the combination was difficult to manage, but it had a "good balance of creaminess." And another, simply: "Surprisingly good."
Congrats to Josie! Her slider will be go on the bar menu at Central Steak.
Thanks also to the judges for their time. To Andy Kainz Photography for the crowd photos. And big thanks to the kitchen and staff at Central Steak for making some tasty food and keeping everything running smoothly.
Hi there. Comments have been closed for this item. Still have something to say? Contact us.