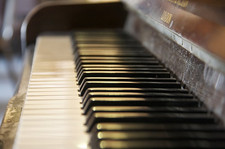 Having successfully submitted his property tax assessment grievance with your help, Sean is back for more:
My wife and I just moved, but the one item that we couldn't manage was our piano. We're not related to any football players or bodybuilders, and there are more than one flight of stairs to contend with, so none of our moving posse felt comfortable taking on this challenge. So, that leaves us searching for an alternative solution. Do you or your readers have any tips for not only getting this thing out of our former residence, but into our new one as well?
Are there still piano moving services? Or any advice for Sean (aside from lift with your legs)?
Please share!
photo: Flickr user readephotography (Jimmy and Sasha Reade)
Hi there. Comments have been closed for this item. Still have something to say? Contact us.