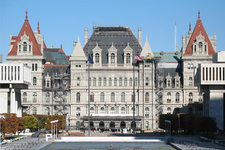 Members of both the state Senate and Assembly are pushing legislation that aims to crack down on cyberbullying and other online nastiness by requiring a commenter's actual name and contact info be associated with a comment.
From the text of the "Internet Protection Act":
"A web site administrator upon request shall remove any comments posted on his or her web site by an anonymous poster unless such anonymous poster agrees to attach his or her name to the post and confirms that his or her IP address, legal name, and home address are accurate. All web site administrators shall have a contact number or e-mail address posted for such removal requests, clearly visible in any sections where comments are posted."
The bill's Senate sponsor -- Tom O'Mara, a Republican from the southern tier -- has framed the bill as anti-cyberbullying measure: "Victims of anonymous cyberbullies need protection. We're hopeful that this legislation can be helpful to the overall effort to deter and prevent anonymous criminals from hiding behind modern technology and using the Internet to bully, defame and harass their victims." [NY Senate]
But other sponsors also see the legislation as a way to crack down on anonymous criticism of businesses and politicians.
From a recent press release from Assemblyman Jim Conte, a Republican from Long Island:
... the bill also prevents people from posting anonymous criticism of local businesses. Too often, rival businesses will post negative and false posts to hurt their competition. With more and more people turning to online reviews, it is important to ensure that the posted information, good or bad, is from actual customers and not rival competitors.
Finally, the legislation will help cut down on the types of mean-spirited and baseless political attacks that add nothing to the real debate and merely seek to falsely tarnish the opponent's reputation by using the anonymity of the Web. By removing these posts, this bill will help to ensure that there is more accurate information available to voters on their prospective candidates, giving them a better assessment of the candidates they have to choose from.
The bill's sponsor in the Assembly -- Dean Murray, a Republican from Long Island -- said at a press conference about the legislation that he was subjected to derogatory statements posted anonymously about him during his last race: "These comments were absolutely horrible and unfortunately if you Google them now you'll still be able to pull up a couple of the comments." [Legislative Gazette]
Where do we start?
There are so many problems with this legislation, it's hard to pick a place to start. (The sponsors may very well know this bill has little or no chance -- it could just be a bid to draw attention to the issue. See: the proposed ban on salt in restaurant food.) But here it goes:
1. There's a long history in this country of anonymous speech being free speech -- and in many situations, a government requirement that someone out themselves is almost certainly unconstitutional. New York's own courts have addressed this matter (though the issue is complicated). [EFF] [Citizen Media Law Project]
2. As a writer at Wired pointed out this week, the bill doesn't include a provision for the person complaining about a comment to identify him or herself. It's essentially a "heckler's veto," as one attorney described it to Wired. [Wired]
3. The internet is everywhere, and this law would only apply in New York, which is a potential problem. For example: even though AOA is about one very specific part of New York, the actual server that hosts the website is in... California. You could probably argue that by having a physical presence in the state, a website would be subject to the law (the way Amazon has to pay sales tax here) -- but that's not in the legislation.
4. Anonymity can be used for good: to blow the whistle, to protect someone, to express oneself, for privacy.
Of course, anonymity also causes problems. You don't have to look too far online to see how. A lot of online comment sections have become a cesspool of venom and obnoxiousness. People say all sorts of things online that they wouldn't say in person because they don't have to look the other person in the eye. And the web, Google especially, never forgets. (Tangent: maybe it should be able to some in cases.)
But we don't need the government "fixing" this problem. If an online posting is part of a crime or civil proceeding, there are already avenues for the related evidence to be surfaced. And in the vast majority of the other situations, though it may sometimes be distasteful, it's not currently illegal in this country to be a jerk.
Could the situation be better? Absolutely. Active moderation by sites makes a big difference. We sometimes spend an unfortunate amount of time here at AOA dealing with comments -- but it's effort that ultimately pays off. As Anil Dash succinctly pointed out: "If your website's full of assholes, it's your fault."
[via Fake Sheldon Silver]

Hi there. Comments have been closed for this item. Still have something to say? Contact us.