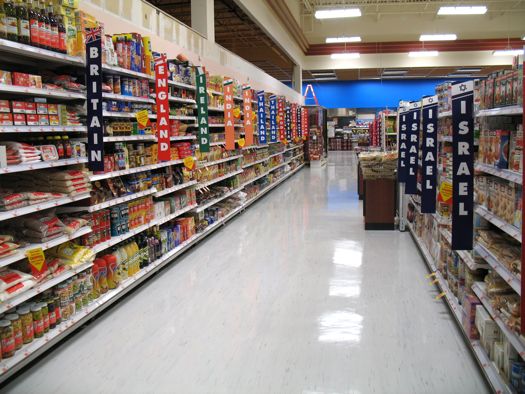 By Wendy Voelker
It's Supermarket Week again on AOA. All this week we'll have posts comparing, thinking, and talking about supermarkets. Hey, we all have to eat.
I love grocery shopping.
I love wandering the aisles, smelling fragrant greens, deciphering nutrition labels, discovering new and exciting products, imagining possibilities for weeknight dinners, finding great coupon deals, keeping track of prices in my grocery list app.
What I don't love about grocery shopping is that there are other people involved in my experience. People just get in my way and ruin everything.
Sometimes, one of those people is me.
Not often, but sometimes.
Every week, I encounter the same issues at the grocery store. Ninety-nine percent of the time I shop at the Hannaford in Clifton Park, but occasionally I will venture to Price Chopper, or maybe the Fresh Market in Latham. But, no matter where I go, the same problems follow me.
Positional annoyance
I keep my grocery list in the Grocery Pal app installed on my iPod. It allows me to sort my list according to aisle, enter weights and per-pound costs of produce, deduct coupon savings, check off items as they go into my cart, and adjust prices as things go on sale or as prices go up (which they seem to be doing at an alarming rate these days). It's a great little application, though I wish there was an option for adding sales tax. I keep my iPod in my hand as I traverse the store, checking things off and adding current prices.
Oftentimes, I need to pause in my journey to be able to type things into the app. Which means I need to stop. And every time I stop -- and I mean every time -- another shopper needs something from the very shelf I've stopped in front of. Seriously. Even if I've stopped in front of the dusty old jars of borscht in the "Kosher for Passover" section, someone needs that jar of purple soup right then and there. And these people seem to materialize out of thin air. The aisle could have been empty, with crackling tumbleweeds drifting through, moments earlier. But as soon as I bring my cart to a stop, the hordes descend. Well, maybe only one horde, but that horde needs to be exactly where I am at exactly the moment that I'm there.
Shopping cart joyrides
Specifically, parents letting their kids (usually girls; boys engage in other annoying antics) push shopping carts. These darling princesses are similar to those little old ladies who drive Cadillacs: they can't see over the dashboard, and all you can see of them are tiny little hands gripping the wheel for dear life. Carts fly dangerously down the aisle, not caring a tinker's cuss who or what is in their path, repeatedly running into the backs of my ankles.
It's all an amusement park ride. Wheeeeeeeeeeeeee! I'm pushing the cart and I can't see anything in front of meeeeee! And I'm wearing Uggs and a North Face fleece so I'm cuuuuuuuuuuuuuute! You're not cute. You're really really not. I think I will kill you with this twist tie from the parsley in my cart.
Supermarket sports
This -- this is what the annoying little boys do in the market, while their mothers ignore them. Sometimes, it's track and field day -- boys running, just running. No destination, just running. Other times, it's Turkey Football. I actually witnessed a team of pre-pubescent boys tossing around a frozen Butterball like they were in Giants training camp. Mom was nowhere in sight -- probably too busy fixing her lipstick in the reflective glare of the organic frozen vegetable case.
Aisle blockers
You know them -- they're the slow-moving folks who dodge and weave their way through the market, teasing you all the while, letting you think you'll be able to get by them. Oh, great! They're moving over to the sausages and bacon... No! Shuffle to the left! And now you're stuck behind them all the way to the dairy section.
The endcap logjam
I'm at the end of the aisle, ready to turn right and make my way into the next aisle. But there's an endless stream of traffic in front of me, not giving a single hairy rat's ass that I'm trying to merge into the flow of carts. Nope. I just sit there and sit there and sit there, waiting for an opening. Just like how people in the Capital Region have no clue how to handle merging traffic on the Northway (Screw you trying to get in my lane! I gotta get to Crossgates!), people in the grocery store are so caught up in themselves that they don't realize there are actually other people in the store, also trying to shop.
Out of my stuff
The Hannaford in Clifton Park is always out of whole wheat pita bread on Sundays. ALWAYS. The kid in the bakery unapologetically tells me that they'll be getting more in on Tuesday. BUT I CAN'T SHOP ON TUESDAYS. I shop on Sundays.
Is it really too much to ask to order an extra case so there will be a few g-d packages of Joseph's Whole Wheat Pitas available to us lepers who must do our shopping on the weekends because we're too damned tired to haul our butts to the market after working for ten hours? I may live in Clifton Park, but I am not a stay at home mom with leisure time during the week. Good thing, because I kinda hate kids. And most people.
And sometimes I bring things on myself
I was short last week. I'm short this week. And I'm pretty sure I'll be short again next week.
I hate that the stuff I want to buy (Friendly's ice cream sundae cups) is invariably located all the way back on the very top shelf, completely out of my reach and line of sight, forcing me to step on the bottom shelf and flail my hand blindly until it hits the item. As I step down from the shelf with the item, I usually knock over about a dozen other items on the lower shelves.
Then I quickly run away so I don't have to clean them up. Which means I'm probably on someone else's list of annoying shoppers.
The circle of life.
Wendy Voelker muses about all things yummy at Wendalicious.
Supermarket Week 2012:
+ Delivery! Comparing ShopRite from Home and Price Chopper Shops4U
Hi there. Comments have been closed for this item. Still have something to say? Contact us.