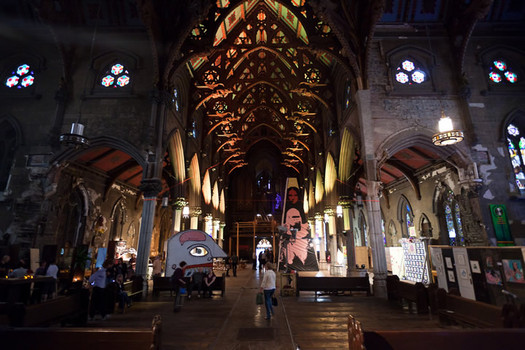 The Historic Albany Foundation has been looking for a use for the former St. Joseph's Church in Albany's Arbor Hill neighborhood since the organization took over the building in 2003.
HAF Executive Director, Susan Holland says they've been pitched everything from a Christian recording company to a goth club -- but, for various reasons, the ideas didn't work out.
Then, not long ago, she heard from a company called Ravens Head Brewing. Its pitch: to turn the old Gothic church into the flagship location for its brewery, and a restaurant/events venue.
Working backwards
Holland says the idea kind of rattled around in her head for a while. It sounded interesting and do-able enough for Historic Albany to present to the neighbors.
At a meeting tonight the community will have a chance to learn more about the proposal and voice its opinions.
"This whole thing is happening backwards from the way a lot of organizations do business," Holland says. "It's all in the very earliest stages. We're taking it to the community to get their input first, rather than waiting until all kinds of plans have been made." Rather than reach out through media, HAF dropped fliers in the immediate vicinity of St. Joseph's. "We're hoping to hear from the people who would be most impacted."
The plan
Ravens Head Brewing owners Brennon Cleary and Brent Decker, both currently living in New Jersey, worked together at Verizon. Cleary still works there, but Decker lost his job during one of the company's most recent cutbacks. Disenchanted with the corporate culture, they set out to do something they love and do it their own way.
Their original plan to start the brewery in the Catskills fell through, and after making a few calls, they found the St. Joseph's location.
"What led us to Albany was the good age demographic. And it's a every educated town. The beer geeks, the hipsters -- it's a good demographic for beer," says Decker. "We also love the location for the history of it because Albany has a very rich brewing tradition. And geographically it grants a lot of access paths -- it's close to Vermont, Massachusetts, New York City.
"And your water is phenomenal. Water is the most important, underrated ingredient of beer."
Cleary adds: "We could strip [water] and run it through all sorts of filtration but we'd lose the minerals that bring out the character for the beer." They also say it's a plus that there's no fracking here. "We don't want to be anywhere near that."
Cleary and Decker say they do have a couple of other Albany locations in mind, but St. Joseph's is at the top of their list. "Look at that building -- how could it not be at the top of our list." They looked at some factory buildings that would offer them the space they needed, but they're pretty set on opening in an old church. "Those locations just didn't pop," says Cleary. "And where else can you dine with angels?"
The plan is to turn the building into a brewery and restaurant, and to hold events -- but the duo says the plan goes a little beyond that. "Say you want to have a wedding there," says Cleary, "but a month or so before, you have a bachelor party or something and we can involve you in the process of making the beer for the wedding."
"We are not proposing to stay open until 4 am," says Cleary. "I don't want to put that much of my life into doing this, I need some sleep. And it shows a sign of respect for the neighborhood -- you want people leaving at a reasonable time so there isn't a negative impact."
Their vision for the business is ambition. They're hoping the project will create 20-45 jobs, half of those at more than $35,000 a year. They're also planning to offer employees benefits and profit sharing. Says Decker, "Good employees who tell people they work in a great place and you should come there -- that's advertising you can't buy."
They say they're expecting to have to put about $1 million into the building, though Historic Albany has already done a lot of the more expensive repairs like the slate roof.
Finding a fit for St. Joe's
Susan Holland says Historic Albany doesn't have an opinion on this particular project either way. "We took it on ourselves to keep the building up, and we want to help find the right use for it, but we're not developers."
Finding the right fit for the old Gothic church has been a challenge. Before 2008, Holland says she got a few calls about the building pretty much every month -- some more promising than others. There was the woman who wanted to use it as a Christian recording studio but couldn't come up with the funding. The interior design museum idea. The guy who wanted to turn it into a Goth club. And the man who told them they should give him the building "because Jesus wants you to."
But since the economic downturn in 2008, there haven't been many offers of any kind. "We've been using it as a sort of seasonal performance space and there's always talk about turning it into some sort of an art gallery -- something community oriented -- but that's very hard to find money for."
Between Cleary, Decker and their third partner, they say they have about a decade of combined brewing experience. But you can't buy Ravens Head yet. "We did take it to a recent festival in Asbury Park [New Jersey]," says Cleary. "We had 15 gallons each of two beers. The first 15 gallons sold in 15 minutes. The second sold in half an hour. We know we've got a good product. We're looking for a home."
The meeting
Holland says she's already heard from members of the community who support the project and members who oppose it. She's expecting a big turnout at tonight's (Tuesday) meeting at at Ten Broeck Mansion at 5:30 pm.
Holland stresses that this is just the first step. There's no timetable. If the community approves, then they'd begin talking about business plans and offers. "There would still be a lot to go thorough. This is just a first step. But, sometimes you've just gotta take a risk and explore something."
Follow-ups:
+ ACO reports "the City" is skeptical about using St. Joseph's as a brewery.
+ KAB reports from the community meeting that public opinion seemed split -- with worries about logistics.
Earlier on AOA:
+ Albany Distilling Company
+ Albany's water is in the top 5
photo: Sebastien Barre
Say Something!
We'd really like you to take part in the conversation here at All Over Albany. But we do have a few rules here. Don't worry, they're easy. The first: be kind. The second: treat everyone else with the same respect you'd like to see in return. Cool? Great, post away. Comments are moderated so it might take a little while for your comment to show up. Thanks for being patient.