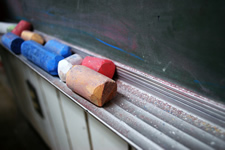 The state Department of Education released data Monday about high school graduation rates. The statewide graduation rate for the 2007 cohort of students was 74 percent (that counts kids who finished up by June 2011).
We pulled out the stats from Capital Region school districts. As in years past, some of the results are sobering and frustrating.
Sorted stats (including notes and qualifications) after the jump.
A note about the data
"Graduation rate" in the tables below counts students from the 2007 cohort who graduated with a Regents or local degree as of August 2011 (four school years plus one summer). "Dropped out" is students who did not get a degree, did not transfer to a GED program, did not get an IEP diploma, or are not still enrolled.
Breakdowns by Capital Region school district and county -- with the last three years' rates -- are in wide format above (scroll all the way up). Comparing just a few years isn't necessarily going to give you much sense of any significant trend, but it's there for casual comparison.
Below is the whole list for the Capital Region, sorted highest to lowest by graduation rate. In years past when we've posted these rates, people have (rightly) brought up the issue of household income and the percent of students with disabilities. So we've included the percentage of students who were tagged as being economically disadvantaged or having a disability in each district's cohort. (More on that below.)
All data is from NYSED (pdf). Percentages have been rounded.
NYSED defines (doc) "economically disadvantaged" as any student whose family is enrolled in at least one of a group of public assistance programs -- among them: free or reduced price lunch, food stamps, the earned income tax credit, the Home Energy Assistance Program.
A few notes
+ Vorheesville takes the top spot for the second year in a row.
+ Albany takes the bottom spot for the third year in a row. But its graduation rate was up five percentage points from the cohort graduating in 2010.
+ As mentioned, in the past people have pointed at the importance of economic status when considering these rates. Curious about about what sort of relationship there might be between graduation rate and economic status, we graphed the percentage of each district's cohort tagged as economically disadvantaged against the district's overall graduation rate. Here's the graph:
This is a casual analysis. It's just one cohort of students, and the report doesn't indicate the degree of a student's economic disadvantage (or advantage). But with that in mind, it's probably fair to say that if a school district has a high percentage of students who are not economically disadvantaged there's a good chance the cohort graduates at a high rate. But as the number of economically disadvantaged students increases -- well, then it's hard to say what's likely.
Just to highlight why it's worth being careful about making generalizations: economically disadvantaged students in this cohort graduated at a higher rate in Albany (by a little) and Schenectady (by a lot - 67/48) than their peers not tagged as economically disadvantaged.
NYSED's full breakdown of graduation rates is embedded below.
photo: Flickr user Kyle McCluer
Hi there. Comments have been closed for this item. Still have something to say? Contact us.