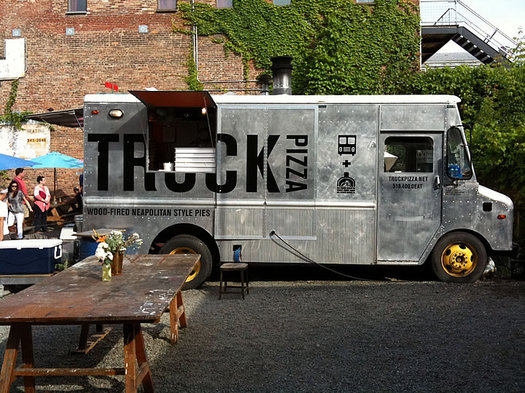 Hudson has become one of our favorite weekend trips for a few reasons:
1. It's not really a trip. It's a 45 minute drive from near Albany -- about the same distance to Saratoga.
2. It feels like somewhere different. Maybe it's the NYC influence.
3. We usually come across something new or interesting or fun.
The latest new/interesting/fun thing: this past weekend we noticed Truck Pizza -- a food truck serving pizzas from an onboard wood-fired oven.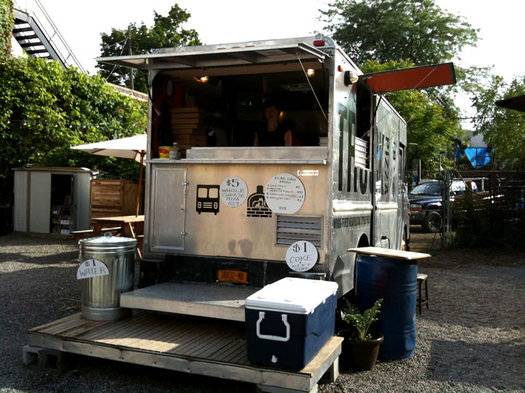 The aptly-named Truck Pizza is parked at 347 Warren Street, in the lot next antique furniture and lighting shop 3FortySeven. The mobile taco stand Tortillaville is in the same lot.
The pizza truck is the creation of Sam Starr and a few of his friends. He modified the truck himself last year -- writing a blog tracking the truck's transformation. The wood-fired oven is in the middle of the truck, behind the cab. It started serving the public this past winter.
We were a bit skeptical of wood-fired pizza from a truck. But while eating a taco at Tortillaville, the pizza and smoke aroma drew our attention. And then we started gawking at the pizza people were eating next door. Hey, that's doesn't look bad...
So, taco eaten and Mexican Coke still in hand, we headed over to Truck Pizza and ordered a $10 Neapolitan-style pie.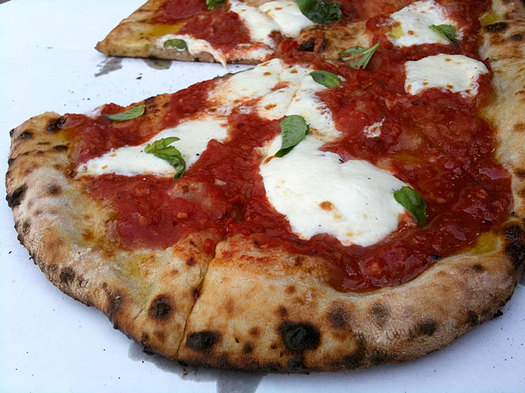 We were quite happy with result. The pizza came served on a cardboard round. The crust was crisp and chewy, with some lovely charring (the bottom was even ashy in a few spots). The tomato sauce was bright. The fresh mozzarella wasn't rubbery. The basil was basil-y. And a little drizzling of olive oil -- with a sprinkle of coarse salt -- put it over the top. We'll admit: the pizza was scarfed.
The pizza was plenty for a two-person lunch. Or if you have a small group, it'd be a good snack. We're looking forward to eating it again.
Food truck market: The owner of 3FortySeven has proposed turning the lot where Tortillaville and Truck Pizza are into a food truck market and beer/wine garden. The new market would also include a noodle truck and an Indian food truck. The plan has apparently met some resistance because of logistical concerns. But it sounds like a good idea. [Go To Hudson] [Gossips of Rivertown] [Register Star]
Tortillaville: The recent issue of Chronogram included an article about Hudson Valley food trucks -- and detailed some of the plans Tortillaville's owners have, including writing a how-to book about the food truck business.
Earlier on AOA:
+ Slidin' Dirty
+ Tortillaville in Hudson
Find It
Truck Pizza
347 Warren Street
Hudson, NY 12534
Hi there. Comments have been closed for this item. Still have something to say? Contact us.