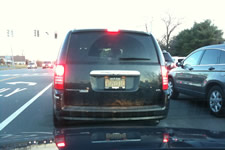 Worth pointing out (again): the Albany metro area has a relatively low level of traffic congestion. In fact, compared to a lot of large metros, it essentially doesn't have traffic.
The Albany metro area ranked 78th for traffic congestion during the 12 months that ended in April 2012, according to the traffic data firm INRIX. Trips here on average took 2.1 percent more time because of congestion (down from 3.6 percent during the same period the year before). It estimates that the average driver here wasted 4.1 hours during that period because of congestion.
For some context: the most congested metro area last year was Honolulu, where INRIX figures drivers wasted 58 hours during the year. The Honolulu metro is roughly the same size as Albany-Schenectady-Troy in terms of population (Honolulu is #53, Albany is #59).
The time of the week with the most congestion? Thursday and Friday afternoon rush hour.
INRIX didn't identify any corridor bottlenecks here. The most congested corridor in the nation was a portion of the 405 in LA.
Austin: Q: Why did the semiconductor consortium cross the road to Albany? A: Maybe because it couldn't cross the road in Austin -- the Texas city had the 6th worst traffic congestion in the nation.
We're joking about that. Mostly. But there's research that traffic and commuting make people unhappy -- and that we often underestimate the degree to which it's a downer. [Wired]
Here's the INRIX explainer on methodology. Last year were able to find out which roadways it was tracking in this area -- we can't find that this year. (Last year it was I-87, I-90, I-787, I-890, and Route 7.)
Hi there. Comments have been closed for this item. Still have something to say? Contact us.