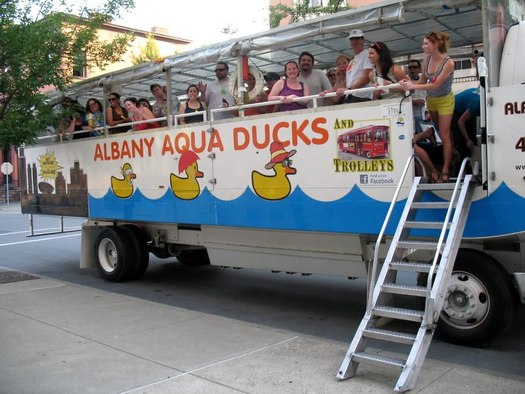 The Troy > Albany AOA Aqua Duck tour was yesterday evening. And it was a lot of fun! (Also: hot, very hot.) Thanks to everyone who came along!
Serving as guide and Troy advocate was Duncan Crary. Maeve McEneny defended the honor of Albany. They both were great, sharing interesting historical facts -- and a few jabs back and forth.
Big thanks to the Albany Aqua Ducks -- and sponsors Brown's Brewing, the Arts Center of the Capital Region, Bacchus Wood Fired Pizza, and the Olde English Pub and Pantry. Also: thanks to Enjoy Troy for t-shirts and prizes, and Andy Kainz for the photos.
Here are a bunch of photos from the tour...
The photos are in large format above -- scroll all the way up.
Wait, there's more!
+ Here's a good photoset from Tim Dawkins, who was on the tour.
+ And Andrew Beam from the Record came along to write an article about it.
Another tour? A bunch of people have asked if there will be another tour. The answer is: maybe. We'd like to, but there are a lot of details involved. We'll see if we can work them out.
Hi there. Comments have been closed for this item. Still have something to say? Contact us.