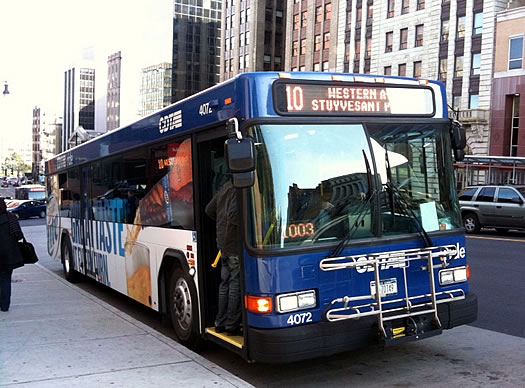 By AOA Greg
The battery died. That's why I became a semi-regular bus rider.
When the battery finally conked out for good on one of our cars, it was going to be a day or two before I'd be able to buy a new one to replace it. And my wife needed the car the next day -- so I took the bus downtown.
That ride started a mostly unplanned experiment in becoming a one-car household. We had kicked around the idea of not replacing our older car whenever its time came to be donated/junked/Craigslisted. But talking about that and actually doing that are two different things. So, the dead battery was an opportunity to try it out.
We still have the car, but we haven't driven it in about two months. In that time I've become a semi-regular bus rider.
Here are a few things I've learned, remembered, or noted along the way...
A quick note: As stated above, I don't ride the bus full time, so my experience of using public transportation is different from that of people who do so full time. And I'm lucky that I have a lot of flexibility. But I think my experience probably is representative of people who might be considering using the bus more often.
OK, that acknowledged, here we go...
Short is better than long
In my experience, the restructured CDTA routes work pretty well. That's especially true for shorter trips -- say, hopping the bus in uptown Albany and riding it downtown. It's easy and doesn't take long. If you don't have to wait long for a bus, it doesn't take much longer than driving -- especially if you're heading someplace where it's hard to find parking.
But longer distances require patience and planning. For example, it takes about 35 minutes to get from downtown Albany to downtown Troy on the bus -- plus whatever time it takes to get to the line that travels between the two spots, plus whatever time you have to wait to catch the other bus. In contrast, that's an under-15 minute trip by car.
(As Mary points out, BusPlus has made the otherwise "long" trip between Albany and Schenectady more convenient, but that's only one route. It'd be great to see that expanded.)
Downtown
So, as a short trip for me, I'm happy to take the bus from home -- or many points in Albany -- to downtown Albany. It is super easy. Hop on, ride for 10-15 minutes, hop off and go where I'm headed, with no hassle finding parking.
After this experience, I'm pretty sure I'd commute via bus most of the time if I worked downtown. Given the ongoing parking drama there, it makes me wonder if there are other people who'd have an easier time if they rode bus -- and maybe just don't know it.
It's also made me think about how people choose where to live and how much the commuting experience factors into that decision. I suspect that people tend to underestimate the hassle and expense of commuting -- and the degree to which it can make them unhappy. But I realize that easy bus use isn't evenly distributed. And people have a bunch of different reasons for picking where they live. Everything's a tradeoff -- it might not be worth it to you. It's just something to which a lot people probably should give a bit more thought.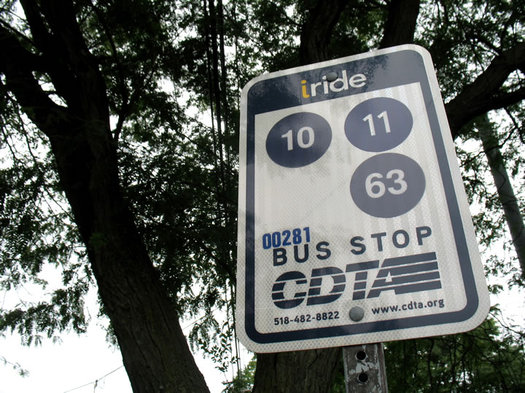 It's not your schedule
One of the realities that quickly becomes apparent when riding the bus is that you're operating on someone else's schedule. The bus leaves when it leaves -- whether you're on it or not.
It's so easy when you're driving to delay your trip by a few minutes to take care of a last second thing, or just because you're a little slow getting your stuff together that day. But if you don't leave for the bus stop on time, you'll miss the bus. That's obvious, of course, but it's one thing to know it, it's another to watch the bus drive away without you.
If you ride the same line a lot, you'll start to pick up some of the small variations in the Schedule That's Not Your Own. The days specific drivers work, the fact that certain drivers tend to be a few minutes early or late. The bus system is people and people aren't exact. Sometimes that's a bit annoying -- like when the bus is late. Other times it's maddening -- like when the bus is early. It drives me crazy to get close to my bus stop a few minutes before the time it usually arrives only to see it steam by ahead of schedule. (I realize that is about 99 percent my fault for not building in more of a cushion.)
Related: it's not your map, either. The bus goes where it goes. There are days when I have to hit a bunch of different places all over the area and riding the bus would make that almost impossible.
Going part time requires coordination
During our one-car trial, my wife and I have had a lot more "Do you need the car today?" conversations. Yep, sometimes arranging things is inconvenient. But it hasn't been as bad as I thought it would be. It's a big help that it's also easy for my wife to ride the bus to work.
It mixes things up
Driving a car often involves spending a lot of time by yourself. You're almost never by yourself on the bus -- it's you, the driver, and a bunch of people from all walks of life. I don't know if that's a good thing, or just... a thing. But in a city that tends to be geographically segregated, I think it's notable to see all sorts of people on the bus -- and to often find myself in the minority.
The bus also takes you to places you might not otherwise go. Sometimes I ride the 6, which travels along Whitehall Ave in Albany and then through the South End on Second Ave. I almost never have a reason to go through that neighborhood normally, but I see it on the bus. Again, I don't know if that's a good thing or just a thing. But I suspect it's not a bad thing.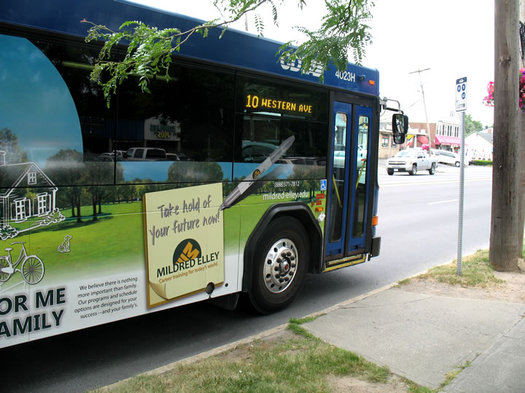 Be ready
You should have your money/swiper/pass ready when it's time to board. If not, you should let the other people get on first. It's the courteous thing to do.
Also, you should try exiting via the door in the back (if the bus has one). It frees the way for people to get on in the front. And let people off before trying to get on. Again, it's a courtesy .
It makes you walk more
If you ride the bus, you're going to walk more. There's no way around it. To the bus stop. A few blocks from where the bus dropped you off. A half mile to catch a different line. Back home from the bus stop.
I already walked a fair amount, but I'm guessing that riding the bus has added 3-5 miles to my weekly walk total. I feel better for it.
Another upside to walking: you notice more of what's going. New stuff. Old stuff you somehow missed. Weird things. You miss a lot while driving in a car.
I don't like driving
Riding the bus has reinforced the notion that I just don't like driving all that much. Sure, driving on a open road isn't so bad, it can even be fun. But I often find driving in and around Albany an annoying experience, between the other drivers and the many ill-timed stoplights that seem to be at every... single... intersection. (Seriously, it's like Albany got a discount on traffic lights one time and decided to buy in bulk. If I was mayor for a day, I'd order a stoplight removal survey.)

Riding the bus can be civilized
The bus doesn't have the best reputation. People are always pointing out that weird stuff -- both weird amusing and weird bad -- happens while riding the bus. Yep, sometimes a few of the people along for the ride are something less than charming. And it's certainly not perfect -- far from it.
But, look at it a different way: Someone is driving you where you want to go. You can just sit there and zone out, read, check email or Twitter on your mobile, whatever. And there's something pleasurable about riding the bus back after a day of work, getting off at your regular stop, and strolling a few blocks home.
Hi there. Comments have been closed for this item. Still have something to say? Contact us.