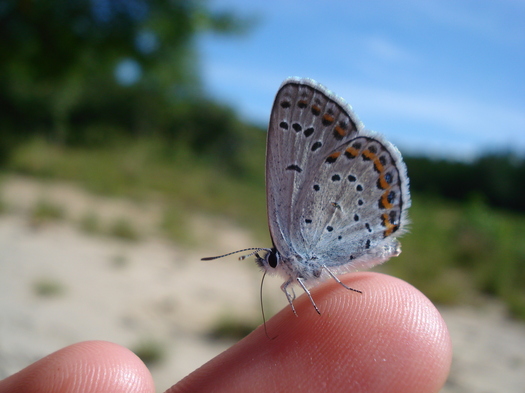 The Albany Pine Bush Preserve Commission announced today that it has 600 Karner Blue butterflies emerging from their cocoons right now. From the press release:
Adult female Karners are captured from New York sites and immediately transported to the rearing facility in Concord, NH. Eggs produced by these butterflies are raised to chrysalises and returned to the Albany Pine Bush Preserve. The adults that emerge are released into restored habitat to begin new colonies. ...
"This is a very exciting, and very limited chance to see this Federally endangered butterfly," says Discovery Center Director Jeffrey Folmer. "One question visitors often ask is 'Where can I see the Karner blues?' These beautiful, but tiny butterflies are rare, hard to spot, live only three to five days and are difficult to distinguish from other similar non-endangered butterflies. We now have 600 of them emerging from their chrysalises one by one and they're on view until they all emerge."
The commission says butterflies will available for viewing at the Albany Pine Bush Discovery Center until mid-July. Admission is free.
The Albany Pine Bush -- a sandy inland pine barren -- is one of the Karner Blue's native habitats (there aren't many remaining). In fact, the butterflies are called "Karner Blues" because of the no-longer hamlet of Karner, New York. Vladimir Nabokov -- yep, the author -- stopped to study the butterflies there in 1950 and ended up naming them. Nabokov once described the insects as being "like blue snowflakes."
Earlier on AOA:
+ The Karner Blue
+ Why the Albany Pine Bush is sandy
+ On state animals, vegetables and whatnot
photo: courtesy of the Albany Pine Bush Preserve Commission
Find It
Albany Pine Bush Discover Center
195 New Karner Road
Albany, NY 12205