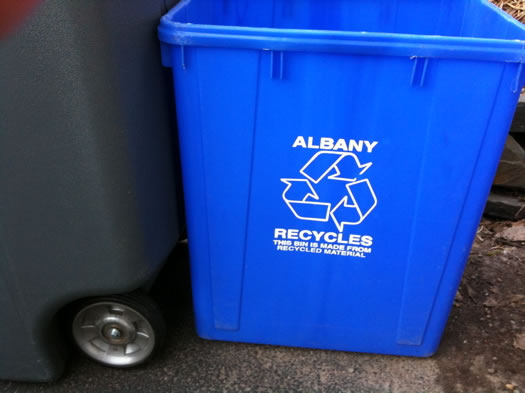 By Elisabeth Draper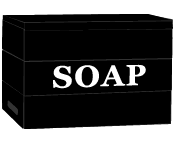 For the past four years I have watched one family in my neighborhood put out more trash bags in one week than I thought possible. On average, they have at least five bags of trash every week and no recycling bins. Through the clear trash bags I can see metal cans, plastics, and cardboard. This drives me bananas.
Why?
Well, mostly because the city of Albany provides trash pick-up and recycling at no additional cost to homeowners. In the suburbs, most folks pay for trash pick-up, but in Albany, it's free. Well, sort of -- the cost is figured into municipal taxes. In addition to their trash and recycling pick-up, Albanians are provided with recycling bins for paper, cardboard, cans, glass, and plastics -- all plastics (1-7). That's a huge bonus -- not all municipalities recycle all plastics.
Perhaps this is why my neighbor's behavior drives me so batty; all they have to do is separate their recycling. But recycling isn't required in Albany. So, other than your own conscience, there's no incentive.
Just so we're clear, I'm not stalking these folks, but anyone who owns a dog or walks in their neighborhood regularly is likely to observe the goings-on there; and since this has been going on for a while, I think we need to change things up.
Albany is a trashy town. To be fair, our whole region is -- but that's largely our own fault. To say the Albany's landfill issues are a contentious topic would be a major understatement. Trash is a major revenue source for the city of Albany, but it's an unsustainable one. According to Albany's comprehensive plan, the city-owned landfill is expected to be at capacity by 2016. That's not a lot of time for the Capital Region Recycling Partnership, the committee made up of reps from Albany and 14 other Capital Region municipalities, to improve their waste reduction and sustainability plans.
So I'm suggesting a new approach: charge for trash pick-up, but keep recycling pick-up free. In addition, I'd like to see the city explore a fee-based lawn and food waste compost program to help reduce landfill methane (a damaging greenhouse gas). This would encourage residents to begin home composting.
Charging for trash pick-up may be the catalyst for residents to become more cognizant of what they're throwing out, while helping to reduce waste bound for the landfill. According to the comprehensive plan, 42 percent of the city's waste is currently diverted from the landfill through recycling and composting. The goal is to increase that to 65 percent by 2030 (Albany 2030, 170-173). Fee-based trash pick-up is also listed as an action item in the solid waste management section of the plan. Implementing this idea would certainly help the city achieve its stated goal.
With an estimated population of 612,100 in 2011 (Seattle.gov), Seattle is a larger city that has implemented measures to reduce solid waste through the use of city-issued trash bins. A monthly fee is applied depending on the size of the trash bin and recycling bins are provided at no cost. The more you recycle, the smaller your trash bin and, subsequently, the smaller your rate will be (Seattle Public Utilities). Closer to home, Ithaca and Tompkins County charge for trash pick-up through a combination of an annual fee and trash tags that can be purchased from the city or at the grocery store (in 2008 it was $54/year for a single family residence) (Tompkins County Recycling and Solid Waste). Recycling is coordinated through the county and residents are charged for the recycling bin.
Some may argue that this is a proposal for yet another government-mandated action and another way that our personal freedoms are being infringed upon. I say get over it. More often than not, when left to our own devices, we're incapable, as a society, of improving our world. We often let our needs or desires outweigh the greater good. And in this situation, we're quickly approaching the finish line -- but with no winner. By incentivizing recycling, Albany can use this situation to set itself up for long term improvement. And make the world a bit better.
That would be a victory.
Elisabeth lives in Albany with her husband, daughter, and Bernese Mountain Dog, Ruby.
Elisabeth on the Soapbox
+ Albany High School: An alum's perspective
Hi there. Comments have been closed for this item. Still have something to say? Contact us.