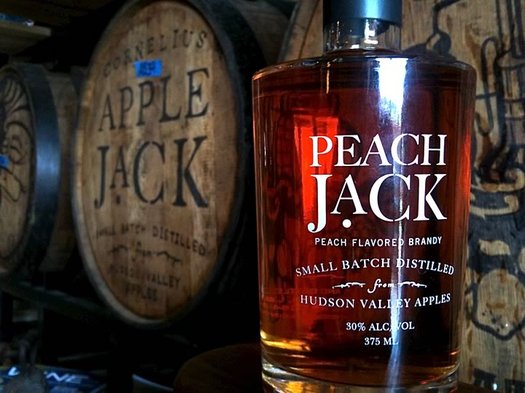 By Daniel B.
Let's put the name aside for a moment.
What's important to know is that this is the essence of summertime in a glass. Because regardless of what anyone else says, nothing says summer as much as biting into a ripe and juicy peach as the nectar drips down your chin and arm. It's sweeter than the first sweet corn, it's juicier than even the ripest of strawberries, and it's more satisfying than the plumpest tomato. Nobody can be unhappy while eating a perfectly ripe peach.
This latest creation from Harvest Spirits in Valatie has been in the works for about a year, but was released just last week. Officially, it's a peach-flavored brandy, and it is indeed packed with the flavor of whole peaches. Calling it "peach flavored" however really does it a disservice, and actually it's not quite a brandy either. Technically, it's a peach infused applejack. But that too doesn't fully get to the heart of this spirit.
The story of how Peach Jack came into existence begins with an experiment gone awry.
First a little history. Harvest Spirits grew out of Golden Harvest Farms. Derek Grout, a son of the family that owns Golden Harvest, recognized that a distillery could make use of damaged or leftover fruit. A little more than four years later, they're now famous for Core vodka, which is made from their own apples. It's delicious and bears little resemblance to anything else in the category.
From there the distillery went on to make Cornelius Apple Jack. This is great stuff, and it's what the founders of our great nation used to drink a long long time ago. It's distilled hard cider that's been aged in used bourbon whiskey barrels. Technically when fruit is distilled it's a brandy. But given how it's aged, applejack is used, and enjoyed, more like a whiskey.
Derek likes to experiment. If you make a trip out there, and ask really nicely, he'll tell you all about their super secret concoctions. Some of them eventually make it into a bottle, like the Himbeergeist which is made with the raspberries that grow outside the distillery.
Experimentation arises from curiosity. What would happen if the applejack were aged in smaller barrels? So Derek got some new quarter-casks made of charred American oak. These are similar to those which are used to turn corn-based spirits into bourbon.
But it didn't work out so well for the applejack. Derek explains, "I wasn't happy with the applejack, because I thought it was too oaky to be drunk on its own merit. The oakiness drowned out the apple qualities."
As unlikely as it may seem, this failed experiment was redeemed by a pallet of mealy peaches that were going to be thrown away. Aside from their flawed texture, this was beautiful summer fruit, bursting with juice sweetened by the summer sun. However, they were no good for eating, and a pallet is a lot of peaches.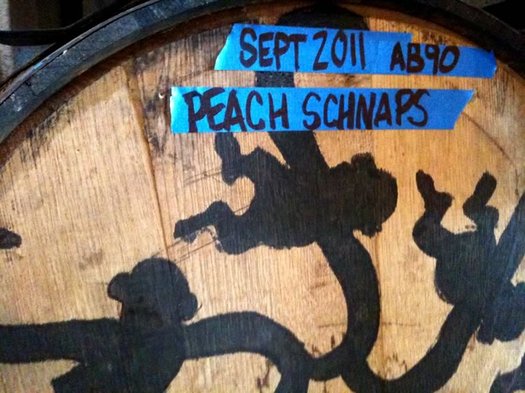 To a distiller, this seemed like a great opportunity to make peach schnaps.
The American conception of schnapps is much different from the German spirit. Derek was never trying to create something sweet, sticky, and syrupy. Quite the opposite. He wanted something that expressed the essence of the whole fruit, so he tried another experiment.
Derek and his team hand pitted every peach and threw the whole fruit into the fermenter. The fruit sat on this extra oaky applejack for two weeks. The infused applejack was drained, and the fruit was gently pressed to release a bit more of its nectar. This served to bring down the alcohol level to 30 percent and added a bit of natural sweetness into the spirit.
The infusion aged in a barrel for another year before it was filtered and bottled last week.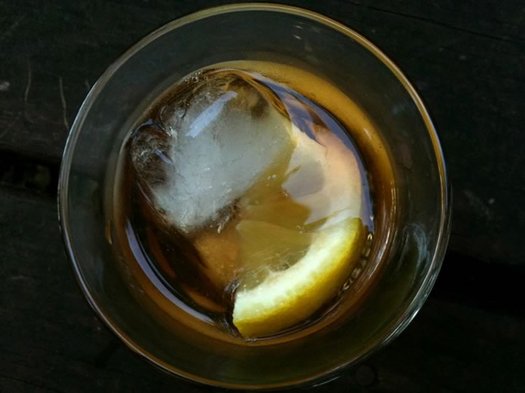 When I drink this, it's redolent of peach iced tea. Oak has tannins, much like tea, and these serve to balance out the sweetness of the fruit. It's delicious on its own, but when poured over ice with just a wedge of lemon, it is a great way to escape the heat and humidity of summer.
As this was an experiment, there are only two casks that have been released, which is about the equivalent of 1,000 375ml bottles. They are being sold at the distillery for $32 each. It's not inexpensive, but the good news is that they will pour you a sample before you commit to a bottle.
Just don't sample too much. Maybe you can bribe a designated driver with the promise of some of the region's best apple cider donuts. (No, they are not exactly a summertime treat. But they are still damn good.)
And when you get home with your new bottle of Peach Jack, you can sit around in the shade, sipping on your cooling summer cocktail, pondering what else this could have been named.
Daniel B. is the proprietor of the FUSSYlittleBLOG.
Earlier on AOA:
+ Poking around at Harvest Spirits
Find It
Harvest Spirits
3074 US Route 9
Valatie, NY 12184
Located at Golden Harvest Farms.
Hi there. Comments have been closed for this item. Still have something to say? Contact us.