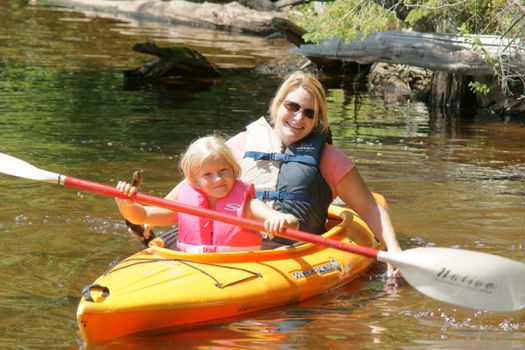 By Katie Beltramo
AOA is taking a little R & R this week. While we're enjoying a little summer, we've rounded up a few experts to share their tips for making summer fun simpler. Enjoy!
Today, Katie has some ideas on how to make camping with kids easier and more fun. (Many of these tips could apply to first-time campers of all ages -- because you know you want your own flashlight.)
Every year I ask my kids what they want to do over the summer, and the overwhelming, number one, far-ahead-of-everything-else choice is camping.
I was not "raised" a camper. I camped once, as a Brownie, in someone's backyard. Still, come to think of it, I remember that camp-out vividly. So I guess I loved it, too.
These days, no doubt because I'm a far kinder and more indulgent parent than my own parents were, I do quite a bit of camping. And it's pretty fun, actually.
So wanna make some memories with the kiddos? I'll help you get started.
Pick a spot
If you've never been camping before, the backyard is a great place to start. You won't have to pack the car (my least favorite part of camping), and if a thunderstorm strikes or a toddler has a meltdown in the middle of the night, you can always abort the mission.
If you're ready to venture farther afield, there are tons of great spots within an hour's drive. Check out the 2012 New York State Camping Guide, which offers photos and basic information about camp sites. The cost to reserve a site is usually $19-20 per night. You know what that means, right? It's a cheap vacation.
You can enjoy the beach (Thompson's Lake, Moreau Lake, Cherry Plain State Park) or play tourist and camp at Glimmerglass and visit The Farmers' Museum in Cooperstown -- (we love that place!) -- or camp along the battleground at Lake George.


Gather equipment
If you don't have a tent or enough sleeping bags or anything else you need, update your status on Facebook. I just put out a call for a tent and a firebowl and I had numerous offers within a few hours. It's possible that my friends are just cooler than yours, yes, but all that stuff is just stored away, packed, and ready for use, so ask around before you commit to buying anything.
Have at least one flashlight per person because otherwise your children will fight over them and make you crazy. In fact, it's better if the flashlights are identical in every way to avoid flashlight custody issues.
You'll be glad to know that most campsites are set up with the basics, like a grill for a campfire and decent bathrooms and running water. But just a tip: "rustic" camping is code for port-a-potties.


Get into nature with the kids
Send toddlers on a picture scavenger hunt for items like a flower, a rock, and a leaf. Better yet, send the toddlers with another adult while you enjoy an icy beverage. Make kids feel like they're on a wild adventure, and use binoculars, magnifying glasses, and guide books to really look around you. Respond to their "discoveries" with enthusiasm. They'll delight in a stray feather and be thrilled with poop. Join them, and suddenly the backyard is a wonderland of discovery.
Lynn Brunelle, author of Camp Out! The Ultimate Kids' Guide, suggests you try to "sprout your socks." Let your children wear socks over their shoes while taking a walk or hike. "It's a wonderful way to see how plants send their seeds as hitch-hikers through the world," Brunelle explains. "Then you can spritz your socks with water, stick them in a baggie, and let them sprout." We have not actually done this, but I plan to do so every time I see the pile of unmatched socks next to my drier. We could potentially open up a nursery.
Make cooking part of the adventure
Roast hot dogs on a stick! Throw a bunch of food into a packet of heavy-duty foil and let it cook for 30 to 40 minutes in the hot coals. Remember that Brownie campout I mentioned? I still remember that foil dinner, and the novelty of preparation might inspire your pickiest eater to try something new. Well, you know, it's possible.
For dessert, roasted marshmallows are practically required. No, not practically. They are required, and if you don't provide them, it's possible that you'll be reported to child protective services. These days you can even find fancy s'mores makers. Or get super-creative: Another suggestion from Brunelle is Banana Boats: cut a banana in half and open the peels a bit, canoe-style, then stuff them with goodies like chocolate chips and marshmallows and wrap the dessert in foil to heat for ten minutes. Yum.


Banish devices and enjoy each other and nature. Remember, you're makin' memories, people!
Put away the electronics and, if necessary, confiscate them. Even if you're just in your backyard, the kids will be mesmerized just by watching the fire, listening for frogs, and catching fireflies. It's miraculous. Tell stories or bring musical instruments and jam around the campfire. If you're camping with friends, have extra blankets or even an extra tent on hand so that sleeping arrangements can be flexible. On a special night of camping, your usually-clingy child might want to join a tent slumber party, so be prepared to seize the night. At our last campout, my husband and I found ourselves all alone in our tent. Which might have been a hot date, except that then one of our friends coughed in a nearby tent and we realized how well sound carries.
Alas: it carries really quite well.


Keep bedtime mellow
Take a last visit to the bathroom, make sure the flashlights are working, and discuss which awesome and caring adult will chaperone kids if there's a late-night or early-morning potty break. You might also plan to have a grown-up sleep as guard at the tent's opening -- we actually had a toddler who escaped a tent in the wee hours at our campout last weekend. As they're going to sleep, it's a good idea to listen for sounds and explain them so that you don't get nudged awake by a child who's scared by things going bump in the night. Plus it helps them calm down from the marshmallow sugar rush.

Get going, already. Summer will be gone (and the kids will be grown) before you know it! If you'd like more information, check out my posts about our camping trips to Glimmerglass State Park and Max V. Shaul State Park, or see the NWF's Great American Backyard Campout site for tips and checklists.
Katie Beltramo, a mother of two, blogs at Capital District Fun, is editor at KidsOutAndAbout.com, and contributes to a variety of regional parenting publications.
More Summer School:
+ Hosting a great barbecue: Christian Noe
+ Buying a bicycle: Carl Johnson
Hi there. Comments have been closed for this item. Still have something to say? Contact us.