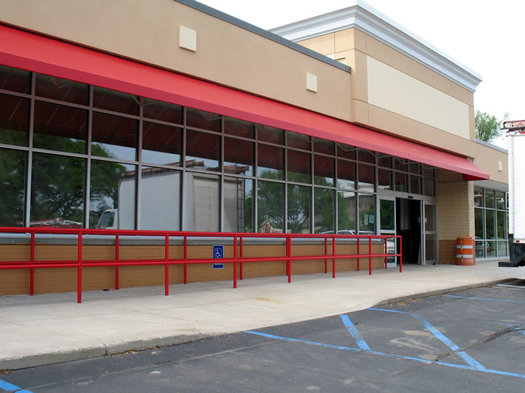 Here are a few things to keep in mind, look forward to, or keep busy with this week, from the weather (August appropriate), to TJ's, to the orchestra, to The Track, to funny ladies, to a cemetery tour, to all sorts of music...
Weather
Here's the paraphrased forecast:
Monday: Sunny and 85.
Tuesday: Cloudy, a bit of a chance of rain, maybe a thunderstorm in the afternoon. Highs in the low 80s.
Wednesday: Cloudy with some sun. Chance of rain: 50 percent, maybe a thunderstorm. Highs in the low 80s.
Thursday: Sunny and 85.
Friday: Sunny and 88.
Weekend: Partly sunny, maybe some rain. Upper 80s.
Like August.
Trader Joe's
Yep, it's finally happening. The Trader Joe's in Colonie -- the Capital Region's first -- is scheduled to open on Friday. The doors are set to swing open at 8 am. We suspect there will be a line, perhaps a zoo of some sort. The TJ's is at 79 Wolf Road -- plan accordingly.
Philadelphia Orchestra at SPAC
The Philadelphia Orchestra's summer residency at SPAC opens Wednesday -- the orchestra will be at SPAC through August 18. Opening night will be a performance of pieces from Tchaikovsky and Rachmaninoff.
Also this week: Friday is "Cirque de la Symphonie Family Night", which combines circus performers with music. Also: free ice cream, balloon animals, and other kid-friendly activities.
The Track
It's the second full week or racing this season at the Saratoga Race Course (remember: no races on Tuesday). Among the special events this week:
+ Thursday is "Mid-Summer St. Patrick's Day" -- free grand stand admission if you're wearing green. Also: Irish-themed food, dancing, a pipe band, and prizes.
+ Sunday is "Galloping Grapes" -- wineries from around the state will be at The Track offering samples, from noon - 5 pm. A separate ticket is required for this event. Tickets are $20 ahead / $25 at the door. The event is a benefit for the Times Union Hope Fund.
Movies
If you're looking for something do on a rainy night this week, there are a lot of good choices at the movies right now -- from blockbusters (The Dark Knight Rises) to much-praised indies (Beasts of the Southern Wild). And remember, Tuesdays are discount night at The Spectrum ($7.50) and the Bow Tie Movieland in Schenectady ($6 with free discount card).
By the way: The Spectrum is showing LCD Soundsystem: Shut Up and Play the Hits again this Thursday at 7 pm. ($10)
African American Family Day at the ESP
Saturday at the Empire State Plaza: music, art, dance, and other family-oriented activities celebrating the traditions and contributions of the African American community. Music from The Ohio Players ("Love Rollercoaster") and Evelyn "Champagne" King. And Nannie's Double Dutch Team will be performing. noon - 7 pm
Comedy
Paula Poundstone
She's at The Egg Saturday night. 7:30 pm - $32 ahead / $35 day of
Sandra Bernhard
She's at Helsinki Hudson Saturday night. 9 pm - $45 ahead / $50 day of
Touring the Vale
Sunday: Schenectady Museum archivist Chris Hunter will be leading a tour of the Vale Cemetery about "the lives of the scientists and investors that made Schenectady 'the city that lights and hauls the world'." The tour leaves from the caretaker's house at 907 State Street at 2 pm. $7 donation / free for kids
Music
Monday: Animal Kingdom at Jillian's
British indie. They've toured with Band of Horses, Vampire Weekend, Snow Patrol. 8 pm - $8 ahead / $10 day of
Monday: Sierra Hull at Caffe Lena
Bluegrass mandolin prodigy, Alison Krauss protege. 7 pm - $20 ahead / $22 at door
Tuesday: Wilco at MASS MoCA
A benefit concert for the museum. As of Sunday, MASS MoCA's website said there were "still a handful of tickets available" -- call the box office: (413) 662-2111. 8 pm - it's complicated
Wednesday: Brandi Carlile at The Egg
Alt-country/folk rock. 8 pm - $38.25
Wednesday: Great Lake Swimmers at Helsinki Hudson
Canadian indie folk. 8 pm - $15 ahead / $18 day of
Wednesday: Who's Bad the Ultimate Michael Jackson Tribute Band at Rockin' on the River in Troy
Rock with you. 5 pm - free
Wednesday: Teddy Geiger at Jillian's
From Wikipedia: "Teddy Geiger was first seen in national media as a finalist in VH1's In Search of the Partridge Family..." With: Jennings. 8 pm - $10 ahead / $12 day of
Thursday: Loudon Wainwright III at Helsinki Hudson
Father of Rufus and Martha, sister of Sloan, former husband of Kate. 8 pm - $25 ahead / $30 day of
Thursday: Alta Mira at Valentine's
With: Life Among the Trees, The Cost of Living, and Titanics. 8 pm
Thursday: Country Night at Alive at Five
Lee Brice, with Wendy Owens & Renegade. 5 pm - free
Friday: Brian Patneaude Quartet at Upbeat on the Roof at the Tang
Jazz on the roof. 7 pm - free
Saturday: Girl Walk // All Day at MASS MoCA
Screening of the "long-form dance music video set to Girl Talk's album All Day in which three dancers move across New York City, turning its sidewalks, parks, and architecture into an evolving urban stage." Also: a dancer from the film with new work, and DJs. 9 pm - $15 ahead / $19 day of
Sunday: Diego Garcia at Music Haven in Schenectady's Central Park
Drawn back to the Capital Region again. 7 pm - free
These are a just a few things for this week. Know of something people should be looking forward to this week? Please share!
Look for our "Stuff to do this weekend" post on Friday.
The Saratoga Race Course advertises on AOA, as does SPAC.
Hi there. Comments have been closed for this item. Still have something to say? Contact us.