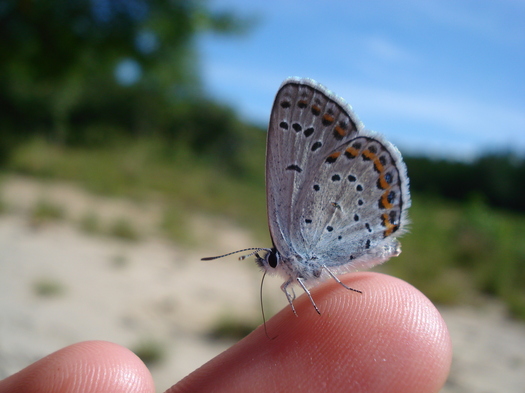 Another effect of the non-winter/early spring: Karner Blue butterflies have managed to squeeze out an extra generation this summer. From an Albany Pine Bush Preserve press release:
Karner blue butterflies typically have two broods per year, one in May/early June and the second in July. The discovery of a third brood is both remarkable and a bit alarming to Preserve scientists because the eggs produced by the July brood of adult Karners typically overwinter to produce adult Karners the following May. An early and very warm spring is the suspected cause of earlier broods this year and the additional late-season butterflies currently flying in the Preserve. The impacts of a third flight of adults to the long-term recovery of the species are unknown. ...
Only time and continued monitoring will determine if the late 2012 hatch will have an impact on the 2013 butterfly population and the longer-term recovery of the species. "We had no idea a third flight in a single season was possible before 2010" said [Albany Pine Bush Preserve Conservation director Neil] Gifford. According to Gifford, it was in 2010 that Karner blue butterfly managers from Wisconsin to New Hampshire suspected that the late season adults they were seeing may be a previously unknown third flight. "We don't yet have a good understanding of what the implications of a third brood will mean for the recovery of the species" said Gifford, adding "it will likely depend on whether the changing climate brings such conditions more frequently."
The preserve says this spring's emergence of Karner Blues was the earliest on record -- 10 days earlier than the previous record, and 21 days earlier than the 20-year average.
To say that the weather over the past year is odd would be an understatement. A handful of the signs and side effects:

+ Hurricane/tropical storm Irene dumped 4.69 inches of rain here (and even more just to the south), causing catastrophic flooding in some areas. It also pushed last August to be the second wettest on record.
+ This past winter was the third least snowy on record at just 23.3 inches. (A typical year is 59.1 inches.)
+ This spring was the warmest on record for Albany, New York State, and the United States.
+ The magnolia trees bloomed in March here, about a month ahead of normal.
+ A large portion of the state's fruit crops were significantly damaged by frost after the trees bloomed way ahead of their typical time.
+ There was a span this summer when there was basically no rain for almost a month.
+ The average temperature for Albany from January to June of this year was the highest in 74 years -- 4.8 degrees warmer than a typical year.
+ This average temperature for this past July was 3 degrees warmer than usual (though it was 1/10 a degree cooler than last year's July).
When there's weird weather, there's always the question of global warming's role. Climatologist are usually quick to point out that any one event shouldn't be linked to the changing climate. They prefer to discuss the situation as a matter of probabilities -- mainly that global warming increases or decreases the chances of some sort of weather event. But one of the most well-known climate scientists -- James Hansen -- recently argued that evidence suggests that specific unusual extreme weather events during the last decade have been influenced by global warming (here's the academic paper). Other scientists say they haven't necessarily bought into Hansen's argument -- but they haven't ruled it out, either. [Washington Post] [PNAS] [Nature]
photo: courtesy of the Albany Pine Bush Preserve Commission