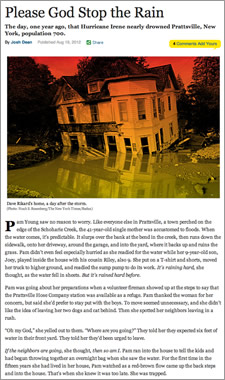 The current issue of New York Magazine includes an article by Josh Dean about the Irene flooding in Prattsville a year ago. It's a series of scenes from the day the water rose higher than anyone living had ever witnessed before -- and the stories are harrowing.
When the boys began to scream awful things like "I don't want to die!," Pam tried to distract them with song ("Rain, rain, go away") and then prayer ("Please, God, stop the rain"). Even the dogs were quivering, and they stuck close to the boys when Pam went back inside the house to call her daughter's boyfriend and--because she refused to break down in front of the children--to cry. It had been a terrible year already. She had been diagnosed with breast cancer and had only recently finished her final chemotherapy treatment. She was weak, physically and emotionally. When it dawned on her that she had some Valium in her purse, she took one.
Pam called 911 to ask when a boat was coming and was told that the first one had been dispatched. It never arrived. She later learned it had capsized, tossing its rescuers overboard. When she called back, she asked what she should use as a flotation device if she had to do the unthinkable and jump into the raging waters. The man replied that he would have someone call her back with an answer. No one ever did.
Before her phone finally died, well into the afternoon, Pam Young posted a message on Facebook: "Somebody please save us."
Prattsville was probably the hardest hit place in the entire state. But, amazingly, no one died.
The town is still rebuilding. And as a display of resilience residents have organized the first MudFest this weekend:
On Aug. 28, 2011, life dealt the people of Prattsville, NY mud--and plenty of it--they vowed then and there to create the First Annual MudFest the following year. MudFest is a celebration of all-things mud. Visitors to MudFest will find themselves surrounded by mud drinks, mud ice cream, mud pies (the kind you can eat), mud games, mud sculptures, and you guessed it, mud! ...
So come get dirty or stay clean, but come to celebrate the strength and adversity after a year of recovery and rebuilding in Prattsville!!
[via Watershed Post]
Earlier on AOA: Windham, after Irene
screengrab: NY Mag