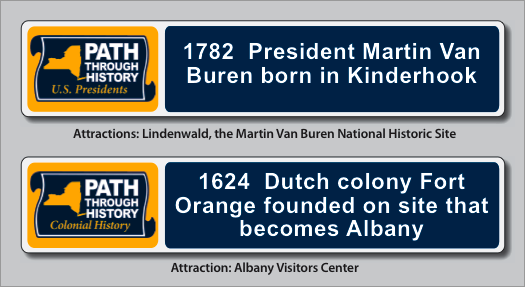 Andrew Cuomo presented the state's new "Path Through History" program today. It's intended to draw attention to historical sites around the state, and you know, get more people to visit them. (AC is apparently a rather large history nerd.)
The most recognizable part of this program will be a series of new historical markers:
The new signage system consists of two types of signage. Over 200 new signs will highlight key moments in New York and American History and be placed between exits of major state roads. The Historic highlights were selected with the help of leading historians. These signs are branded with a unique "Path Through History" logo. ... Each sign is also keyed to a historic theme to allow for customized tours.
So it's like an updated version of the blue and yellow metal markers that are all over the state. That program ended decades ago. New signs -- like the one recently installed for Washington Park in Troy -- have been commissioned by private groups.
The lineup of proposed historical markers is embedded after the jump, grouped by region.
Among the events commemorated by the Capital Region's markers: the birth of Martin Van Buren in Kinderhook, the Revolutionary War victory at Saratoga, the opening of GE in Schenectady, and the founding of RPI.
Hi there. Comments have been closed for this item. Still have something to say? Contact us.