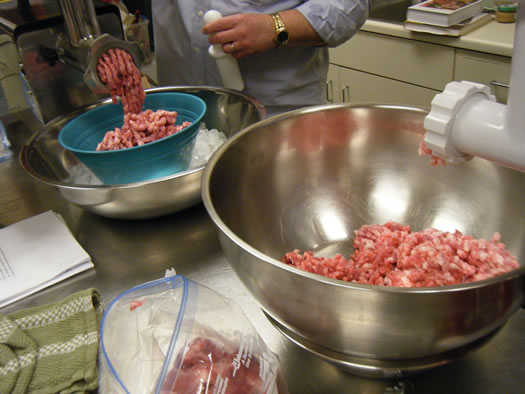 We've pulled together a list of upcoming cooking classes that look interesting or fun a few times and people seem to like it.
So, here's a new batch of classes for the next few months...
This is not a comprehensive listing. If there's something not on her that you think is worth a mention, please share!
September 18: Home Dairy 101 | The Arts Center
Hands-on demos from the From Scratch Club's Liz Russell of how to make homemade yogurt, mozzarella, ricotta, and paneer. $48
September 19: Canine Treats | Different Drummer's Kitchen
Sloppy Kisses' Melanie Dallas on how to make three different types of dog treats. $45
September 19: Culinary Boot Camp | Gio Culinary Studio
A "comprehensive crash course in the basics of real cooking": knife skills, making stock, taking apart a chicken. There's a second class the next day on braising, sauteing, roasting, and sauces. $90 each
September 23: Bread Baking | Battenkill Kitchen
A full-day, hands-on class on bread baking with Adam Witt. He bakes bread for Max London's and Mrs. London's and helped start, and operate for 10 years, the excellent Rock Hill Bakehouse. $70
September 24: Fermenting Abundance: Preserving Veggies | The Arts Center
The basics of pickling vegetables through lacto-fermentation, with the From Scratch Club's Elissa Kane. Depending on what's available, the the class will make sauerkraut, kimchi, dilly beans, pickles, salsa, or chutney. $53
September 27: The Yin and Yang Chinese Cooking | The Arts Center
The Language Learning Institute's Lin Jie on Chinese cooking, the first of three part series. Dishes in this class: chicken with peanut sauce, and noodles with pork. $83
September 29: Peirogi Hands-on | Different Drummer's Kitchen
A class on making two types of pierogi with Susan Sady, who operated a Polish restaurant in Utica for 19 years. $65
October 1: Beginning Sushi Hands-on | Different Drummer's Kitchen
Yasuo and Kathy Saso on how to properly prepare sushi rolls. (There's an intermediate sushi class with them on November 12.) $65
October 2: Rethinking the Lunch Box, Hands-on | Different Drummer's Kitchen
Silly Goose Farm's Deanna Fox on homemade crackers, fruit snacks, chips, and "kid-friendly lunchtime bento box." $55
October 9: Waterbath Canning for Fall | The Arts Center
The From Scratch Club's Christina Davis on the boiling water-bath canning process. Hot and cold packed pickles, apple butter. $60
October 14: Makin' Bacon | The Arts Center
The From Scratch Club's Erika Tebbens on home curing bacon. $40
October 24: Macaroni and Cheese: 3 Ways | The Arts Center
Nighthawk's Kitchen, Mac-n-Cheese Bowl winner, interesting person Christian Noe on the basics of macaroni and cheese, and how to adapt it. $39
October 30: Mastering Pancakes | The Arts Center
Amy Halloran on making the perfect pancake. The class will make three types of breakfast cakes, and a dinner pancake "improve session" incorporating savory ingredients. $48
November 5 How to Shop, Stock Your Pantry, Dine Out, Cooke and Advocate for Loved Ones with Food Allergies | The Arts Center
The From Scratch Club's Christina Davis on all that, plus recipes for the food allergic. (Christina has a lot of first-hand experience on this topic.) $53
November 7: Gluten Free: Savory and Sweet | The Arts Center
A two session class (November 14, too) with Ann Lapinski. The first session: gluten-free flat breads, tortillas, arepas. Sessions two: gluten-free muffins and quick breads. $90
November 8: Modern Tapas | Different Drummer's Kitchen
Crea executive chef Brian Bowden on making tapas -- he'll demonstrate six small plates. $65
November 15: Beef 101 | Different Drummer's Kitchen
There's no description on the website for this class, but it's with Jaime Ortiz, the chef at 677 Prime. He could probably teach you a few things about cooking cow. $75
December 5: The Art and Construction of Homemade Sausage | The Arts Center
The popular class from Nighthawk's Kitchen's Christian Noe. Class will make basic pork sausage, and more complex sausage -- such as chorizo, andouille, bratwurst. Here's Albany Jane's recap of a class earlier this year. $43
December 11: Chocolate Candy Bars | The Arts Center
DreamPuff's Virginia O'Neill with a hands-on class on making your own signature candy bar. $48
The Arts Center advertises on AOA.
Say Something!
We'd really like you to take part in the conversation here at All Over Albany. But we do have a few rules here. Don't worry, they're easy. The first: be kind. The second: treat everyone else with the same respect you'd like to see in return. Cool? Great, post away. Comments are moderated so it might take a little while for your comment to show up. Thanks for being patient.