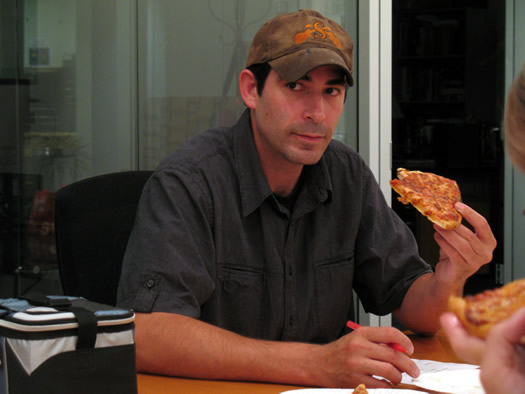 All this week we'll be highlighting some of the interesting people we've gotten to know over the past year.
We got to meet Christian Noe from Nighthawk's Kitchen this year after inviting him to be a judge in the Troy bracket of the Tournament of Pizza. And we're glad we did. He was a great judge -- thoughtful, detail-oriented, and fun to hang out with it (always important in the TOP).
Christian started to make a name for himself on the local food scene when he won first place in the home-cooked category at this year's Mac 'n Cheese Bowl. Then he opened the Nighthawk's Kitchen stand at the Troy Farmers' Market, serving up some delicious -- and deliciously crazy -- comfort food. And then this fall he taught a series of popular cooking classes at the Arts Center.
So, Christian has had an interesting year. And it sounds like even bigger things could be ahead in 2012...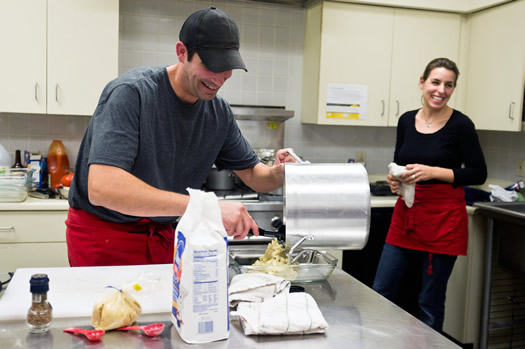 Christian and his sister teaching a mac 'n cheese class at the Arts Center this past fall.
You didn't start out your career in food -- what's your career path been to this point?
I received a business degree from RPI, but I've been cooking my whole life. My first memories of cooking are making meatballs with my Grandma Rose as a little boy.
It was after I catered my sister's 10th wedding anniversary party for about 150 people that I started to think I could take my passion to the next level. The response was overwhelming and the positive feedback from that party was what really pushed me to start Nighthawk's Kitchen.
What is it that draws you to food and cooking?
I gain satisfaction from seeing people enjoy my food. Cooking brings people together, in good times and bad, food can be the constant that provides comfort.
Cooking and eating food is also a way to keep friends and family with you when they can't be there. Sometimes I'll cook something for the place it takes you, and not just to have something to eat. Cooking can be a very rewarding experience.
I want my customers to hear about a menu item, try it, and then have it exceed their expectations when they finally take a bite.
We remember you describing Nighthawk's Kitchen as something along the lines of comfort food made the right way. What is the right way? (We suspect it includes making your own hot dogs.)
I want my customers to hear about a menu item, try it, and then have it exceed their expectations when they finally take a bite.
I also think the right way is using as many local and fresh natural ingredients as possible. Many parents enjoy giving their children my Hawkdogs because I can tell them what ingredients are in them and how they were prepared... it makes a difference.
You know you are making comfort food the right way when people dream about your food. For example, I had one pregnant woman at the farmers' market order a Scary Gary because she had a pregnancy dream about the sandwich that week and needed one! That's comfort food done right.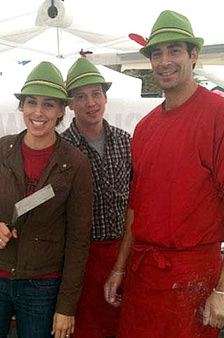 We like the fact that you take some of these comfort food classics and put a creative spin on them -- like Buffalo Macaroni and Blue Cheese, or the Scary Gary. Where do those ideas come from? What inspires you?
I draw inspirations from places, food, and memories that please me. I like my dishes to be approachable but unique. The Buffalo Mac n Blue Cheese was an effort to blend Mac n Cheese with another comfort food -- Buffalo wings -- but then the Scary Gary was inspired from a rather late night in a friend's garage talking about cooking.
Also the creative aspect of cooking is inspiring. I love making crazy breakfast sandwiches and then seeing my customers take it even further. On our menu it says if you can think of it we can make it. One of our best customers likes to add a scoop of pulled pork to her Scary Gary... to me that's inspiring!
If you could pick your last meal, what would it be?
I would start with a peanut butter and banana sandwich on Wonder bread, then two of my grandmother's meatballs and sauce, for the salad course I would have Hattie's fried chicken, for the entree it would be two eggs over easy with home fries, rye toast and corned beef hash cooked in a cast iron skillet over an open fire, finally for dessert I'd wash that all down with a Scary Gary!
What's next? What are your plans for 2012? (Maybe opening a permanent Nighthawk's Kitchen?)
Well... it would be nice not to lug a full kitchen in the back of my truck every Saturday morning. I'd also really like to allow my customers to enjoy my food whenever they want it.
If everything goes as planned in 2012, the Troy Farmers Market will not be the only place you can get your Scary Gary fix.
This interview was conducted via email and lightly edited.
Also interesting in 2011:
+ Sarah Gordon from FarmieMarket
+ Mike Guidice & Jen Pursley Guidice from Hounds on the Hudson and Albany chickens
Earlier on AOA:
+ Interesting in 2010
+ Interesting in 2009
Mac 'n cheese class photo: Sebastien Barre
Bowling ball photo courtesy of Christian Noe
Hi there. Comments have been closed for this item. Still have something to say? Contact us.