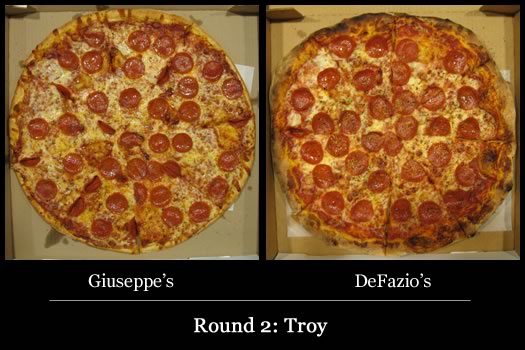 The Collar City is the next stop for Round 2 of the 2011 Tournament of Pizza, sponsored by Sunmark Federal Credit Union. The pizzerias facing off in this round of pepperoni pizzas:
Giuseppe's (Watervliet) vs. DeFazio's (Troy)
How we got here: DeFazio's posted one the highest ever first round scores, a 77. Giuseppe's grabbed a spot in Round 2 by outstretching Joe's Tavern and Red Front.
So, DeFazio's is the favorite here. Can Giuseppe's pull the monster upset?
We're back at EMPAC for tasting...

A quick note about how all this works: The four judges -- Albany Jane, Daniel B, Jerry, and our guest judge -- taste the pizza blind. That is, they don't know which pizza they're tasting during judging. They taste the competitors side by side. The scoring is on a 100 point scale -- each judge represents a quarter of those possible points.
Guest judge
Our guest judge for the Troy bracket is once again Christian Noe from Nighthawk's Kitchen.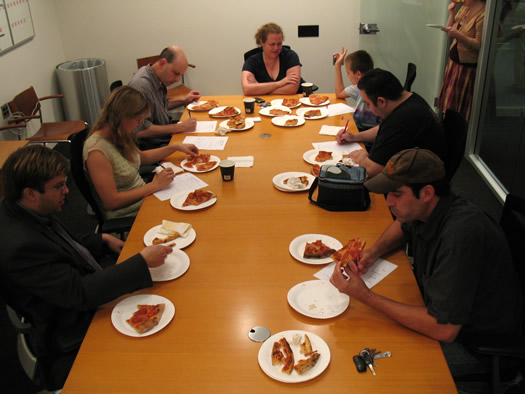 Giuseppe's vs. DeFazio's
| | | |
| --- | --- | --- |
| | Giuseppe's | DeFazio's |
| Crust | 8 | 15 |
| Sauce | 11 | 13 |
| Toppings | 10 | 15 |
| Overall taste | 22 | 29 |
| Totals | 51 | 72 |
Post game
A convincing win for last year's overall tournament runner-up.
Crust really separated the two shops. Giueseppe's crust was described as "dense," "spongy," "not crispy," and "tough." DeFazio's was described as "nicely charred," "nice rise," "beautiful interior bubbles." (The judges also noted that DeFazio's crust had a lot of flour dusted on it, which made it taste a little grainy -- something to keep an eye on in the next round.)
Toppings also provided contrast. The judges liked Giuseppe's pepperoni, praising its crispy edge and curl -- but they were not fans of the "salty, thick layer of cheese" which another judge called a "flavor suck." Thumbs up from the judges for the spiciness of DeFazio's pepperoni, though a few mentioned they would have liked more of it.
Overall, the judges didn't dislike Giuseppe's pizza -- they just couldn't get past some of its elements. Said one judge: "The cheese and crust really sank this pie." And DeFazio's consistent edge in each category led to a higher-scoring pizza, which one judge described as "well crafted, makes you want another slice." Concluded another: "a solid well made slice ... the crust hits it out of the park."
Give credit to Guiseppe's. They got knocked out of last year's tournament in the first round (by DeFazio's). This year they made it to Round 2. A lot of shops can't say that.
Up next
After posting two very solid scores, DeFazio's moves on to the semi-finals. They'll face Mama Mia's out of the Saratoga bracket.
Tomorrow: the Tournament of Pizza heads back to Albany.
Thank you, thank you
Many thanks to EMPAC -- especially Jason Steven Murphy -- for offering us space to taste pizza. And thank you also to Christian Noe from Nighthawk's Kitchen -- stop by and see him at the Troy Farmers' Market.
Earlier:
+ Results from Round 2 in Schenectady
+ Results from Round 2 in Saratoga.
+ Results from Round 1 in Saratoga.
+ Results from Round 1 in Schenectady.
+ Results from Round 1 in Troy.
+ Results from Round 1 in Albany.
The 2011 Tournament of Pizza is sponsored by Sunmark Federal Credit Union, which is collecting donations for the Regional Food Bank of Northeastern New York to help Irene recovery efforts.
Hi there. Comments have been closed for this item. Still have something to say? Contact us.