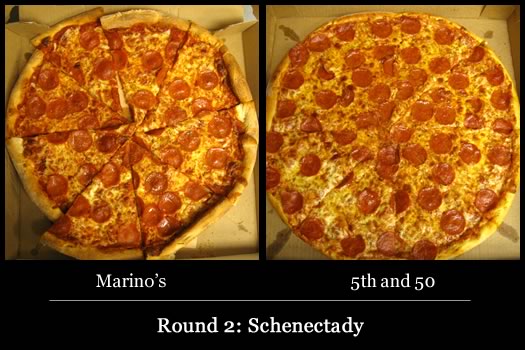 Round 2 of the 2011 Tournament of Pizza, sponsored by Sunmark Federal Credit Union, rolls along to Schenectady. The pizzerias facing off in this round of pepperoni pizzas:
Marino's (Schenectady) vs. 5th and 50
How we got here: Marino's posted a solid 70 in opening round pool play. 5th and 50 squeaked into the second round by winning the tie break with Mario's after both posted 68s.
This is an interesting matchup -- Marino's is the returning overall TOP champ. 5th and 50 won Pizzageddon (or whatever it was called) at Proctors and scored well in the first round.
We head back to Anthology Studio on State Street in Schenectady for the tasting...

A quick note about how all this works: The four judges -- Albany Jane, Daniel B, Jerry, and our guest judge -- taste the pizza blind. That is, they don't know which pizza they're tasting during judging. They taste the competitors side by side. The scoring is on a 100 point scale -- each judge represents a quarter of those possible points.
Guest judge
Our guest judge for the Schenectady bracket is once again Leah the Nosher, who writes the food blog Noshing Confessions.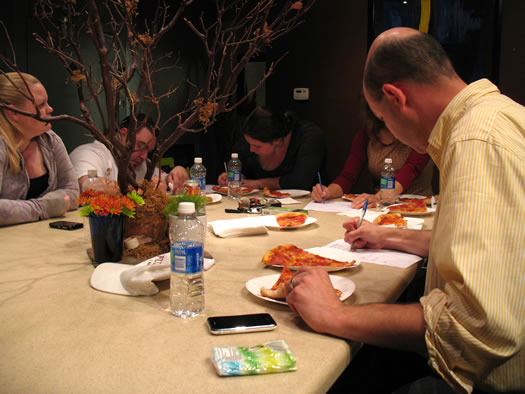 Marino's vs. 5th and 50
| | | |
| --- | --- | --- |
| | Marino's | 5th and 50 |
| Crust | 14 | 13 |
| Sauce | 10 | 15 |
| Toppings | 11 | 15 |
| Overall taste | 25 | 27 |
| Totals | 60 | 71 |
Post game
Down goes the champ!
Marino's was off to a good start -- it won the crust category with "nice lift and chew," where 5th and 50's crust was described as "tasty" but "tough."
The Scotia shop pulled ahead in the next two categories. The judges described its sauce as "aggressive" and "fully seasoned, fully flavored." And while Marino's pepperoni had "great coverage" (judgespeak for there was a lot of it), it also had "little flavor." The judges enjoyed 5th's pepperoni a little more, commenting that it had good spiciness.
Concluded one judge about Marino's pizza: "Good balance overall, but lacking the punch I look for in a pepperoni pie."
In wrapping up, one judge called 5th and 50's pizza "well seasoned," but another commented, "ow, so salty -- need beer, stat." Something to keep an eye on in the next round.
Congratulations to 5th and 50 for knocking out last year's overall champ. And a tip of the cap to Marino's, a very worthy competitor. The family-run business is well worth a stop sometime if you've never been. (Get the sausage and peppers pizza.)
Up next
5th and 50 advances to the semi-finals, where it will face the winner of the Albany bracket.
Tomorrow: the Tournament of Pizza heads back to Troy.
Thank you, thank you
Many thanks to Anthology Studio, a beautiful floral design studio on State Street in downtown Schenectady. And thank you also to Leah the Nosher for guesting at the judge's table.
Earlier:
+ Results from Round 2 in Saratoga.
+ Results from Round 1 in Saratoga.
+ Results from Round 1 in Schenectady.
+ Results from Round 1 in Troy.
+ Results from Round 1 in Albany.
The 2011 Tournament of Pizza is sponsored by Sunmark Federal Credit Union, which is collecting donations for the Regional Food Bank of Northeastern New York to help Irene recovery efforts.
Hi there. Comments have been closed for this item. Still have something to say? Contact us.