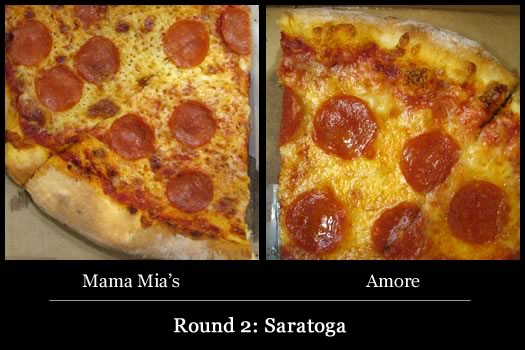 We're back to Saratoga for the first matchup in Round 2 of the 2011 Tournament of Pizza, sponsored by Sunmark Federal Credit Union. The pizzerias facing off in this round of pepperoni pizzas:
Mama Mia's vs. Amore
How we got here: Mama Mia's posted one of the best-ever first round scores with a 75 in opening round pool play. Amore went through after edging out Marino's (Saratoga) and Clifton Park Pizza for the second spot with a 53.
This is on the of the wide open brackets because there's no returning winner. But Amore now occupies of the location of Nunzio's, last year's bracket champ. Could that be an advantage? Or will Mama post another a big score?
We're back at the Case Center on the campus of Skidmore College for the tasting...

A quick note about how all this works: The four judges -- Albany Jane, Daniel B, Jerry, and our guest judge -- taste the pizza blind. That is, they don't know which pizza they're tasting during judging. They taste the competitors side by side. The scoring is on a 100 point scale -- each judge represents a quarter of those possible points.
Guest judge
Our guest judge for the Saratoga bracket is once again Lucas Frank, editor of Skidmore Unofficial.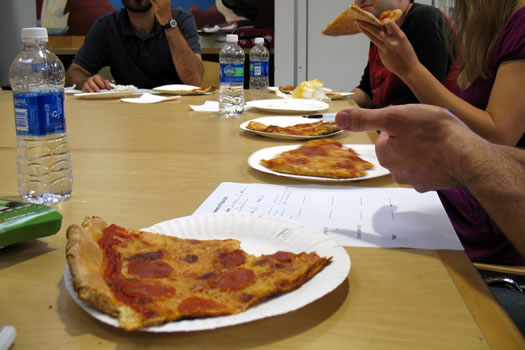 Mama Mia's vs. Amore
| | | |
| --- | --- | --- |
| | Mama Mia's | Amore |
| Crust | 16 | 13 |
| Sauce | 14 | 13 |
| Toppings | 13 | 15 |
| Overall taste | 27 | 25 |
| Totals | 70 | 66 |
Post game
Give credit to Amore for rallying with a much better Round 2 pie. The Clinton Street shop even scored a category victory with its pepperoni, which the judges described as spicy and one in particular called "super tasty." But Amore's crust held it back in this matchup. The judges described it as "doughy" and "gummy under the cheese."
While not reaching its Round 1 height, Mama Mia's posted another solid score. The judges said Mama's crust had "good char" that tasted "wonderful." Its sauce had a "rich and concentrated tomato flavor." Mama tripped up a bit with the pepperoni. The judges called it "underwhelming" and "kind of flaccid" (insert your own "that's what she said" joke here), and would have liked it a bit crisper. But overall, the judges really liked Mama Mia's slice, which one judge complimented as "really clean and balanced."
Still, this was a close match. As one judge concluded: "If 4 slices of [Mama Mia's] or 4 slices of [Amore] were in front of me, I'd stop at 3 slices of [Amore]. I'd keep eating [Mama Mia's pizza] until I was done, then ask for more."
Up next
Mama Mia's takes the bracket and heads to the semi-finals, where it will face the winner of the Troy bracket.
Tomorrow: the Tournament of Pizza heads back to Schenectady.
Thank you, thank you
Many thanks again to Skidmore College, especially Bob Carlton, for serving as a venue for this year's Tournament of Pizza. And thanks also to Lucas Frank of Skidmore Unofficial for serving as a guest judge.
Earlier:
+ Results from Round 1 in Saratoga.
+ Results from Round 1 in Schenectady.
+ Results from Round 1 in Troy.
+ Results from Round 1 in Albany.
The 2011 Tournament of Pizza is sponsored by Sunmark Federal Credit Union, which is collecting donations for the Regional Food Bank of Northeastern New York to help Irene recovery efforts.
Hi there. Comments have been closed for this item. Still have something to say? Contact us.