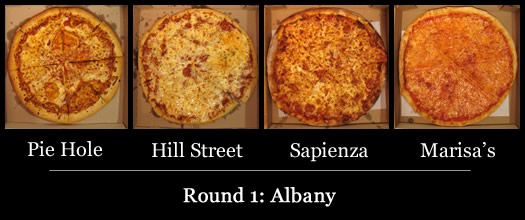 The Tournament of Pizza -- sponsored by Sunmark Federal Credit Union -- makes its final Round 1 stop in Albany.
The pizzerias in this opening round pool competition of cheese pizzas:
Crowd pick: Hill Street Cafe - Albany
Renee's pick: Pie Hole - Albany
Committee pick: Pizzeria Sapienza - Albany
Committee pick: Marisa's Place - Guilderland
This bracket is wide open because Pasquale's -- the two time overall tournament champ that dominated the Albany bracket for so many years -- is no longer in business.
The judges -- plus our guest judge -- gathered for the final Round 1 tasting...

A quick note about how all this works: The four judges -- Albany Jane, Daniel B, Jerry, and our guest judge -- taste the pizza blind. That is, they don't know which pizza they're tasting during judging. They taste the competitors side by side. The scoring is on a 100 point scale -- each judge represents a quarter of those possible points.
Guest judge
Our guest judge for the Albany bracket is Noah Sheetz, the executive chef at the Executive Mansion and a member of the Chefs Consortium, a group focused on raising awareness about local food. As you might expect from someone with his expertise and experience, Noah was a tough judge!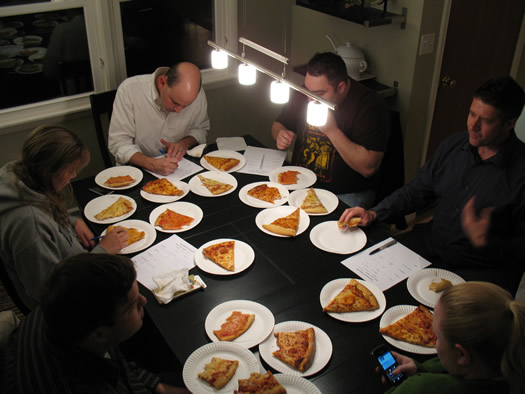 Round 1 pool
| | | | | |
| --- | --- | --- | --- | --- |
| | Pie Hole | Hill Street | Sapienza | Marisa's/td> |
| Crust | 7 | 8 | 14 | 13 |
| Sauce | 10 | 10 | 16 | 13 |
| Toppings | 8 | 13 | 14 | 15 |
| Overall taste | 15 | 18 | 27 | 28 |
| Totals | 40 | 49 | 71 | 69 |
Post game:
Pie Hole
Great name -- not so great score. The judges didn't find a lot to love in this pie. The crust was "way, way too thick" and "like a rolled out piece of bread dough." The judges thought there wasn't enough sauce, and what was there was "dominated" by oregano. "Not a fan of the mix of cheeses used," remarked one judge. And concluded another: "Looks like a factory-made pizza."
Hill Street Cafe
The Mansion Neighborhood spot was facing some difficult odds in this tournament -- tavern style pizza hasn't fared well in previous years, a trend that continued here. The judges weren't fans of the crust, describing it as undercooked and "breadsticky." The sauce scored a bit better -- one judge described it as "tart and bright." And though the cheese was "nicely applied," the judges found it lacking in flavor.
Pizzeria Sapienza
The downtown shop put up a very respectable score in its first appearance. "Beautiful bottom crust," said one judge, though another noted some gumminess. The sauce won praise for a "wonderful savory profile, partly salty, partly sweet, nice umami." And the "thick layer" of cheese was "rich and creamy."
Marisa's Place
The Guilderland shop has posted solid scores in past tournament matchups, and did so again here. Marisa's thin crust had "a nice crispness and good chew" and "nice flavor." The pizza included a "perfect amount of sauce." And while the cheese didn't necessarily light up the judges, one noted and appreciated what tasted like Romano. Concluded one judge: "What I think of when I think of thin-crust pizza."
Up next
So, Sapienza and Marisa's advance. It'll be downtown Albany vs. Guilderland in Round 2.
Monday: The second round of the Tournament of Pizza -- the pepperoni round -- starts.
Thank you, thank you
Thanks to guest judge chef Noah Sheetz from the Chefs Consortium!
The 2011 Tournament of Pizza is sponsored by Sunmark Federal Credit Union.
Hi there. Comments have been closed for this item. Still have something to say? Contact us.