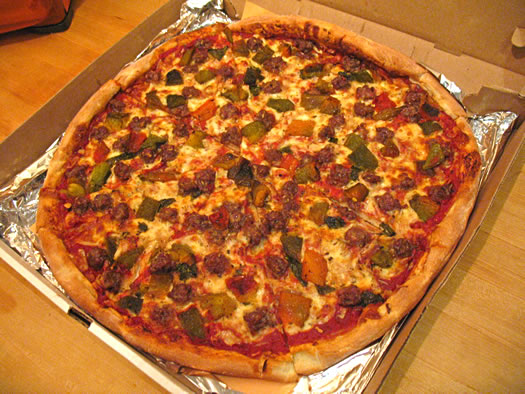 Toss the dough! Season the sauce! Slice the pepperoni! Ready the antacid!
The Tournament of Pizza, sponsored by Sunmark Federal Credit Union, is back!
This year's field is more open than any we've had in the history of the TOP. Two repeat bracket champs -- Pasquale's in Albany and Nunzio's in Saratoga -- are no longer in the pizza business, and that's opened the field for new competitors. And new winners.
Also this year: a new format for the first round!
Here's a breakdown of this year's brackets...
Scroll all the way up for the brackets in graphic form. Also, here's a printable version of the brackets (pdf), if you're so inclined.
How the brackets were assembled
+ As is tradition, the winner of each bracket last year got an automatic bid in this year's tournament.
+ A crowd vote filled another slot in each bracket.
+ TOP judge emerita Renee McAllister selected shops for the third spot in each bracket.
+ The selection committee (that is, the Editors) chose pizzerias for the final spot in each bracket.
New first round format
To shake things up a bit, and perhaps let better pizza rise to the top, we have switched the format of the first round from head-to-head matchups to a pool. The four pizzas will be scored on the regular 100 point scale and the top two scorers will advance to a head-to-head matchup in the second round.
OK on to the brackets...
Saratoga
One of the brackets with no returning winner, Saratoga could be the scene of some breakthrough performances.
Crowd: Marino's - Saratoga
Marino's is back in the tournament for the first time since 2008 when it lost in the first round.
Renee: Mama Mia's - Saratoga
"I've read great things about this place on Twitter and have been wanting to try it out."
Committee: Amore - Saratoga
The shop that now has Nunzio's old place in Saratoga. Strong word of mouth.
Committee: Clifton Park Pizza - Clifton Park
A tiny place with, what we understand to be a passionate following. If there's a dark horse in this bracket, it's Clifton Park.
Schenectady
Schenectady has been the scene of some serious competition over the years between Marino's and Pizza King. Can the other two competitors break through?
Returning champ: Marino's - Schenectady
Not just the bracket champ, but the overall tournament champ. Their sausage and peppers pie last year was an inspired choice.
Crowd: Pizza King - Schenectady
As is well established, the King is a formidable competitor. And maybe a little strange.
Renee: Mario's - Niskayuna
"I've heard great things about this place over the years (non-Twitter communication)."
Committee: 5th and 50 - Scotia
The winner of Pizzageddon (or whatever it was called) at Proctors.
Troy
Is that olive oil and oregano we smell, or controversy?
Returning champ: DeFazio's - Troy
Mounted a valiant effort in last year's overall final. Gotta give them credit for going with a wholewheat crust in the title bout. It didn't win them title, but a gutsy choice.
Crowd: Giuseppe's - Watervliet
A classy competitor in its first appearance last year, can they score a win this year?
Renee: Joe's Tavern - Cohoes
"This place used to have amazing pizza years ago. They changed owners a few times and I wonder if the current owners are bringing back the magic."
Committee: Red Front - Troy
That's right, we didn't pick I Love. We have great respect for the 4th Street shop, but they've had multiple chances in the tournament. Red Front hasn't been in the tournament since it lost narrowly to I Love in 2008 -- so we're giving the Troy institution another shot.
Albany
Let us take a moment to commemorate Pasquale's, which is no longer in business. Viktoria's track record of consistently turning out excellent pizza may never be matched in the TOP. OK, moment over.
Crowd: Hill Street Cafe - Albany
A longtime favorite in the greater Center Square, Mansion neighborhood.
Renee: Pie Hole Pizzeria - Albany
"I want to check out this place based on the awesome name."
Committee: Pizzeria Sapienza - Albany
In a high-traffic spot downtown, yet it still scores high marks on Yelp.
Committee: Marisa's Place - Guilderland
Back in the tournament for the first time since 2009 when they were knocked out in the second round by Pasquale's (no shame in that).
____
Results start next week. Get ready.
Big thanks to Sunmark Federal Credit Union for again sponsoring the Tournament of Pizza.
Earlier on AOA:
+ Results from Tournament of Pizza 2010
+ Results from Tournament of Pizza 2009
+ Results from Tournament of Pizza 2008
Hi there. Comments have been closed for this item. Still have something to say? Contact us.