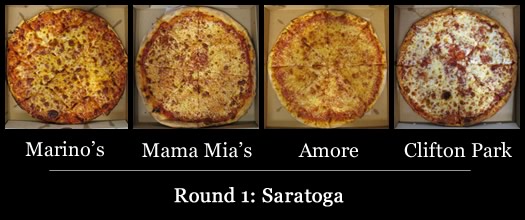 That most august tradition -- the Tournament of Pizza, sponsored by Sunmark Federal Credit Union -- opens in Saratoga. And, as you well know, Round 1 is a contest of cheese pizzas. Simple? Perhaps -- but simple things are often the hardest to do well.
The pizzerias in the opening round pool here:
Crowd pick: Marino's - Saratoga
Renee's pick: Mama Mia's - Saratoga
Committee pick: Amore - Saratoga
Committee pick: Clifton Park Pizza - Clifton Park

There is no returning champ because Nunzio's is no longer in business. That leaves a wide open bracket. Who will step up?
The judges -- plus our guest judge -- gathered at the Case Center on the campus of Skidmore College for the tasting...

A quick note about how all this works: Pizzas are ordered anonymously (that is, we just call up and order a pizza like anyone else). The four judges -- Albany Jane, Daniel B, Jerry, and our guest judge -- taste the pizza blind, they don't know which pizza they're tasting during judging. The judges taste the competitors side by side. The scoring is on a 100 point scale -- each judge represents a quarter of those possible points.
Guest judge
Our guest judge for the Saratoga bracket is Lucas Frank, editor of Skidmore Unofficial. Pop quiz: Who eats more pizza than college students? Answer: We don't know, but it can't be that many people. Lucas put his extensive recent pizza experience to good use -- he was a discerning, and tough, judge of quality.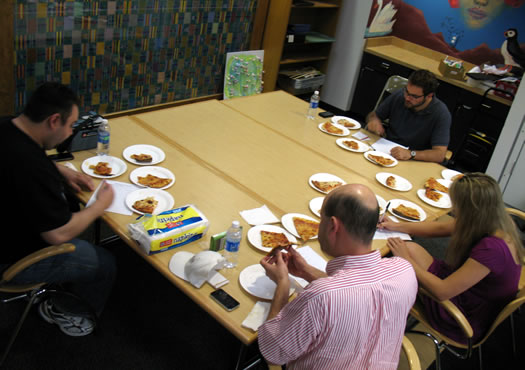 Round 1 pool
| | | | | |
| --- | --- | --- | --- | --- |
| | Marino's | Mama Mia's | Amore | Clifton Park |
| Crust | 10 | 17 | 10 | 8 |
| Sauce | 11 | 14 | 9 | 9 |
| Toppings | 9 | 13 | 10 | 10 |
| Overall taste | 19 | 31 | 24 | 18 |
| Totals | 49 | 75 | 53 | 45 |
Post game:
Marino's
Longtime Saratoga favorite Marino's didn't have the best day. The judges knocked it for its "fluffy, but kind of tough" crust that was "bland." Its sauce also didn't register all that well, with one judge commenting that it lacked tomato flavor. And an overall greasiness seems to have sealed Marino's fate. But as one judge noted, it wasn't bad -- just not great.
Mama Mia's
A big number from Mama Mia's in its first tournament appearance. Judges praised its "wonderfully thin" crust and light touch on the sauce, which one judge called "refreshing and delicious" and another said tasted of basil. The judges also enjoyed Mama Mia's cheese, which had "great browning" and was "salted just the right amount." Judges praised the balance of crust, sauce, and cheese. One said gave high marks for Mama's "full flavor," and another called the slice "excellent."
Amore
Amore is in Nunzio's old space, but couldn't quite follow the old shop's performance. Still, there were positives here. Judges praised Amore's "simple" sauce that had a sweet, "almost dried fruit" quality to it (though one judge thought the sweetness was too much). Judges were left wanting a little bit more from Amore's slice -- especially on the doneness of the crust, which one judge called "gummy."
Clifton Park
Not the best day for the small shop. One judge described Clifton Park's thicker crust as "poofy" and another said it was "sponge-like." Another judge commented that, with its thick layer of sauce, CP's slice was "all sauce and chewy bread." But this comment from one judge might sum up why Clifton Park didn't score well: "Reminds me of Domino's/Pizza Hut."
Up next
So, a strong showing from Mama Mia's propels it to the second round. Amore also gets its ticket punched, but it will have to bring more to the table to get past Mama in the pepperoni round.
Tomorrow: the Tournament of Pizza heads to Schenectady.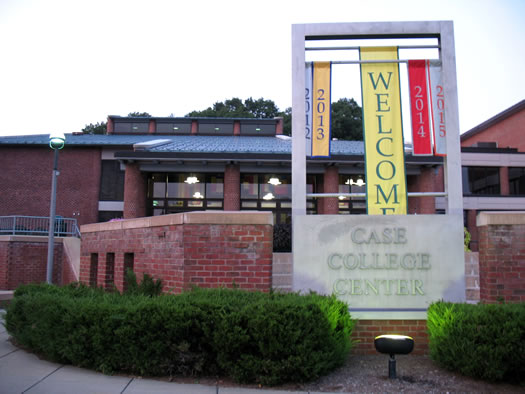 Thank you, thank you
Many thanks to Skidmore College, especially Bob Carlton, for providing us with space to taste pizza. And also thanks to Lucas Frank of Skidmore Unofficial -- you'll be happy to know the future leaders of America are also discerning eaters of pizza.
The 2011 Tournament of Pizza is sponsored by Sunmark Federal Credit Union.
Hi there. Comments have been closed for this item. Still have something to say? Contact us.