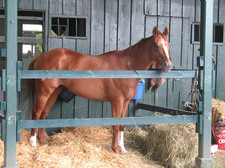 Two important recent developments about horse racing in New York:
State takeover of NYRA
The Cuomo admin announced today (Monday) that Andrew Cuomo has signed the legislation that creates the "NYRA Reorganization Board" -- basically the committee that will carry out the three-year state takeover of NYRA, a plan that was announced this past spring. This is important because NYRA is the org that runs the Saratoga Race Course, Belmont, and Aqueduct. From the press release:
"New York State's racing industry is a major economic driver in the state, supporting thousands of jobs and attracting tourists from around the world," Governor Cuomo said. "New York taxpayers and the betting public deserve a racing industry that is managed competently and does not neglect the health and safety of the horses. The NYRA Reorganization Board will restore public trust, accountability, and transparency to the racing industry in our state, so New York can continue to offer one of the most exciting, enjoyable, safe horse racing experiences in the nation."
The reorganization board will have 17 members -- Cuomo gets to pick seven of them, the Senate and Assembly two each, and the current NYRA board five, with a chairperson nominated by Cuomo.
NYRA has been a scandal-plagued trainwreck for years, so it will be interesting to see if the state takeover smooths things out.
Horse safety
On Friday the Cuomo admin announced a series of reforms aimed at promoting the safety of horses racing on tracks in New York.
From the press release:
The Governor's actions include recommending a complete overhaul of NYRA's veterinary practices, the creation of an Equine Medical Director position within the state's racing regulatory body, strict prohibitions regarding medications, and new rules for claiming races. Since the Task Force found that the inability of jockeys to communicate their concerns about the health of horses established an unacceptably elevated level of risk, the State will create an anonymous equine safety hotline to enable jockeys to report horse health concerns without fear of retribution.
The reforms accompanied a report from a state task force on race horse safety that studied 21 horse deaths at Aqueduct over a four month period spanning 2011-2012. Among its conclusions: "there may have been opportunities
to prevent 11 of the 21 fatalities."
The New York Times has been running an ongoing series about the toll racing takes on both horses and jockeys.
The Saratoga Race Course advertised on AOA this past season.
Hi there. Comments have been closed for this item. Still have something to say? Contact us.