By Casey Normile
You might call Andrea Loguidice and Brandon Snooks a little crazy for leaving their jobs in law and marketing and moving from Denver, Colorado to Schenectady to open a food truck.
You might even call them a lot crazy.
But this couple -- one raised on a ranch in Montana, and the other a vegetarian from Long Island -- are excited to bring their Wandering Dago food truck to Schenectady.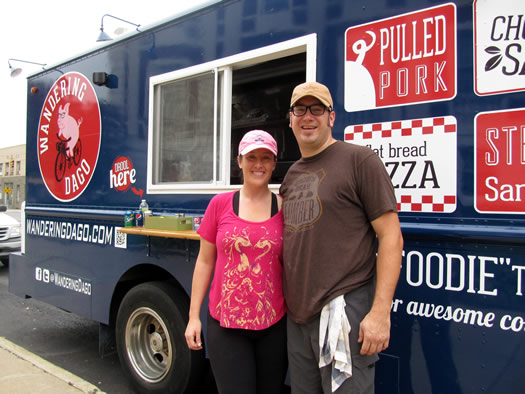 So why Schenectady?
The couple moved cross-country to be closer to Andrea's family in Long Island, and looked upstate because of their love of the outdoors. They looked in other places such as Albany and Saratoga to start their business, but they say they got a somewhat-less-than-excited response. But when they went to the Schenectady city council meeting, not only were people excited about their idea, even the mayor met with them to discuss their plans. And they say they're now Schenectady's first food truck (in recent memory, at least).
"Schenectady is our city," says Andrea, "For us, it's the loyalty factor here and this city is growing. To be able to grow with the community as a small business is great."

Since moving to the area in June, the couple has been introducing themselves to anyone and everyone, making connections with other local businesses, and most importantly, introducing people to the idea of food trucks.
"People aren't familiar with food trucks here, so we're just handing out free samples, telling people what were about, and getting our name out there," says Brandon.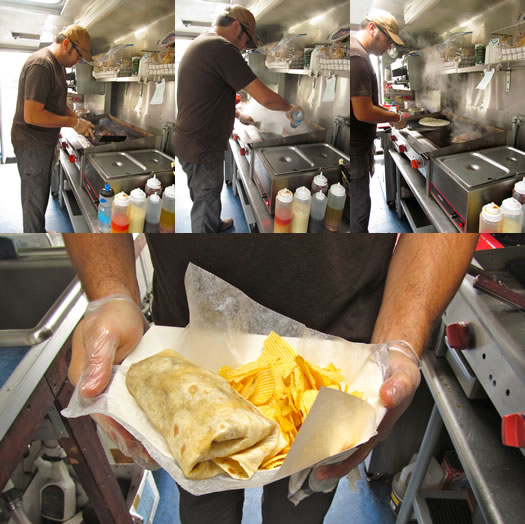 New to the food business
Both of them are foodies and Brandon has always loved to cook, but neither of them worked in food business prior to Wandering Dago. So when it came time for their first night out as food-truckers, they inadvertently chose to dive in, head first. From the high dive.
"Our opening night was in mid-July for the Schenectady County Summer Night, which brought in about 7,000 people. We didn't prep anything, we had no idea what to expect and it was rough," says Brandon.
"It was an experience, we'll say that," adds Andrea.

"We laughed, we cried, I threw an onion at the wall, and I thought about just blowing the place up," Brandon continues, "But we learned a lot!"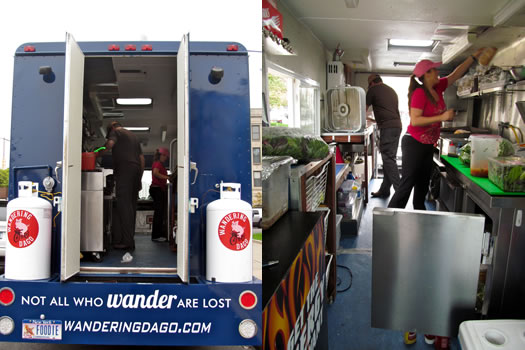 Trying to be different
"A lot of the local food trucks are closer to hot dog trucks," explains Brandon -- the food is fully prepped and handed to you. But he says Wandering Dago is trying to grow a West Coast-style food truck culture in the Capital Region.
"In Denver, the food they give you is fresh, chef inspired, with fresh ingredients, and that's what we want to do here," says Andrea.
The truck offers flatbread pizzas, fresh chopped salads, home-made (or as they call it, "truck-made") dressings, paninis, pasta dishes, and Italian-centered dishes including their signature Italian pulled pork and homemade pesto. They're also partnering with local companies such as Villa Italia for bread. And they were using their neighbors' tomatoes for their sauces this summer.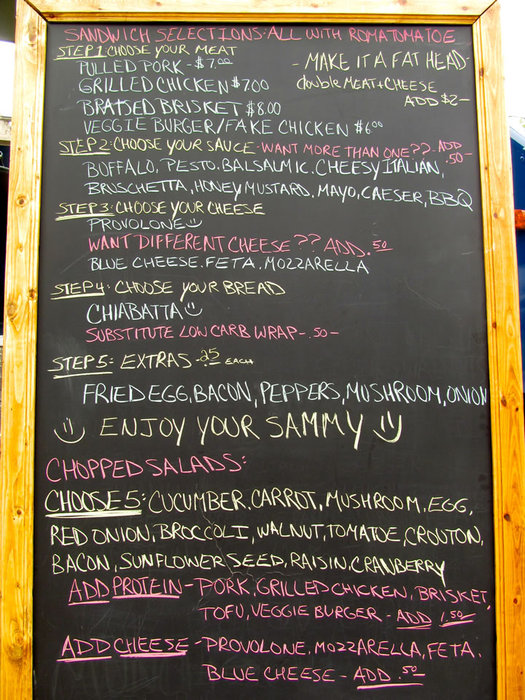 Click the menu board for a larger view.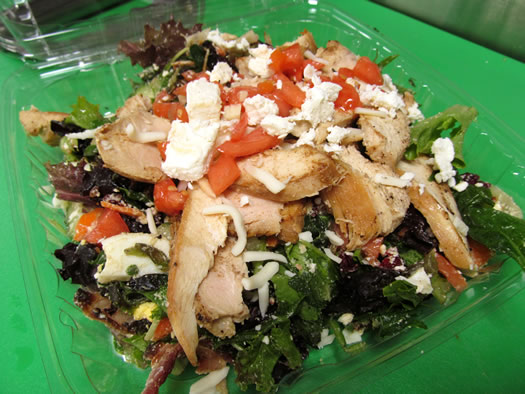 About the name...
If you're thinking "dago" sounds like a less-than-politically-correct nickname in some circles, you're right. But Andrea and Brandon say they didn't choose the term to stir up some controversy.
Brandon, who's Italian, explains that he knew the term as a word used for Italian immigrant workers back in the day who wanted to "be paid as the day goes." "Day-goes" became "dago." And in parts of Italian culture, he says the word has been reclaimed as a term of endearment.
Brandon and Andrea say they chose Wandering Dago "because we wander as the day goes."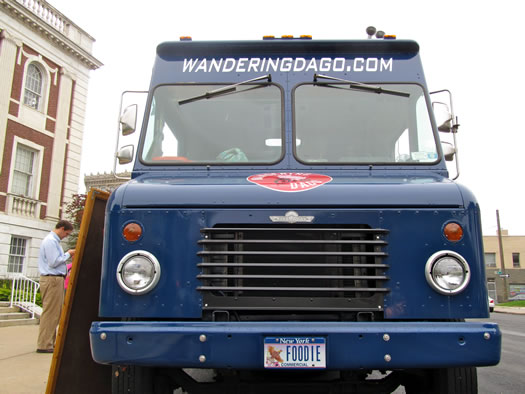 What's next
Right now, the couple says the food truck mostly caters to college students, but also has a few contracts in the works with local hospitals and schools.
"We don't want to park where we'd be stepping on anyone's toes," says Andrea.
So they're looking for spots with a lot of foot traffic where they wouldn't necessarily be cutting into a restaurant's business. They also plan to open up their menu to include more vegetarian options, and to feature guest chefs every once in a while so they can offer Indian or Greek specialties.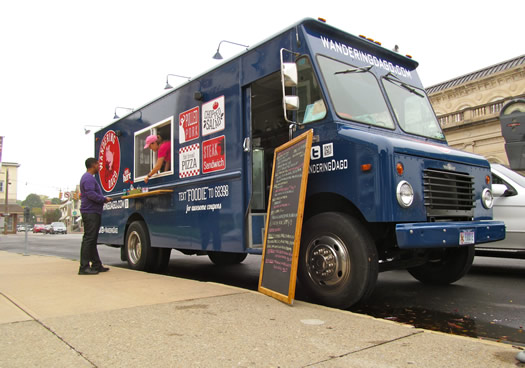 As for the winter, Andrea and Brandon don't seem too concerned. "I mean, you see younger people during the winter time right? They're out there walking in the snow in shorts and a hoodie. So I don't think they'll mind coming outside for some good food," says Brandon.
They also hope to implement an online ordering system so food is ready for their customers when they arrive at the truck, instead of waiting in the cold and snow.
"We're still going to sell food. I mean, we have a shovel," says Brandon.
If you're wondering where to find Wandering Dago, check their Twitter or Facebook feeds for locations and hours.
Earlier on AOA: Slidin' Dirty
Hi there. Comments have been closed for this item. Still have something to say? Contact us.