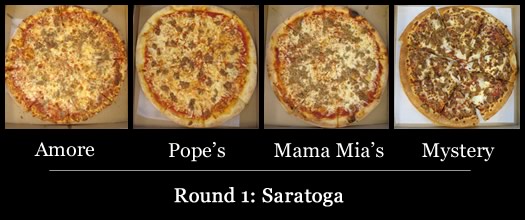 The opening round of the 2012 Tournament of Pizza -- sponsored by Sunmark Federal Credit Union -- starts in Saratoga.
The pizzerias in Round 1 pool competition of sausage pizzas:
Returning champ: Mama Mia's - Saratoga Springs
Crowd pick: Pope's - Saratoga Springs
Tough luck: Amore - Saratoga Springs
Mystery entry

The judges gathered at the Case Center on the campus of Skidmore College...

A quick note about how all this works:
The five judges -- Albany Jane, Daniel B, Jerry, Joe, and Renee -- taste the pizza blind. That is, they don't know which pizza they're tasting during judging. They taste the competitors side by side. The scoring is on a 100 point scale -- each judge represents a 1/5 of those possible points. (We're using an adjusted scale this year to accommodate five judges.)
How this year's brackets were selected.
If you'd like to get a closer look at the pizzas, there are large-format closeups above -- scroll all the way up.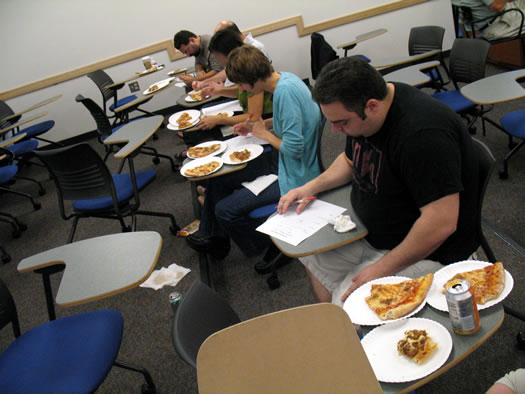 Round 1 pool
Post game:
Upset
The first match of Round 1 and we already have a bracket champ fall.
Pope's
A strong start for the longtime Saratoga favorite. The judges praised the balance of Pope's pizza, and the "porkiness" of its crumbled sausage. A few things to keep an eye on though -- a few judges noted that they thought the pizza was a touch underdone, and other thought the cheese was a little too dominant.
Amore
A solid opening score for the shop that occupies the former Nunzio's location. One judge called Amore's pizza "delicious, rich, savory, a little sweet," and another called it "sweet and meaty" while praising the "bright and warm" sauce. Not so good -- one judge called Amore's pizza's "very oily" another said the cheese to sauce ratio was off balance.
Mama Mia
Things started well for the defending champ. Judges praised Mama Mia's pizza crust -- two said it was the best of the four pizzas. But Mama Mia's just couldn't score enough points in the other categories. The judges weren't fans of the sauce -- "peppery and sparse," "too many spices." And judges criticized the toppings for being dry. Mama Mia's didn't turn out a bad pizza -- in fact, one judge gave it their high score of the round -- it just wasn't quite enough to make it through.
Mystery entry
And the mystery entry in this bracket is... Pizza Hut. Yep, the chain. What??!?! (The outrage!) Here's the thing: a lot of people eat this pizza, and the TOP provides an opportunity to taste it blind against solid local shops. And after doing so, we can say with some evidence... it's not that good (but we've had local shops score much worse). One judge called the Hut's crust "poofy" and another called it "fluffy" -- though one described it as "pleasantly oily." Its sauce did not score well -- judges called it "metallic" and lacking "real tomato flavor." The sausage was called "squishy" and "spongy," the cheese "bland/flavorless." But one judge said all the ingredients were nicely balanced -- and commented on their score sheet, "Reminds me of Pizza Hut."
Up next
So, Pope's and Amore advance. They'll face off in Round 2.
Tomorrow: the Tournament of Pizza heads to Schenectady.
Thank you, thank you
Many thanks to Skidmore College, and Bobby Carlton especially, for hosting the TOP at the Case Center.
The 2012 Tournament of Pizza is sponsored by Sunmark Federal Credit Union.
Hi there. Comments have been closed for this item. Still have something to say? Contact us.