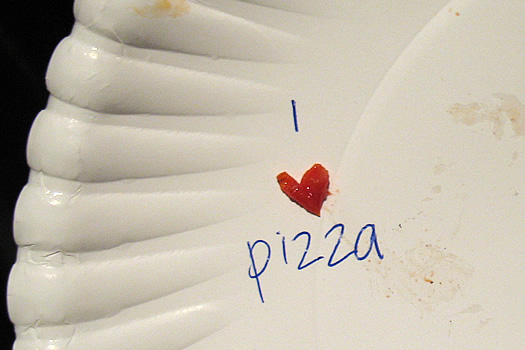 If the leaves are turning, and the air is crisp, it must mean that most august of traditions has returned.
That's right -- the Tournament of Pizza, sponsored by Sunmark Federal Credit Union, is back.
Lots of plotlines for this year's field: Can 5th and 50 repeat as TOP champ? Will this finally be DeFazio's year? Who are the mystery entrants in this year's field?
Here's a breakdown of this year's brackets...

Scroll all the way up for the brackets in graphic form. Also, here's a printable version of the brackets (pdf), if you're so inclined.
How the brackets were assembled
+ As is TOP tradition, the winner of each bracket from last year gets an automatic bid for this year's tournament.
+ Crowd voting filled another slot in each bracket.
+ The selection committee (that is, the Editors) picked a group of "tough luck" losers from previous years for inclusion in this year's field. These are shops that posted solid, even very good, scores in previous tournaments, but for whatever reason didn't win their brackets.
+ Each bracket also includes a mystery entrant, known only to the selection committee. These entrants will be revealed when/if they lose in each bracket.
Format and scoring
This year's TOP again includes pool play in the first round, not head-to-head matchups. The four pizzas in each bracket compete in the first round for two slots in the second round -- highest scoring shops advance.
About scoring this year: Pizzas will again be tasted blind (that is, the judge don't know where the pizza's from) and scored on the 100 point scale -- 100 being a pizza that achieves the highest possible score in each category: crust, sauce, toppings, overall taste. Previously this has meant that each judge was responsible for 25 of the possible 100 points for each pizza. But this year's TOP includes a panel of five judges (listed below). So each pizza's score will be its total points as a percentage of 125.


Judges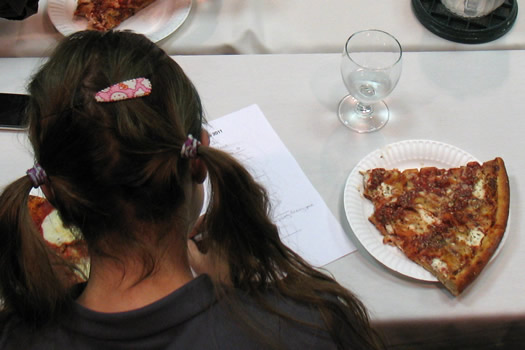 This year's panel is an all-star lineup of previous TOP judges:
Albany Jane
The mysterious lady behind Albany Eats. She's the only judge to have participated in every TOP.
Daniel B.
You know him from the FUSSYlittleBLOG and Eat This! on AOA.
Jerry Papandrea
The one and only derryX.
Joe Esposito
Troy resident, geek, connoisseur of the slice, one of the original TOP judges. We're very happy to have him back on the panel.
Renée McAllister
Almost foodie with a remarkable memory for pizza, and one of the original TOP judges. It's great to have her back.
On with the brackets...
Saratoga
Returning champ: Mama Mia's
This Saratoga Springs shop posted a series of fantastic scores last year... until the semi-final, when a dud pizza at the wrong time allowed DeFazio's to coast in the final.
Crowd pick: Pope's
A longtime Saratoga favorite returns to the TOP. It lost to Nunzio's in the first round in 2010.
Tough luck: Amore
Amore occupies the location once inhabited by former bracket champ Nunzio's. And it came very close to beating Mama Mia's for a spot in the semi-finals last year, losing by just 4 points. If not for some underdone crust, it probably would have been in the semis.
Mystery entry
Hint: its crust is one of its signatures.
Schenectady
Returning champ: 5th and 50
This Scotia shop made a huge splash in its first TOP, winning the whole thing last year. Can it repeat?
Crowd pick: Nico's
Nico's was the runner-up in this year's Schenectady crowd voting. But the shop in first place -- Pizza King -- was not open at the time the field was set, due to the recent death of its owner, and it wasn't clear if it would be re-opening. It's almost not the TOP without the King.
Tough luck: Mario's
This Niskayuna pizza place was thisclose to advancing to the second round last year. It tied eventual tournament champ 5th and 50 in Round 1 pool play, but lost on the tie breaker.
Mystery entry
Hint: it's well known.
Troy
Returning champ: DeFazio's
You could make the case that DeFazio's has been the best performing shop in the history of the TOP. Yet it's never won the title, losing in the final the last two years. Maybe this is the year.
Crowd pick: Bacchus
This pizza place, located below Daisy Baker's in Troy, has never been in the TOP. Overwhelming crowd voting earned it a spot this year -- it got 29 percent of the vote in Troy, and more than twice the number of total votes as any other shop in all the crowd voting.
Tough luck: I Love
This shop on 4th Street in Troy has passionate fans. And it has managed to post a string of solid scores. Maybe this is the year I Love can put it all together.
Mystery entry
Hint: not your father's pizza.
Albany
Returning champ: Marisa's Place
This Guilderland shop had a good run last year -- but it just couldn't overcome 5th and 50 in the semi-final (the judges thought its topping held it back). Could be a savvy pick for this year's title.
Crowd pick: The Fountain
An old-school tavern favorite from Albany's New Scotland neighborhood. Its last appearance in the TOP -- in 2010 -- ended with a hard-fought loss to Paesan's in the first round. Maybe this is the year a tavern pizza breaks through.
Tough luck: Pizzeria Sapienza
This downtown Albany shop came up just short to Marisa's in Round 2 last year, 75-66. The match was a lot closer than it looked, though -- a point or two different in each category and Sapienza would scored a win. Let's see if it can get tasty payback.
Mystery entry
Hint: good for big appetites.
____
(deep breath)
Results start Tuesday. Get ready.
Many thanks to Sunmark Federal Credit Union for again sponsoring the Tournament of Pizza. Sunmark's continued support helps make the TOP possible.
Previous Tournaments of Pizza:
+ Results from Tournament of Pizza 2011
+ Results from Tournament of Pizza 2010
+ Results from Tournament of Pizza 2009
+ Results from Tournament of Pizza 2008
Hi there. Comments have been closed for this item. Still have something to say? Contact us.