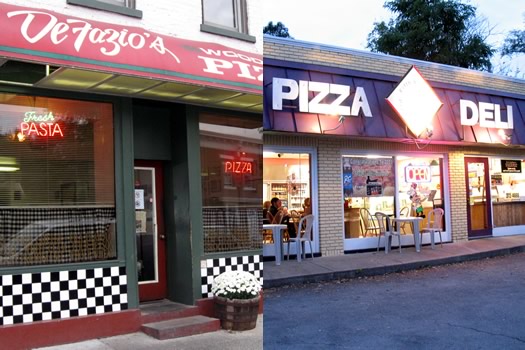 We have finally reached the end of the long road that is the 2011 Tournament of Pizza, sponsored by Sunmark Federal Credit Union. And we have a prime matchup here in the final (bracket):
DeFazio's (Troy) vs. 5th and 50 (Schenectady)
Both shops are coming off solid wins in the semi-finals, each with a score in the 70s. DeFazio's was the overall tournament runner-up last year. And 5th and 50 has quite a claim -- it knocked off Marino's, last year's overall champ.
As is TOP tradition, the shops were allowed to pick which pizza to enter in the final. And as we've seen in past years, having that choice hasn't always been a good thing. Would this year's competitors choose wisely?
Off to the Hilton Garden Inn Albany Airport to taste some pizza!

A quick note about how all this works: The four judges -- Albany Jane, Daniel B, Jerry, and our guest judge -- taste the pizza blind. That is, they don't know which pizza they're tasting during judging. They taste the competitors side by side. The scoring is on a 100 point scale -- each judge represents a quarter of those possible points.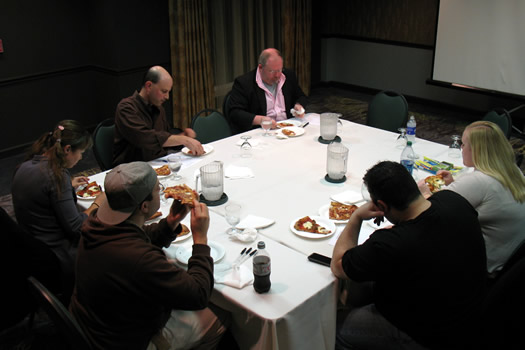 Guest judge
Our guest judge for the final is Steve Barnes. You know him of course from the Times Union, where he's a senior writer and restaurant columnist. He also writes the very popular Table Hopping blog. It was a great pleasure to have Steve at the judges' table.
Pizzerias' selections
Unlike the rest of the tournament in which pizza varieties are chosen by AOA and ordered anonymously, the pizzerias get to choose which pizza they'd like to enter in the final. This year's selections:
DeFazio's: sausage, mozzarella and fresh basil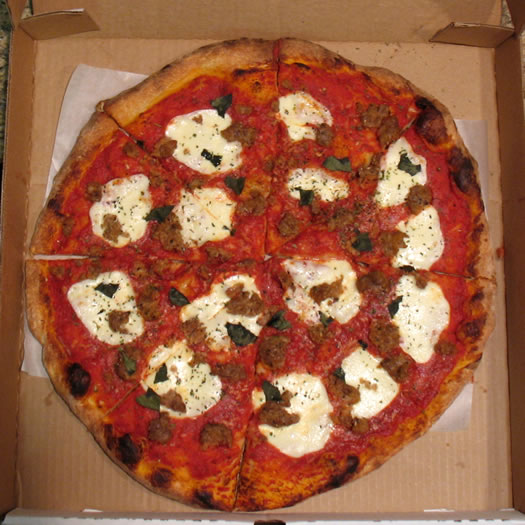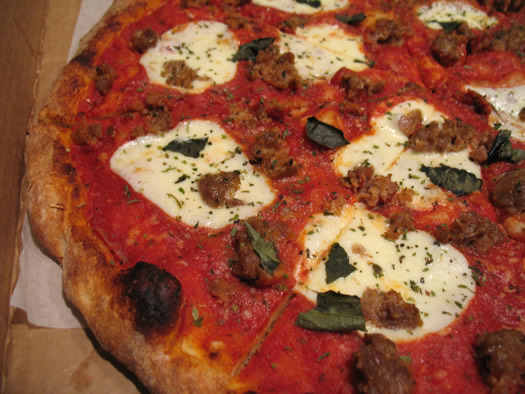 5th and 50: chicken parmesan pizza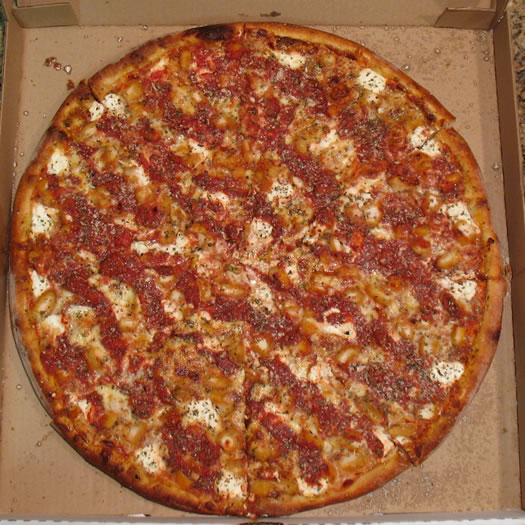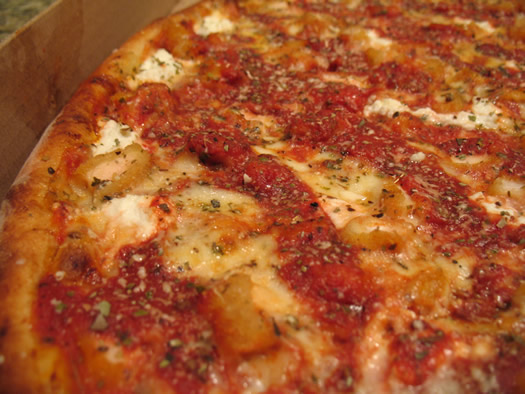 DeFazio's vs. 5th and 50
| | | |
| --- | --- | --- |
| | DeFazio's | 5th and 50 |
| Crust | 15 | 15 |
| Sauce | 14 | 14 |
| Toppings | 15 | 17 |
| Overall taste | 30 | 33 |
| Totals | 74 | 79 |
Post game
Holy moly! This was a barn burner!
Crust
A tie! DeFazio's crust again was lauded for its "beautiful" bottom and seasoning. One judge called it "satisfyingly chewy and crunchy" -- though one noted a bit of gumminess under the sauce. 5th and 50's crust also won praise for being "chewy, but not tough -- just the right amount" and for having a "well seasoned end crust -- it's so savory." One judge thought 5th's crust was too thick -- but another noted that it "holds up well to the bevy of toppings" (and there was a lot on that pizza).
Sauce
Another tie! One judge called DeFazio's sauce "simple, direct, flavorful." Another called it "sweet and rich -- nicely balanced with herbs." But a few complaints: one judge thought it was underseasoned, and another though there was too much of it. That was something that also held back 5th and 50's pizza -- one judge called its sauce "over applied." But it got praise for being "spicy and well seasoned."
Toppings
This category pretty much decided the match, with DeFazio's taking a somewhat restrained approach -- and 5th and 50 piling it on.
DeFazio's sausage was described as "sweet" as well as "nice and crusty" -- multiple judges just called it plain "good." The Troy shop also won praise for its basil, which one judge said brought "nice aroma" -- and another judge would have liked to see more of it. But the mozzarella appears to have been the downfall. One judge called it "too tough and rubbery," while another called it "bland." As another judge noted: "fresh mozz may be better right out of the oven, but it declines significantly in carry out."
5th and 50's heaping of chicken parmesan toppings drew high praise. One judge described it as "creamy, well-spread ... balanced. Awesome. Just tastes so right." Another judge called it "well seasoned." And another judge praised the chicken because "it tastes like chicken!" -- but another judge said the chicken was "soggy." That same judge criticized the pie for "a lot of unseasoned ricotta." But another judge said the other toppings paired well with the ricotta. If the Scotia shop's pizza had a flaw beyond the ricotta, it might have been its heaviness -- said one judge: "one slice only."
Overall
This was a tough, close match. In fact, the judges split 2-2. It's just that 5th and 50 was rated a little better.
Praise for DeFazio's pizza: "It's a very delicate, but tasty, balance of classic flavors." "Fragrant and delicious." "Would eat more than one slice."
And for 5th and 50: "Something special, but there is a bit much." "It's comfort on a slice." "This is pretty f----- good ... Now this is what I was hoping for from a competitor in the TOP!"
Congratulations!
Congratulations to 5th and 50! It's the new Tournament of Pizza champion! The shop takes the title in its first trip through the Tournament -- and keeps the title in the Schenectady bracket. Scotia should be very proud.
And a round of applause for DeFazio's. Though they didn't prevail in the final, they did turn out a series of excellent pizzas. In fact, DeFazio's was the only shop in the final four for which every one of its pizzas in this tournament scored in the 70s. It was an impressive showing. And if you love pizza, you owe it to yourself to stop by DeFazio's.
Thank you, thank you
Many thanks to the Hilton Garden Inn Albany Airport -- especially Cassie Cramer -- for hosting us. Its location right next to ALB was very convienent. Big thanks also to the Times Union's Steve Barnes for guesting at the judges' table.
Thank you also to Sunmark Federal Credit Union their continued support, which helps make the Tournament of Pizza possible.
And last, and certainly not least, much thanks to this year's judges -- Albany Jane, Daniel B., and Jerry. The TOP is a lot of fun -- and they're a big reason why.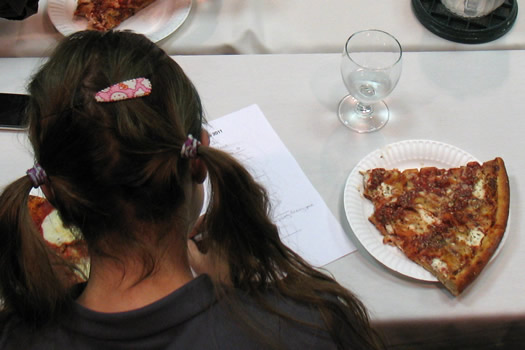 Earlier:
+ Results from the semi-finals
+ Crunching the numbers on 2.5 tournaments of scores
+ Results from Round 2 in Albany
+ Results from Round 2 in Troy
+ Results from Round 2 in Schenectady
+ Results from Round 2 in Saratoga.
+ Results from Round 1 in Saratoga.
+ Results from Round 1 in Schenectady.
+ Results from Round 1 in Troy.
+ Results from Round 1 in Albany.
The 2011 Tournament of Pizza is sponsored by Sunmark Federal Credit Union, which is collecting donations for the Regional Food Bank of Northeastern New York to help Irene recovery efforts.
Hi there. Comments have been closed for this item. Still have something to say? Contact us.