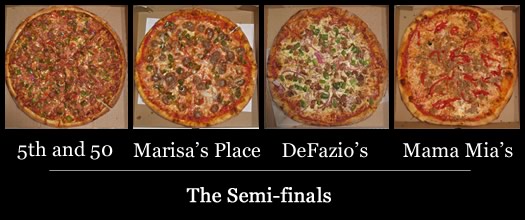 Here we are with just four pizzerias remaining in the the 2011 Tournament of Pizza, sponsored by Sunmark Federal Credit Union. The semi-finals line up as such (bracket):
5th & 50 (Schenectady) vs. Marisa's Place (Albany)
DeFazio's (Troy) vs. Mama Mia's (Saratoga)
The pizzas for this round: sausage, peppers, and onions. We were inspired by Marino's winning pizza last year.
Let's head to the Hilton Garden Inn Albany Airport to taste some pizza!

A quick note about how all this works: The four judges -- Albany Jane, Daniel B, Jerry, and our guest judge -- taste the pizza blind. That is, they don't know which pizza they're tasting during judging. They taste the competitors side by side. The scoring is on a 100 point scale -- each judge represents a quarter of those possible points.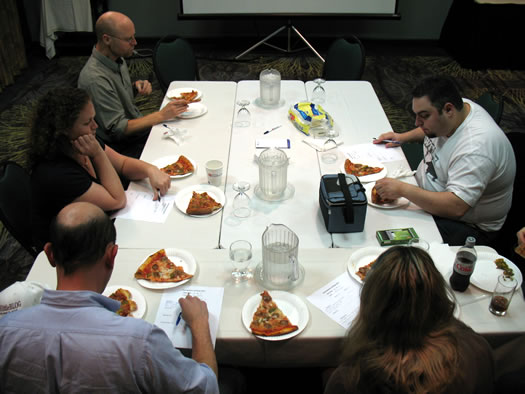 Guest judge
Our guest judge for the semi-finals is Celina Ottaway. You know her from CelinaBean, where she writes about food and people, as well as her time as a restaurant reviewer for the Times Union. Celina is a thoughtful person -- about food, about everything -- and we're delighted to have her as a judge.
5th & 50 vs. Marisa's Place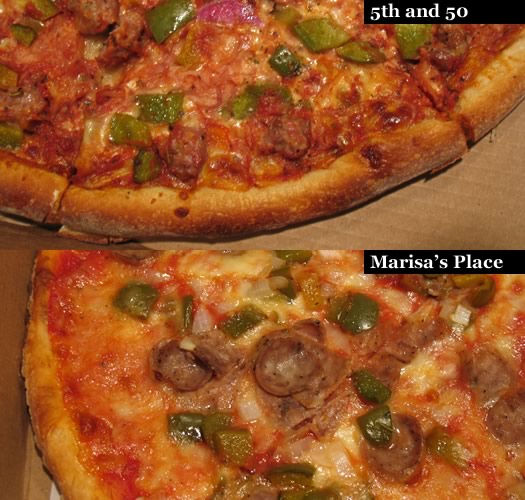 | | | |
| --- | --- | --- |
| | 5th & 50 | Marisa's |
| Crust | 16 | 13 |
| Sauce | 13 | 11 |
| Toppings | 14 | 10 |
| Overall taste | 30 | 23 |
| Totals | 73 | 57 |
Post game
A convincing victory for the Scotia shop! 5th and 50 scored a win in each category, but really separated itself in the crust and toppings categories.
One judge called 5th's end crust "wonderful" and another said the crust had a "nice yeasty chew." Another noted crispness on the outside, with chewiness on the inside -- sort of like a pretzel. Marisa's crust also won praise -- the judges liked its bottom, which one described as "beautiful" and another called "charred" (charred is good -- burned is not). But its thinness couldn't stand up to the toppings -- one judge said it became "soggy" under the weight.
Speaking of the toppings... 5th's sausage was described as "crumbly and fennel-y, with a good grind." Another called it "tender and juicy," while noting "well cooked" strings of onions -- red onions, that were sliced "thin and long" and were "awesome." One judge noted that the peppers didn't have much flavor. As for Marisa's -- the judges noted its sausage was lacking fennel flavor, and "was more like breakfast sausage" (though one judge enjoyed it and praised its natural casing). The judges split on Marisa's peppers -- two called them "really good," while another found them "mushy."
It's not that Marisa's turned out a bad pie by any measure -- one judge even scored it ahead of 5th. But noted a different judge of Marisa's pizza, "a well made pie that suffers from underwhelming toppings." The judges preferred 5th, calling its pizza "delicious" and on which the "flavors came together beautifully."
So, a round of applause for Marisa's. The Guilderland spot competed well this year.
And congratulations to 5th and 50 -- they're on to the final!
DeFazio's vs. Mama Mia's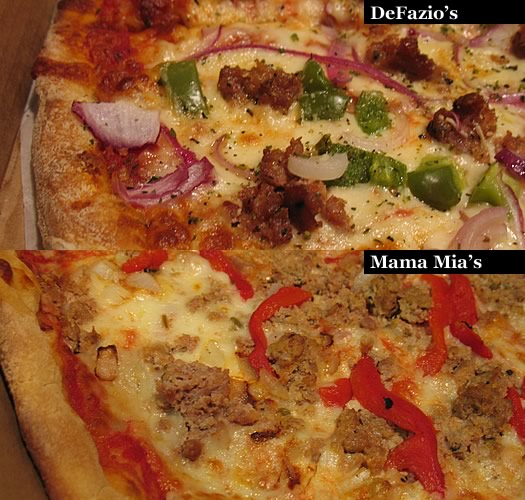 | | | |
| --- | --- | --- |
| | DeFazio's | Mama Mia's |
| Crust | 13 | 8 |
| Sauce | 15 | 9 |
| Toppings | 15 | 7 |
| Overall taste | 27 | 13 |
| Totals | 70 | 37 |
Post game
Here's the thing: Mama Mia's makes good pizza. We've seen it in this tournament. It averaged a 72.5 in its first two matches -- a 72.5! That's fantastic.
Mama Mia's pizza in the semi-final, however, was not fantastic. Everyone has bad days -- and unfortunately for the Saratoga shop, its bad day came at the wrong time. The judges described its crust as "uneven" and "burned in places." Its sauce tasted "like it came out of a can." And while the judges liked that Mama's used red peppers as a change-up -- its sausage flopped. Let's just say the judges weren't fans, calling it "bland."
DeFazio's posted a solid score. Of its crust, the judges said: "beautiful" (if a bit "bready"), "well seasoned," and "nom." Its sauce had a "a good concentration of tomato flavor." Its sausage had a "good course grind" with "great crust." The judges weren't big fans of the peppers, which one remarked as being "a surprising weak point." But they loved DeFazio's cheese mix, which one judge said had "a little funk in there" (funk in the good sense).
So, let's have a hand for Mama Mia's -- it burned fast and bright, and then it didn't. It's better than not showing up at all.
And congratulations to DeFazio's for advancing to the final for the second straight year. That's an impressive achievement -- whether they win it all or not.
Up next
The final: 5th & 50 vs. DeFazio's. Can the the Scotia shop win it all in its first tournament? Can DeFazio's seal the deal this year?
Results later this week.
Thank you, thank you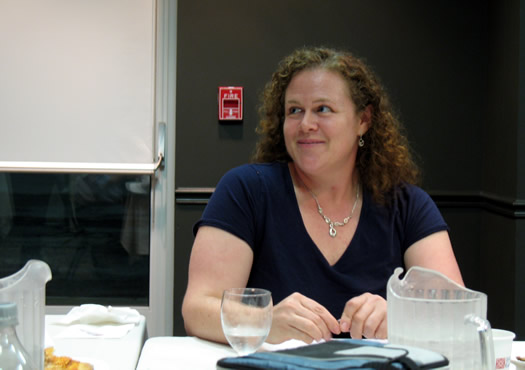 Many thanks to the Hilton Garden Inn Albany Airport for hosting us -- its location right next to ALB made it an easy spot to bring the four pizzas together. And thanks also to Celina Ottaway for guesting at the judges' table for this round.
Earlier:
+ Crunching the numbers on 2.5 tournaments of scores
+ Results from Round 2 in Albany
+ Results from Round 2 in Troy
+ Results from Round 2 in Schenectady
+ Results from Round 2 in Saratoga.
+ Results from Round 1 in Saratoga.
+ Results from Round 1 in Schenectady.
+ Results from Round 1 in Troy.
+ Results from Round 1 in Albany.
The 2011 Tournament of Pizza is sponsored by Sunmark Federal Credit Union, which is collecting donations for the Regional Food Bank of Northeastern New York to help Irene recovery efforts.
Say Something!
We'd really like you to take part in the conversation here at All Over Albany. But we do have a few rules here. Don't worry, they're easy. The first: be kind. The second: treat everyone else with the same respect you'd like to see in return. Cool? Great, post away. Comments are moderated so it might take a little while for your comment to show up. Thanks for being patient.